Home > Saws: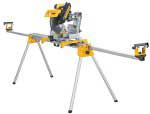 DeWalt DW723 Miter Saw Stand
DeWalt
Shipping weight: 46.380005 pounds
ASIN: B00005RHPY
Check price and buy @ amazon.com



Designed to hold larger material with minimal set up time, DeWalt's DW723 miter saw stand features an easy-to-use saw mount that works with most brands of miter saws.

Features:

Lightweight aluminum construction (35 pounds) allows for easy transport and storage
5-1/2-foot beam extends to support up to 16 feet of material
Legs provide superior support and fold for easy storage
Work stops and supports can be repositioned quickly anywhere along the rail
Non-marring feet on tool mount won't scratch floors
Amazon.com Review
Tired of transporting a bulky miter saw stand from one job site to the next? The DeWalt DW723 may be the answer. Lightweight and rugged, the all-aluminum stand measures a mere 5-1/2 feet out of the box and weighs in at just 38 pounds. However, when fully assembled, it can support boards up to 16 feet long and a full 400 pounds of weight. The key to its strength lies in the stand's retractable legs, which lock securely in place then tuck away when not in use, as well as its sliding cam-lock extensions, which provide a full 16 feet of length when assembled. A carrying handle makes the stand easy to transport when fully retracted. Just throw it in the back of your pickup and it's good to go. Assembly is quick and easy, too. We had ours up and running in a matter of seconds. Mounting brackets adjust to fit most miter saws, making this the ideal workspace for the professional or do-it-yourselfer on the go.

From the Manufacturer
Designed to hold larger material with minimal set up time, DeWalt's DW723 miter saw stand features an easy-to-use saw mount that works with most brands of miter saws. Weighing only 35 pounds, the stand has folding legs that lock into place to provide excellent stability, supporting up to 400 pounds. Upon set up, the miter saw stand is 36-inches high. Adjustable extension arms slide out horizontally from both ends of the unit, providing an ideal platform for cutting long trim, decking boards, and dimensional framing material up to 16 feet in length. In addition, the stand comes with two flip stop/supports for consistent, accurate cutting. Saw not included.



Customer Reviews:
Little Heavy, October 26, 2002
Reviewer: A home improvement enthusiast from Chester, Va. United States
I found this stand to perform exactly as advertised. My Dewalt miter saw fit on it perfectly. I used it for the first time today and it was very easy to set up.The only minor complaint I have is the unit is a little on the heavy side, but with all the features it has it's got to weigh something. Don't change a thing, I can manage..

DW723 - GREAT addition to Dwalt line!, October 3, 2002
Reviewer: A home improvement enthusiast from Illinois
Just recieved my new DW723 from Tool Crib. What a nice saw stand. I own numerous Dewalt tools and like them all. This stand is the perfect compliment to my DW706 trim saw. I can lay long peices of trim on the stand without the worry of them falling off.If you have a homeade stand, better spend the money and purchase this one!

Best money spent in a long time, September 11, 2002
Reviewer: Paul Dombroski from Shamokin, PA United States
This item is by far, well worth the money. It is very sturdy and can be setup in just about a minute. No more saw horses and plywood as a base. My stand did arrive with three small dents in the top, probably from shipping. None the less it did work very well from day one.

A Great Product and Easy to Setup..., September 9, 2002
Reviewer: tbplus2 from Manassas, VA United States
I bought the DW723 Stand and opted for the free shipping. The stand arrived in less than a week from the time I ordered it. There was no damage to the stand and setup was less than 10 minutes. I'm very pleased with quality of construction, ease of teardown/setup, and mobility. For the past couple of years I've set my miter saw (DW708) on the ground and started using it. No more. If you don't have a stand or have a marginal stand, wait no longer. No disappointments here.

Great Saws Deserve Great Stands, July 18, 2002
Reviewer: cooncatbob from Carmichael, Ca USA
After I Got My DW703 miter saw I felt the I could no longer set up on a couple of olf foldin saw horses and a scrap of plywood. My stand arrived in a big long box, it was simple to set up you don't even need to read the directions. I attached my saw to the clip on base and clipped it to the stand and then I saw IT a ding about the size of a quarter right on top ot the stand rail, inspecting the box I see that the card board was only one layer thick accross the top and the box damaged during shipping. Dewalt needs to do a better job with there packing, I don't mind dings but I like to be the one who does the dinging, I expect them to be pefect out of the box. None of this effect the stand it's terrific but it's six feet long and just fits in my Ranger without angling it. It easy to set up on site and the extending supports on each side make cuting long stock a breeze. Worth every penny.

One Tough Tank !!, May 31, 2002
Reviewer: S. Thomas Dorey from Telford, PA USA
My children all got together and bought this for me for my birthday. (My wife told them what I wanted.) Comparing this unit to others proved it to be the toughest out there. It's strong but light. Very stable with the DW708 compound saw mounted. Other manufacturers are good but they don't compare. It sets up quickly and adjusts to small or very large work. I strongly recommend this for DeWalt or other saw owners.

Does not work with all miter saws, May 31, 2002
Reviewer: sga5150 from Altadena, CA USA
I think this stand is a good product, but it doesn't work with all miter saws, for example, my Makita LS1013, 10 inch sliding miter saw. The Dewalt mounting brackets which mount to the base of the saw are only 14 1/2 inches long. Therefore, if the mounting holes on your miter saw are farther apart, then you have to mount the saw to a piece of plywood and then mount the plywood to the brackets. That's not bad, but with saws such as the Makita, it puts the saw table higher than the supports on the extensions will reach. If you try to build up the heighth of the extension, you lose the use of the stops!! Dewalt should have made the mounting clamps 18" long like other stands (e.g. Iowa's). Dewalt's tech support person told me: "Why should Dewalt make their mounting brackets to fit a competitor's saw?" Well, duh, because Dewalt might want to sell its stand to non-Dewalt saw owners!! I also wasn't impressed with Dewalt's limited customer service hours (plus two disconnects while I waited on hold for long periods of time) and lack of e-mail customer support capability.

Incomplete, May 28, 2002
Reviewer: Mark from Portland, Oregon
I purchased this product from a contractor supply company in late 2001 but found it to be lacking enough material supports, it also needed an extension to accommodate long lengths. I then ordered the extension assuming that it would come equipped with at least one support. After receiving the extension several weeks later I discovered that DeWalt did not provide additional supports. If I wanted extra supports it was going to cost [price] apiece. I returned the extension but the supply company had to eat the [price] for it because it was special ordered. I like DeWalt tools and I own several of them, but this product is incomplete and the addition of 2 supports at retail price would not be worth the expense. I am a professional carpenter and would not pay DeWalt $1 more for the addition of the supports. I had a machine shop make me two for less than 1/4 of the cost of one of theirs.
DO NOT BUY!!!

Fast and strong!, May 11, 2002
Reviewer: A home improvement enthusiast from Wakefield, RI United States
I have been in the building industry for 25+ years and have been using saw horses and planks for a work table for my Dewalt mitre saw with no complaints. When I first saw their new work station I figured why pay over $[money] to replace something that has been working fine for years? Boy was I wrong! I purchased the work station on line and couldn't wait to use it. I was really surpised how strong it was and how quickly it set up. I really liked the sliding stops that Dewalt designed for this stand. A lot of times I have to cut spindles for pickets the same length and this feature really worked well. It's a compact unit (folded)which allows more room in my truck. The only thing I found that didn't jive with the directions was that the bolts they provided to attach the saw base to the mitre saw needed to be drilled out slightly larger. The directions stated that this wasn't necessary for Dewalt saws. I would highly recommend this station to anyone!

my first and only miter saw stand, April 27, 2002
Reviewer: Dennis Brininger from Lewisville, TX USA
After buying the Dewalt 708 miter saw and placing it on a bench on two saw horses with long boards supported on my drill press, this stand was one of the best items I've purchased. From looking at the stand online I just didn't feel the stand would be strong enough for the heavy saw. When it arrived I couldn't beleive the weight! I was up and using the stand within 10 minutes since there was very little assembly. The stand folds up and has a handle in the center for lifting and loading to a job site. Several of my neighbors love this stand but they have to save for the saw first. I highly recommend this stand.