Home > Routers: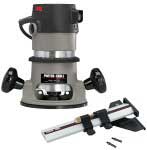 Porter-Cable 9690VSK Variable Speed Router Kit with Edge Guide a $44.99 Value
Porter-Cable
Shipping weight: 9.419996 pounds
ASIN: B00006411H


Powerful 1-3/4 hp, 10 amp motor
Electronic variable speed from 10,000 to 27,000 rpm
Includes 42690 professional edge guide and case
New "lever-release" height adjustment for ease of use either in a table or hand held
1/4-inch and 1/2-inch self-releasing collets are standard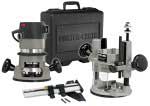 Porter-Cable 693VSPK Fixed and Plunge Base 1-3/4 HP Router Kit with Case & Edge Guide
Porter-Cable
Shipping weight: 20.65 pounds
ASIN: B00006411I


Get both a fixed and a plunge base for all routing applications
1-3/4 hp motor provide ample power for all but the biggest routing applications
The 10,000 to 27,000 rpm electronic variable speed allows you to adjust your speed to accommodate any type of wood
New "lever-release" height adjustment on the fixed base and a smooth locking lever on the plunge base ensure accurate routs every time
The motor housing and both bases are precision machined aluminum for better heat dissipation and long, smooth operation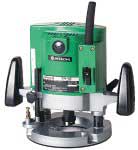 Hitachi TR-12 3 HP 1/2" Plunge Router
Hitachi
Shipping weight: 19.0 pounds
ASIN: B00005AUYI



This Hitachi 3 HP 1/2-inch plunge router has a 12.2 amp motor for cutting soft and hard wooks. Its depth scale provides at-a-glance reference. The comfortable, easy-to-grip handles provide greater control and accuracy. There is a quick-change knob for variable cutting depth and a three-stage, multiple depth adjustment for a wider range of tool use. The smooth, plastic sub-base prevents scratching of work and eases operation. Its double insulation prevents electrical shock and it requires no external grounding.




Hitachi M12V 3-1/4 HP Super Duty Electronic Variable Speed 1/2" Plunge Router with Accessory Package and Height Adjustment Knob over an $84.00 Value
Hitachi
Shipping weight: 17.4 pounds
ASIN: B0000223K9


Powerful 15 amp motor
Three-position side handle with easy-to-reach controls
Electronic dial-in variable-speed control
Multislide scale and scale index system
Built-in spindle lock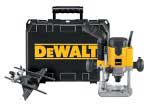 DeWalt DW621K 2 HP VS Electronic Plunge Router Kit, Including Carrying Case and Universal Edge Guide, a $70.00 Value
DeWalt
Shipping weight: 16.199999 pounds
ASIN: B00005QX31


Powerful, 2-horsepower motor handles the most challenging cuts
Rack-and-pinion depth adjuster makes setting plunge cuts accurate and easy
Unique, built-in dust extraction removes dust through unit's column
Electronic variable speed provides constant feedback so the motor won't slow down in heavy cuts
Universal edge guide with fine fence adjuster included
Bosch 1617EVSPK 2-1/4 HP Router Combination Pack
Bosch
Shipping weight: 19.699999 pounds
ASIN: B00005RHPD


Exclusive, quick tool-free movement of motor from base to base
Micro-fine bit depth adjustment with re-settable indicators
Variable speed, soft-start, constant response circuitry maintains desired rpm
Right or left switch/cord locations maximizes the tool's maneuverability
Includes case, 1/2- and 1/4-inch self-releasing collets, and comfortable drop-forged wrenches