Home > Saws: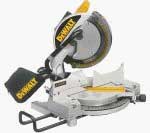 DeWalt DW705S 12" Heavy-Duty Compound Miter Saw, Including Dust Bag and One Extension Wing
DeWalt
Shipping weight: 49.8 pounds
ASIN: B00004YNWW
Check price and buy @ amazon.com



DeWalt mounted their saw with a burly blade guard that retracts smoothly and doesn't interfere with your line of sight.

Features:

15 amp motor features an electric brake for quick blade stop
Bevels 0-45 degrees to the left
Stainless steel miter scale with 9 positive stops for cutting common angles
Extra tall sliding fence allows 5-1/4¿ crown to be cut standing vertically
Features tough ball-bearing construction, and weighs only 40 pounds
Amazon.com Review
For a burly saw with a big blade, DeWalt's 12-inch compound miter saw is surprisingly lightweight (40 pounds) and portable. This saw makes smooth cuts through the thickest of stock, crosscuts a two-by-eight with ease, and--with its extra-high adjustable fence miters crown molding up to 6-5/8 inches nested vertically against the fence (a timesaving feature that's reason enough for some trim carpenters to buy one). The fence also slides away for bevel cuts.

What impressed us the most was the weight and balance of this saw: the blade lowers easily into the cut, bevels are easy to set, and the miter gauge swivels smoothly. The saw's nine positive miter stops (detents) let you lock into the common angles quickly, but you can still dial in a 1/2 degree off the detent without the gauge dropping back into the stop. The detent plate is made of sturdy stainless steel, too, so it's hard to imagine it developing any slop even after years of use. The gauges are easily accessible and easy to read (what's more frustrating than having to lean around the saw to set on angle?). The saw miters up to 48 degrees on both sides and bevels left to 45.

Unlike some of their competitors, DeWalt mounted their saw with a burly blade guard that retracts smoothly and doesn't interfere with your line of sight. DeWalt's D-handle design favors right-handers, although the trigger's wide enough to use fairly easily with your left hand when cutting left-side miters. The saw doesn't have a safety switch--which, frankly, is fine by us, since some safety switches can be downright dangerous but it's something to consider if you're doing residential or remodeling work where children might stumble across your tools.

From the Manufacturer
Innovative features on this saw include a powerful 15-amp motor with an electric brake for safe operation and an accurate stainless steel miter scale with 9 positive stops including 0, 15, 22.5, 31.62 and 45 degrees. An adjustable sliding fence supports moulding to 5-1/4 inch standing vertically which slides to the side to make 45 degree bevel. Cuts to 7-7/8 in. wide, miter crown mouldings to 6-5/8 in., and compound cuts up to 45 x 45 degrees. Tough ball bearing construction, and a portable weight of only 40 pounds. This American-made, 40 pound saw satisfies trim carpenters and framers with the capacity of a 15 inch saw and the portability of 10 inch saws. Includes dust bag, 60-tooth blade, and one extension wing.

Technical data:
Amps: 15
Watts: 1,800
Volts: 120
Blade diameter: 12 in.
Arbor diameter: 5/8 or 1 in.
Maximum miter, left: 45 degrees
Maximum miter, right: 45 degrees
Maximum bevel, left: 48 degrees
Maximum bevel, right: N/A
No-load speed: 4,000 rpm
90-degree crosscut capacity: 3-7/8 by 5-7/8 in. and 7-7/8 by 2-1/2 in.
45-degree miter capacity: 3-7/8 by 4-1/8 in. and 5-1/2 by 2-1/2 in.
45-degree bevel capacity: 2-3/4 by 5-7/8 in. and 7-7/8 by 1-3/4 in.
Positive miter stop locations: 0,15, 22-1/2, 30, and 45 degrees left and right
Positive bevel stop locations: 0 and 45 degrees left
Cord length: 8 ft.
Cord type: Two-prong, rubber
Table type: Cast aluminum
Fence height: 5 in.
Handle design: Horizontal, D-handle
Number of Slide Rails: N/A
Bearing type(s): Ball
Type of blade included: 32-tooth carbide-tipped
Grade: Professional
Country of manufacture: USA
Also included: N/A
Slide: No
Dual bevel: No
Electric brake: Yes
Spindle lock: Yes
Bevel lock: Yes
Slide lock: No
Base extensions included: Yes
Dust-extraction port: Yes
Soft start: No
External brush access: No
Pivoting fence: Yes
Vise assembly included: No
Dust bag included: No
Onboard blade wrench: Yes
Height: 18 in.
Length: 25 in.
Width: 19-1/4 in.
Weight: 40 lbs.
Shipping weight: 47.8 lbs.
Product: 1-year
Service: 1-year

Customer Reviews:
Poorly Adjusted, September 21, 2002
Reviewer: Phillip from Austin, Texas USA
This saw was poorly adjusted when I took it out of box. The degree plate in front had 2 of the 3 screws loose. However after extensive readjusting, squaring, etc. This saw gives a very good cut.

I do think at this price, it should have a better extension table, and a hold down for your work. Most saws in this price range have these features.

Solid tool, September 13, 2002
Reviewer: from Newton, MA United States
Two few things attracted me to this saw in the store right off. One, the finely machined base is very slick and makes changing angles a breeze and a joy. Nothing binds and all the controls are easy to reach and manipulate. Even the control to lay the saw over into a compound cut is easy to get to and easy to use. And two, the horiztonal D-handle was more comfortable and more sensible than the vertical handle on my old 10" Delta mitre saw. And there is a handle on top to carry the thing.

I finally bought one here and got it home. I like the fit and finish, but the 90 and 45 degree settings were off. And the motor whines a little more than I would like, but otherwise I'm happy with it. Seems to be a good buy.

Excellent tool, June 24, 2002
Reviewer: Paul Martin from Albuquerque, NM USA
When we were shopping for a compound miter saw, my wife and I tried out the adjustments on every saw in the store. The miter angle adjustments on the DeWalt were by far the easiest to adjust. I took a look at the new Porter Cable saw last week, and I still prefer the DeWalt. It is well designed, well built, and we haven't had any problems with it. There are good reasons you see this saw more than any other at construction sites.

Excellent saw, April 28, 2002
Reviewer: teamw23 from Silver Spring, MD United States
A major remodel at home finally convinced me to pull the trigger and buy a high-quality miter saw. Based on the reviews and research I read here and elsewhere, I chose the Dewalt 705S and I have not been disappointed.

The saw cuts smoothly, strongly and precisely. The ability to positively lock in the most common settings is handy, it makes basic work go very fast. You hear it click in and you know it's right on with no fuss. The high fence means you can handle tall stock easily. It also lets you dial in very precise angles when you need it. I've been doing a bunch of finish work in a remodel of an older house where it seems like there isn't a straight, true wall in the place, and this thing's ability to actually give me a real 43 degrees when I need it without any fuss has been wonderful.

For compound cuts, the saw will lock down very easily, and the knob to lock the compound angle into place is huge and very solid. It's not quite as easy to set the compound angle as the basic miter, but it's not hard, either.

It seems very solidly put together. The fence is very sturdy and nicely made and designed. Working with long stock has not been a problem for me because the fence works very well. The motor has plenty of power, even thick hard-wood cuts easily. However, get a high-quality extension cord if you need to use one. The motor is a real monster and a regular cord I was using slowed down cuts in hard wood noticeably, leaving less clean edges. With proper power, the stock blade it came with cuts very nicely, even for trim work. It's heavy enough that it feels solid when you are working with it, but it doesn't kill you when you want to carry it around. Little touches like the power cord and plug being super-heavy duty lead me to think I'll be using it a long time.

I can't say whether it's better than other saws out there, but I am very satisfied with it. I'm not a professional and this saw may have been a bit of an extravagence for even a serious D-I-Y guy like me, but I think it is a very good, well-designed product and I can recommend it without hesitation.

Project Warrior, April 24, 2002
Reviewer: Rajesh S Dash from Minneapolis, MN United States
I have used the Dewalt 705 for two years now and would be lost withot it. From quick framing jobs to elaborate book-shelf projects, it has done a fast and accurate job for me. The ability to tweek accuracy back in w/ the preset scale is a plus. The 705S has extras that improve on the original.

I have taken on a partner who, after using mine on a customer's project for a week now wants one of his own. He of course will be getting all the new perks including beefier motor, free extension and a dust bag.

Does its job well, April 23, 2002
Reviewer: A home improvement enthusiast from San Jose, CA USA
Bought it for some home remodelling. It came highly recommended from a friend who has 2. It's smooth and accurate but most importantly, powerful enough to get things done easily. Forget about the wimpy dust bag though. It's useless. I was pleasantly surprised that it could cross cut my 195mm wide laminate plank. Saves me a trip to the table saw. The blade is o.k. but I wished for a better one after going through 300 square feet laminates. It's a very high quality saw that does the basics well. I am a satisfied user.

flawed design, March 25, 2002
Reviewer: doug parent from escondido, CA
I concur with the reviewer that labeled this saw "junk". After mapping out the room for crown, I proceeded to make my cuts. then came installation. I've hung miles of this stuff, how could I be off so much? Oh well, just go and recut. What is this? When I tighten the table knob the front end rises? My ego felt sooo much better. I've checked many since, I even showed it to a product rep. on a brand new out of the box. She was dismayed and swore to tell the people up the line. Right. But what the hey, it's your money buy one, heck get a couple for the wife and kids. It gets worse the more you use it...

good saw, February 26, 2002
Reviewer: ccwinnies from Ardmore, ok. United States
Just bought about a week ago and I'm very satisfied. I use it daily in my business where accuracy is a must. This saw delivers. Only draw back is the blade. Get a better one if you are doing finish work.

JUNK, February 18, 2002
Reviewer: Jonathan Smith from Stony Point, NY United States
If you are a framing carpenter this saw is fine. If you are a woodworker /finish carpenter this saw is junk. It can not produce a 45 degree miter since the table is not flat. The fence was bowed and I got a new one and that one was bowed. Its impossible to get the blade perpendicular to the table since it is not flat. I've checked other saws and they all have the same problem. My brother has this saw and we both hate it due to its lack of fine accuracy.

Great Saw, February 15, 2002
Reviewer: A home improvement enthusiast from Norwalk, Ohio United States
This is my first miter saw and I love it.