Home > Saws: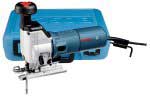 Bosch 1584AVSK Barrel Grip Jig Saw with Case--with Free 10-Piece Blade Set a $14.99 Value
Bosch
Shipping weight: 8.3 pounds
ASIN: B0000223GD
Check price and buy @ amazon.com



Get closer to your work for precise pattern cutting with this Bosch 1584AVSK barrel grip jig saw.

Features:

5 amp, 120-volt motor
Clic-quick blade changes
Base retracts for flush cutting
Rotating handle
One-year warranty
Amazon.com Review
This is the barrel-grip version of Bosch's bestselling top-handle 1587 model. Many woodworkers prefer the barrel grip on this model, however, arguing that it's easier to cut scrolls and curves when the saw is pushed forward (as opposed to down). Aside from the difference in grip, this saw is much like its top-handle counterpart: the balance is superb, the 5 amp motor packs plenty of power, the foot plate tilts left and right (up to 45 degrees), and the base retracts for flush cutting. The tool-free blade-changing system also works well. Simply put, this a compact, powerful, well-designed saw, a perfect buy for users who prefer barrel grips.

From the Manufacturer
Get closer to your work for precise pattern cutting with this barrel grip jig saw. The high-efficiency 5 amp motor provides you with more power to handle the most demanding cuts with ease. An adjustable footplate tilts left and right, up to 45 degrees, while the base retracts for flush cutting. This saw also features linear balance and a dust blower that clears the cut line and shuts off for metal cutting. The kit includes a no-mar plastic footplate insert kit, a steel footplate insert kit, a footplate adjustment hex key, an anti-splintering insert, three assorted blades ,and a plastic carrying case.

Technical data:
Amps: 5
Watts: 600
Volts: 120
Stroke Length: 1 in.
Maximum cutting capacity at 90 degrees (wood): 3-3/8 in.
Maximum cutting capacity at 90 degrees (metal): 1/8 in.
No load speed: 500 to 3,100 spm
Bearing type: Ball and roller
Blade Type: T-shank
Cord Length: 8 ft.
Cord Type: Two-prong, rubber
Handle type: Barrel grip
Base material: Cast aluminum
Type of blade(s) included: None
Grade: Professional
Country of Manufacture: USA
Also included: Steel base insert
Variable Speed: Yes
Adjustable Shoe: Yes
Scrolling: No
Keyless Blade Clamp: Yes
Blade Guide: No
Dust Blower: No
Orbital Action: Yes
Counter Balance Mechanism: Yes
Soft-grip handle: No
Trigger lock: No
Dust collection capability: Yes
Anti-Splintering Insert: Yes
Non-marring base insert: Yes
Externally accessible brushes: No
Onboard wrench: Yes
Rip Guide: No
Carrying case: Yes
Height: 8 in.
Length: 10-5/8 in.
Width: 4 in.
Weight: 5-1/2 lbs.
Shipping weight: 14 lbs.
Product Warranty: 30-day no-risk trial, 1-year
Service Warranty: 1-year

Customer Reviews:
What a difference quality can make!, October 17, 2002
Reviewer: Michael Foster from Portland, Maine USA
This saw is awesome! I have been using a borrowed, older Crafstman jigsaw from my dad for years and decided it was time to get my own. For everyone who thinks you cannot get a smooth straight cut with a jigsaw, they should buy this Bosch. I installed 1000 sq. feet of hardwood laminate flooring in my new house using the Craftsman. I had to use my table saw with a taper jig on some of the long tapered cuts because of lack of control and the tear-out that occured with the Craftsman. I just finished helping a friend with his laminate hardwood flooring and used this jigsaw exclusively!!! No tearout even with out the plastic insert, and the control you get from the barrel grip lets you follow lines like a straightedge!!! After using the Bosch blades I will never complain about the extra money you pay for them it is well worth it. Great saw, no complaints, save your money for this one its well worth its price tag!!!

BOSCH 1584 AVSK Barrel Grip JIg Saw, September 15, 2002
Reviewer: Joel McElrath from Texas
The saw is not one of the best. It is the best. It cuts through 2x4's 2x6's as easily as does a circular saw, but leaves a much smoother finish. I like the closer control from the barrel grip. Blade changing is simple (no tools) and it holds the blade tight. My previous saws (PC and Makita) never wore out blades, just broke them. With the Bosch, you have to occasionally change blades because they finally wear out. My four year old Porter Cable saw is still in perfect condition and I have not used it since receiving the Bosch as a gift.

Before buying a different saw, find someone with a Bosch and borrow it (if they'll lend it) and try it on some 2" boards. You'll see it cuts like a knife through hot butter.

Smooth, July 23, 2002
Reviewer: William C. Smith from Swannanoa, NC USA
This saw is a dream, it goes through wood like a butter knife through hot butter. It's simple to operate and easy to hold while cutting out shapes and angles. I used it recently to cut some metal bars and was amazed at how easily it chewed through the metal leaving a nice fine cut you could have never gotten with a hack saw. I'm not a professional and I don't use this was all the time. I'm a regular family handyman who gets ideas from reading woodworking books and magazines. And I don't know how I managed to get along without this saw now that I have one. If you're a weekend do it yourselfer like me, this saw is like owning a BMW instead of a scooter. Do yourself a favor and buy this saw. You won't regret it.

Sweet, July 2, 2002
Reviewer: Gregory S Brown from Richardson, TX United States
I'm sure there are jigsaws out there that are just as good as this one, but I don't think that any are better. The barrel grip really aids in doing fine work. Dust is blown away easily. Just humms through wood. Some comments have been made about the awkward blade change: I can't for the life of me figure out why this is difficult to perform. I found it very intuitive and straightforward to change blades. Bought the 30 piece Bosch blade set--excellent value. If you read my other reviews you will see that I own a number of Bosch tools. They are consistently excellent. Would buy this one again.

hot knife through butter, April 27, 2002
Reviewer: Jamie J Newton from New Canton, VA United States
I just recently tried out my 1584AVSK and it blows all other jig saws away. It mows through wood like a hot knife through butter!!It is a well balanced machine and the barrelgrip is alot better than the top handle because of better control. If you are thinking about jigsaw think BOSCH first.

Bosch Is BEST, February 12, 2002
Reviewer: F Allen Morgan from Oak Ridge, NJ United States
I just got the jig saw and right away was impressed with how well it cut. I've always had the cheap jig saws...since for a jig saw you only need a machine that moves the blade up and down right?....WRONG! You need a blade guide that stabalizes the cutting edge, you need a powerfull machine behind it to provide a consistant speed stroke, you need a balanced machine to avoid fatique and not have the machine vibrate. Also, the Bosch blades cut like butter thru the wood. I was able to make repetative 1/8th cuts in pine without the blade wandering and I was holding the wood on the bench only with my hand..hardly any vibration.

Great saw !, February 4, 2002
Reviewer: John Kozlowski from MD United States
This is the smoothest jig saw I have ever used. The motor has no equal. I've used several other top brands, but none compares to the power or agility of this unit. Very easy to control even with dense materials.

Can't put it away!, October 17, 2001
Reviewer: A home improvement enthusiast from Charlottesville, Virginia USA
This is without a doubt the best saw I have ever owned. I have only had it for a month and have used it for everything imaginable. Barrel shape makes it easy to use in either hand and allows cuts in those hard-to-get-in places. "Left-handers" may find the switch position a little awkward at first. Blade changes take a little getting used to, but are a snap after a couple of times. If you are looking for a jig saw, this is the one to pick.

Fine quality tool!!, August 31, 2001
Reviewer: George Schmitt from Reedville, VA United States
So nice to use a fine tool ,like the Bosch. Barrel grip is easier to use in my opinion, easy swap from hand to hand when scrolling. Much better visibility without the clunky handle in the way, and has better clearance in tight areas. Base locks to 90 degrees with unique pin wedge, and slides back for flush cutting. No chance of slipping out of square. Uses unique T lock blades. Bosch blades are the best I have ever used, and are more than worthy of their extra cost. Buy the 30 blade asst. [....] Metal cutting blades are unsurpassed. Blade changes are really quick and very easy. You'll never be sorry!!

Bosch Barrel Grip Saw Is Great, June 18, 2001
Reviewer: Kevin L. Williams from Kennesaw, Georgia USA
I really like this model. It runs smooth and cuts true. With the clear plastic foot accessory it made a very clean cut. I like the balance of the unit. I did find the accessory allen wrench "keeper" at the base of the saw's power cord to get hung up alot. This would disturb your path when making a cut now and then. Rotating the "keeper" 180 degrees would get it off the bench top and out of the way. Other than that, I found this saw to be everything I needed in a quality jig saw and more.