Home > Sanders: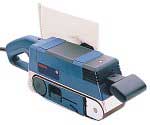 Bosch 1274DVS 3" x 21" Dustless Variable Speed Belt Sander
Bosch
Shipping weight: 8.65 pounds
ASIN: B0000223HB
Check price and buy @ amazon.com



You can sand all day with this sander, and the graphite platen pad will keep it cool.

Features:

6.6 amp, variable-speed motor
Front handle detaches for close-quarters work
Sands flush to vertical surfaces
Inline motor for better handling and easy benchtop mounting
Lightweight
Amazon.com Review
Well-executed design combined with solid, reliable performance make this Bosch belt sander a tool with noticeable performance advantages. The Bosch features a magnesium and plastic housing that's lightweight yet durable. The tool is nicely balanced, comfortable, and easy to operate, important features in a tool that's often used for long periods of time for removing large amounts of stock.

The Bosch comes with a cast-aluminum platen, so there's none of the warping that affects stamped-steel platens and it sands perfectly flat right out of the box. Like many of the sanders in this class, the motor on the 1274 is aligned with the belt edge to allow flush sanding into corners. The tool's only drawback is that visibility is limited when sanding into tight corners, but that's a small minus when weighed against all the pluses. The belt-changing system works well, we didn't suffer any spring pinches and the tracking adjustment tracks the new belt quickly and keeps it in place. There's a variable-speed dial built right into the trigger switch, which makes adjusting the belt speed fast and convenient. Wood magazine tested 10 3-by-21-inch sanders and liked the 1274DVS best. We agree that it's a great tool.

From the Manufacturer
You can sand all day with this sander, and the graphite platen pad will keep it cool. The belt support assures even sanding while the lever action makes belt changes quick and easy. The narrow-profile dust bag keeps clear of your work, and the 6.6 amp variable-speed (from 550 to 1,100 sfpm) motor gives you increased versatility. The auxiliary front handle detaches for close-quarters work. Purchase includes dust bag and sanding belt. Weight: 7.1 pounds.



Customer Reviews:
An excellent sander, August 18, 2002
Reviewer: saripp2 from Knoxville, TN
I've had this sander for about a year now and am very pleased with it. It has performed excellently from fine sanding for refinishing doors to rough sanding of plywood. The variable speed feature comes in handy, especially for the fine sanding work. Belt changing and tracking is a breeze. Being able to flip it upside down onto its flat top gives it some double-duty use as a tabletop sander. As well, being able to remove the front handle gives better access in tight areas. The dust collection bag is, however, worthless and you should just expect not to use it. Either hook it up to a dust collection system or leave it open and make sure it points away from you. A carrying case wasn't included, but would have been nice. Overall, though, a very nice sander for the price and I would recommended it to anyone.

Update and solution to dust collector issue, April 24, 2002
Reviewer: bug045 from Encinitas, CA United States
I agree with a previous reviewer that the dust collection system is poor. Mine keeps coming off and frankly, it gets in the way. I beleive I have come up with a good solution. I have a Porter-Cable finish sander #333vs and it has a unique dust collection system. Called a sand trap, it is a porus cup that works quite well, collecting even the finest sandings. I purchased a spare cup for [$$$] and mounted it on the 1274 with a 1 inch piece of plastic tubing and a clamp. It seems to work perfectly. I'll advise after I use it a month or so. You can buy the sand trap from Porter Cable direct by calling technical services listed on their web site.

Love the sander, but no case?, February 19, 2002
Reviewer: bug045 from Encinitas, CA United States
Great sander. Bosch obviously put a lot of thought into the design. However, I was bummed no case came with it, and none appears available. Without a case the dust collection bag gets banged up or caught on other tools. I'm in the process of trying to find another brand of case to fit this unit in. Come on Bosch, use a little comon sense and include a case.

The best I've tried, August 22, 2001
Reviewer: Michael J Edelman from Huntington Woods, MI USA
I bought this Bosch at the beginning of a major remodeling project to replace a tired, 30 year old ... sander. I haven't been disappointed.

For two years I fnished molding, leveled countertops, stripped old paint, sanded out difficult flooring stains and bevelled edges with it, and it's still running like new. It's light enough to use all day, the belts never need adjusting or wander off, and the variable speed feature makes it easy to set it for the job at hand. And the dustcatcher really works. An excellent choice for the pro or handyman.

excellent utility sander, good all around, August 6, 2001
Reviewer: A home improvement enthusiast from Redwood City, CA United States
[ this is an update to the review I posted below. After several months of use, I'm having a problem with the waste port... the path that clears the dust from the surface to the bag. Basically, it's getting clogged and while this doesn't prevent the sander from working, it does prevent dust collection. Cleaning the port is a pain, I had to disassemble the motor cover and use a very small screwdriver to push the clog out. ]

I really like this sander, but I can't comment on long term durability as I have only used it for about a month. Nonetheless, Bosch's reputation for building high quality power tools is pretty solid.

The belt alignment on this is pretty much maintenance free, I have not had to adjust it yet. The overall design is outstanding, easy to use with one hand when you need to, and has good grips for when you need to bear down.

The other aspect of the design that is tops is that you can easily get into tight spots. The motor housing doesn't extend past the right side of the sander. The variable speed switch is nice, and it has a wheel to modulate the top speed (a higher speed would be nice, I think this is 1,400 feet/sec).

The sander really is "almost dust free", just depends on what you are sanding. The dust bag is the only negative, it is small and needs to be emptied a lot. But after looking at it, it probably would not be a big deal to retrofit another bag.

Bosch's 4x24 sander is also really nice, but it weighs 14 lbs. The 3x21 sander is perfect for most jobs.

Solid Inline Belt Sander, March 30, 2001
Reviewer: Mesquite from Woodlands, Texas
I owned a small inline belt sander and found the shape gave me the opportunity to use the machine in many more ways, especially on its side sanding the edges of large pieces of solid wood. When I had to replace the small sander, I knew I wanted a larger version, and the Bosch fit the bill. Amazon sold it at a lower price than I could find locally, and then there was the tax I saved and free delivery!

A week later it was on the door step and it came out of the box and went right to work on some local hardwoods. There is lots of power to turn the 3 inch belt. While I have checked the belt for running off ceter- it almost never runs off. And the graphite patten is flat and stays cool. It has only a few hours on it but I am very happy with it. I have not used the fence, but I will, and I wish I had ordered the clamps to tie it down to a table upside down.

The only problem I have with the sander is the dust control. I have been using the dust bag and it is small, and dust puffs out of a small indentation near the dust nipple when lifting off or moving down on the wood. I have not tried to trouble-check the problem.

A happy Bosch customer and a happy Ammazon.com customer.

A nice sander for the $., February 10, 2001
Reviewer: tnecvols1 from Kentucky
I agree with the other reviewers regarding the flat sides, it gives flexibility for sanding small parts and making adjustments after changing belts. As an added bonus, I was surprised to find that the shop vac hose attachment from Bosch that I purchased for my orbital sander worked with this belt sander. This makes it much quicker to achieve a smooth finish as it really helps to pull the dust off the work surface. I recommend purchasing the hose attachment. Dust bags, regardless of the tool brand just don't work as well. All in all this is a fine product for a reasonable price.

Great Little Belt Sander, January 18, 2001
Reviewer: Steve Turner from Logan, UT United States
This is the only belt sander I know of with an absolutely flat platten (belt support). That plus the light weight and excellent speed control make it a great choice for cabinet faces, shelving and smoothing dutchman patches. While sanding a crown out of a 3/4" particleboard floor, I did find that I had to use a lower speed (probably because so much of the belt is in contact with the surface, for so long), and that this caused the handle to get hot (directly over the variable speed switch), so I would have to rest the sander. On materials that can be sanded at full speed (redwood, pine, metal), heat has not been a problem. Watch out for the cord, though. I got mine one day and bent the aluminium frame. It happens.

Just a little off the top, July 13, 2000
Reviewer: okwoodworker from Tulsa, OK USA
I'll be honest, this is my first belt sander, but I love it. I took the recommendation of some of the other reviewers, and I couldn't agree more. The sander is easy to use out of the box, and is a smooth-running, well-designed tool. The variable speed switch is very nice, and adds considerably to the user's control. I haven't yet done any heavy duty sanding, but for finish work the dust collection seems to work well. Five stars for Bosch on this one.

Bosch 3X21 Belt Sander, June 4, 2000
Reviewer: A home improvement enthusiast from West Palm Beach, Florida
I'm a son of a carpenter, mechanic, home rebuilder, and avid hobbyist. I started using power tools when I was 7 or 8 years old. I'm now 39; you do the math. I've had an older model (3270) that looks identical to the 1274DVS for 10+ years and wouldn't trade it for any other. This is the only belt sander I could find with a flat top and sides. You can place the sander up side down on a table, lock the trigger and sand small parts all day. I also set the sander on its side and clamp it to my table saw's table for sanding 90-degree work. The belt centering is not the best I've seen but it works okay. The end of the belt release handle got broken years ago but it still works by pulling on the remaining stub. I recently got the cord stuck in the belt area and snapped the rubber drive belt (no other damage). Good design here as other tools I've overstressed broke more than a simple drive belt. (No, I'm not a klutz, these things happen every so often.) The sander is light enough to handle fairly good with one hand. I'm in the process of finding out if the variable speed switch and graphite platen will adapt to my older model. Bosch has a web site which is very good except no parts are available on line. A listing of authorized parts locations is given though.