Home > Sanders: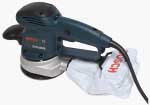 Bosch 3725DVS 5" Random Orbit Variable Speed Dustless Sander/Polisher
Bosch
Shipping weight: 5.7 pounds
ASIN: B0000223H6
Check price and buy @ amazon.com



The orbit-plus-rotation feature on this Bosch 3725DVS 5" random urbit variable speed dustless sander/polisher mimics natural hand-sanding action for smooth operation and a swirl-free finish.

Features:

3.3-amp motor
Eccentric orbit plus rotation for a smooth finish
Dual bearing pad
Removable auxiliary handle for solid control
One-year warranty
Amazon.com Review
Bosch's line of sanders is a pleasure to use. Their 5-inch random orbit sander is contoured and tapered to fit the human hand with remarkable precision. We were also won over by the many rubberized grips and the placement of the variable-speed dial, which sits right where your thumb naturally rests. (Anyone who's ever wrestled with an uncomfortable sander knows how frustrating bad design can be.) But ergonomics is not the only area in which Bosch excels. Their dual ball-bearing system is unique to the industry and makes for a smooth ride. The variable speed lets you match the speed to the task. Quick-change hook-and-loop paper is always a plus. Dust collection is great. There's also an auxiliary handle you can remove if you need to maneuver the sander in tight places. Finally, the sander's flawless, properly swirl-free results can be attributed to the precise eccentric/orbital motion of the tool. No ifs, ands, or buts, Bosch's 5-inch random orbit sander is a high-quality tool.

From the Manufacturer
Get a consistent finish every time. The orbit-plus-rotation feature on this sander mimics natural hand-sanding action for smooth operation and a swirl-free finish. The variable-speed dial (4,500 to 12,000 orbits per minute) provides superior control while the ergonomic handles allow for comfortable grip. Remove the auxiliary handle for close-quarter work and enjoy wobble-free sanding with the dual-bearing pad mount system. This sander utilizes quick-change hook-and-loop paper and features an efficient dust collection system. Your purchase includes an allen key, medium backing pad, cloth and paper dust bag, and sanding disc.



Customer Reviews:
A wonderful orbital sander, January 1, 2002
Reviewer: Janene Peterson from Arnold, MD United States
I purchased this orbital sander about a year ago, when I installed my wood floors. I absolutely loved it, and still do. It is quite the little workhorse. Just make sure you get the proper sand paper for it. It shreds the adhesive variety.

it's a wood hog if you can get the discs to stay on......, November 4, 2001
Reviewer: woodoc from Marion, IL United States
I was really amazed at how smooth the operation is and the amount of wood you can hog out with this sander.

You can bear down on it and it won't bog, it has plenty of power.

The only problem I have is that the velcro pad doesn't hold the discs very tightly, even new out of the box.

I have a friend that uses them for production sanding and in about 4 months has gone thru 15 or more new backer pads on the 2 3725's he uses every day, the discs just start flying across the room.

I still have my old 3283 VSRO model and the pads on it grip the discs alot better.

This is a problem that Bosch needs to address, so that the sander will truly be a 5 star model.

Better when new, January 6, 2001
Reviewer: ilader from Teaneck, NJ USA
I actually have the Bosch B7255 - I believe it is almost identical to the 3725DVS. I can't find it on the Bosch web site, but the pad for the 3725DVS fit. When it was new it was the greatest sander I had ever used - the first clutch and through-pad vacuum. It seems very sensitive to the quality of sandpaper - Bosch sandpaper seems to last forever, others not. The pad has come off a few times. The bag droops and drags, and was sanded through early on. The 3275DVS appears to hold the bag further off. The vacuum does not appear to work as well as it originally did, resulting in less effective sanding (I have washed the bag, thinking it might be restricting the airflow).

A pleasure to use, December 26, 2000
Reviewer: 2lman from Stockton, CA United States
I never thought I would say that I look forward to sanding. I have used a lot of sanders, but never before have I used one as quiet, as effecient, and as comfortable as this one. I have written a few reviews before and I always told myself that noting deserves a perfect rating until now. I have felt that every tool has room for improvement, not this one. It has it all. If you do a lot of sanding or even a little. Do yourself a favor and purchase this one. Thanks Bosch.

A well-designed sander, December 18, 2000
Reviewer: from Phoenix, AZ
Bosch is known for producing fine power tools and the 3725 DVS is no exception. I actually own the 3727, but they are identical except for the size of the pad bolted to the sander. It is smooth, comfortable and relatively quiet, especially at the lower speed setting (78 db). Even though I recommend this sander, I did find some minor problems with it that I think are more a problem with quality control than design. Specifically, the backing pad was of poor quality (not perfectly flat) which I thought caused some wobble as well as quick paper wear. The ergonomics are excellent. The tool fit very comfortably in both hands or one. It was well-balanced and the option of using the main handle in one hand and the front handle in the other allowed for exceptional control. For light sanding, or just to switch your hands to a different position, the rubberized pad on the top of the sander was very comfortable. The controls are well placed. I found the integrated dust collection system to work very well with either paper or cloth bag. I would suggest you buy the 3727 instead of the 3725 because the price is virtually the same but you get a larger (6 in.) pad on the 3727. Amazon's accessory list is inaccurate. The actual vacuum adapter for it is model #RS006, which they do not list, and which goes from the oblong port to a 1 inch hose. The adaptor they list is to go from a one inch hose to a 2 1/2 inch vac hose.

Outstanding Product, December 12, 2000
Reviewer: kevan d western from Keller, Texas United States
I purchased the 3725DVS sander based upon terrific performance of my Bosch 3X21" belt sander along with strong consideration from Amazon's reviews.

I was looking for a high quality sander with very low vibration and good dust filtration.

Initially, I was a little aprehensive about it's size. It's larger than my Dewalt random oribital sander and a slightly heavier.

The 3725DVS is ergonomically well balanced. Something that I can't explain. But, like other fine products, when you use them, there is just something different about them that sets them apart for the herd. It's one of those things that you'll just have experience for yourself to appreciate.

Use it, and you'll understand.

The 3725DVS is it very mauverable. The additional size and weight that I feared is no concern at all. I believe this is a testament to the superior ergonomic's and balanacing. The vibration is very low. After several hours of sanding, my hand is still fully functional . If you've run a sander that has alot of vibration for several hours, you know what I mean.

The filtration is much better than I expected. Very minimal dust excapes this machine. Nothing like my Dewalt.

Bottom Line: This is an Execellent Product that you will enjoy using. It delivers the high quality finish that you would expect from a top-of-the-line tool. The dust it leaves hehind is hardly noticable.

This product is worth the extra investment.

Smooth Running, November 22, 2000
Reviewer: David D. Koontz from Whittier, CA USA
There are just a few tools in my shop that I cannot imagine giving up. The 3725 is one of them. I struggle with sanding face frames for years (The woodwork in my house demonstrates it)- NO MORE. The 3725 is feather-light and sands scratch-free effortlessly. I've been using this machine for a couple of years now and I am still amazed at what it can do. I smack on a 150 grit pad for everything. It sands so agressively that I rarely crank it up to full speed. I have a nerve condition that makes it difficult to use vibrating tools for even a short time. The 3725 has been my salvation! Great tool, well worth the price.

This is the one!, September 27, 2000
Reviewer: A home improvement enthusiast from Monterey, CA USA
After reading, studying, and reviewing sanders (belt and random orbit) I decided on the Bosch 5-inch sander. Best tool-buying decision I've made. I'm a home-owner/handyman, and wanted one sander that would do it all. Cost was a very real consideration, but I didn't want to skimp on quality, either. If you want one sander for projects from fine sanding to coarse, this one is it. I love the ease of operation, the dust-collection system, the weight and feel, and the performance of this sander. The hook & loop disk system is great! Makes it a breeze to change. I like using quality tools, and this sander is a genuine pleasure.

The ultimate in ergonomics!, April 21, 2000
Reviewer: a_guy from Arizona
One of the factors that led me to purchase this sander was the clever rubber top which I though would help to isolate my hand from the numbing vibrations - boy was I wrong. The sander is so well counterbalanced that vibrations are almost imperceptable at low speeds and minimal at full speed, the rubber top just makes the sander feel really good in ones hand like the gearshift of an italian sportscar. The balance is perfect on this machine from absolutely every respect. For coarse sanding the front/rear grip combination feels incredibly natural and really allows one to exploit the seemingly endless power of the motor, while for fine sanding, a few fingers resting on the rubber top allow for truly effortless control. Dust control is amazing and although (like other sanders in this class) there really is not much holding the bag in place, the bag has never even begun to loosen for me. A paper bag is also included but I have not tried it as the cloth bag works very well. So little dust is missed that I have on occasion forgotten to clean the wood before staining! Aligning the disks is absolutely effortless and takes but a second on my 6" model (3727). I can't imagine why anyone would choose the 5" over the 6" for the same price (bigger is better, right?) but either is a fantastic machine.

Good Results...Fair Design, January 12, 2000
Reviewer: Ryan Lanham from Chicago
I don't have any complaints about the results of the 3735 I own. It has handled small and large jobs and moves well from rough work probably better suited to a small belt sander to fairly fine polishing tasks. I like the lock-on feature and I like the rapid loading of discs. Dust control is weak. The bag drops off and the holes in even Bosch discs don't line up well without too much tinkering. Got to be a better place to put the bag. It has popped off on me twice and dumped a fist-full of dust everywhere.