Home > Rotary Hammers: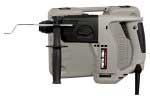 Porter-Cable 97765 7/8" SDS Rotary Hammer Kit
Porter-Cable
Shipping weight: 9.95 pounds
ASIN: B0000222X4
Check price and buy @ amazon.com



Porter-Cable 97765 7/8" SDS rotary hammer operate in one of three modes, frill only mode, hammer only mode, hammer and drill mode.

Features:

Balanced, compact design
Variable speed, reversing
Three operation modes
Fast, easy bit changes
One year warranty/30 day performance certification
From the Manufacturer
Fitting into tight places is no problem for this 7/8-inch rotary hammer. The motor is under the body for better balance and a more compact design. Powered by a rugged 5.4 amp motor, it can drill from 0 to 1,050 rpm and hammer at 5,194 blows per minute.

Depending upon the application, this unit can operate in one of three modes. Drill only mode is great for drilling through wood that is being attached to concrete. Hammer only mode allows chiseling of masonry and, hammer and drill mode will drill into masonry with ease. The side handle is reversible and adjustable for the most comfortable angle. An adjustable depth stop rod is attached to the side handle housing to allow repetitive drilling to a chosen depth. Bit changes are quick and easy with the SDS chuck. Ergonomically designed with the motor under the body and a soft-grip handle and trigger. Comes with a heavy-duty carrying case that has storage for bits and manual. One year warranty with a 30 day performance certification. Includes rotary hammer, auxiliary handle, depth stop rod, heavy-duty carrying case, and operator's manual.



Customer Reviews:
Versatile, compact and cost effective!, July 14, 2001
Reviewer: butch-toolguy from Washington, D.C. United States
This tool does everything right; it's relatively light and small, yet packs a serious punch! I've used it to accurately knock out cracked bathroom tile fixtures in the hammer-only mode to hammer-drilling holes for gas lines for gas fireplaces. It comes with a very nice carrying case that holds practically everything I need for most jobs; safety glasses, earplugs, a large assortment of drill bits and demo tools. Although I have an assortment of rotary hammers large and small, this one is my favorite for medium size holes and chipping. I highly recommend this tool for anyone in the market for a lightweight 3 mode rotary hammer.

Great tool, February 13, 2000
Reviewer: Lee A. Austin from usa
I had a competitor's rotary hammer which I did not really care for. I was looking for a tool such as this from Porter-Cable for some time. It finally became available. The other tool was working, so no real good justification for buying a new Porter-Cable SDS. Well The 'other' tool ended up missing. I needed a tool right away.

This tool is balanced a lot better than the competitors, works fine, and all our power tools are being replaced with Porter-Cable as they are needed and become available.

THE PORTER CABLE SDS DRILL HITS THE CONCETE HARD!, November 10, 1999
eviewer: MARCUS CATCHINGS from PENSACOLA, FLORIDA
This three function(hammer, rotation and hammer and rotation) highly versitale, compact sds drill is a must and a excellent chose for the contractor or weekend warrior that wants to drill masonary, cement and other concrete based products, with the greats of ease. I have had this drill for three weeks and like the power and weight for over head and wall drilling applications. The drill is a good tool - as though porter cable would produce a shoddy product. THIS DRILL ROCKS THE CONCRETE HARD!