Home > Plate Joiners: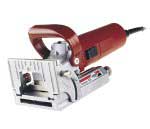 Lamello 101200 C2 Classic Plate Joiner
Lamello
Shipping weight: 18.0 pounds
ASIN: B000022413
Check price and buy @ amazon.com



Lamello C2 is designed to maintain absolute precision over extended continuous operation in hardwood, softwood, composites, and nonferrous material.

Features:

6.4 amp motor; 10,000 rpm
Fast adjustment for six cutting depths
Nickel-coated guide plate
Groove cutter with six alternating teeth
One-year warranty
From the Manufacturer
Whether it's cutting shadow joints or patching resin pockets, the Lamello biscuit joiner gives you all the quality you expect, for about half the price. The C2 is designed to maintain absolute precision over extended continuous operation in hardwood, softwood, composites, and nonferrous material. There's a swiveling front, with notches at 22.5, 45, and 67.5 degrees; quick adjustment for six cutting depths; and a nickel-coated guide plate. The groove cutter has six alternating teeth, while the joiner features a height-adjustable stop square, antislip pads, central locking for quick change of cutter, and a plastic carrying case.

Technical data:
Amps: 6.4
Watts: 705
Volts: 115
Blade diameter: 4 in.
Arbor diameter: 7/8 in.
No-load speed: 10,000 rpm
Type of blade included: Six-tooth carbide
Fence range: 0 to 90 degrees
Fence-adjust mechanism: Micro-height step memory system
Cord length: 8 ft.
Cord type: 2-prong rubber
Bearing type(s): Ball and needle
Number of depth settings: Six
Biscuit sizes accepted: 0, 10, 20
Maximum cutting depth: 25/32 in.
Maximum cutting width: 3-1/8 in.
Grade: Professional
Country of manufacture: Germany
Also included: N/A
Tool-free fence adjustment: Yes
Fixed fence stops: Yes
Soft start: No
Switch lock: No
Dust chute: Yes
Soft-grip handle: No
Electric brake: No
Onboard wrench: No
External brush access: No
Detachable cord: No
Spindle lock: Yes
Dust bag included: No
Biscuits included: No
Shop-Vac adapter included: No
Blade included: Yes
Carrying case: Yes
Height: 7 in.
Length: 12-1/2 in.
Width: 5-3/8 in.
Weight: 6.6 lbs.
Shipping Weight: 14 lbs.
Product: 30-day no-risk trial, 1-year
Service: None

Customer Reviews:
I think well worth it, January 28, 2001
Reviewer: A. Comer Gaither from Earlysville, VA USA
I am fairly picky and actually had both the Lamello and the Dewalt side by side to see if the latter was worth the extra. The DeWalt's fence is quicker to adjust, and is probably fine for many applications, but there was some noticeable play, and the Lamello had absolutely none. Also, the Dewalt fence is not quite as versatile, but requires less set-up. What convinced me to mail the DeWalt back and not the Lamello is that when cutting, the Lamello never skidded even when messing around with just one hand.. The Dewalt did skid some unless I paid attention to what I was doing. Also, the Lamello has a clutch, and cuts very smoothly, quietly, and is made with a significantly more metal than DeWalt. It is easy to see why it costs more. While I am sure people can do a fine job with even the least expensive model out there, the Lamello gives you quite a bit more for the extra money.

Simply worth it...., January 18, 2000
Reviewer: Ryan Lanham from Chicago
If you use biscuit joinery a lot, it is worth it to have a better tool. Lamello simply makes a more solid, powerful and clean tool than the competition. It costs more to not get the mass production vendors, but it is a better tool. Like a Fein shop vacuum, the quality is just worth it here versus PC or DeWalt. When I used the DeWalt, it threw sawdust all over me. Wierd engineering that.