Home > Plate Joiners: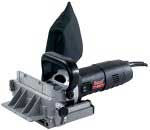 Freud JS102 Biscuit Joiner System with Tilting Fence and Dust Bag
Freud
Shipping weight: 10.7 pounds
ASIN: B0000223OL
Check price and buy @ amazon.com



Ideal for making multisided boxes and frames, this Freud JS102 biscuit joiner has a variable angle fence system for fence adjustments from 0 to 90 degrees.

Features:

5 amps; 10,000 rpm
Adjustable fence system
Six cutting depths
Antislip rubber pins
One-year warranty
Amazon.com Review
Freud's biscuit joiner is a solid tool that costs remarkably less than its competitors' models. The all-metal construction of this compact joiner gives it a high-quality, very balanced feel. The carbide-tipped blade cuts the three standard 0, 10, and 20 biscuit sizes plus A, B, and max. You can switch easily between the six settings with a convenient thumb wheel. The joiner also gives you the choice of using a dust bag or hooking it up to a vacuum for even simpler cleanup. The joiner features a new variable-angle fence system for adjustments from 0 to 90 degrees. Making fence adjustments, admittedly, isn't as easy as it is on DeWalt's or Porter-Cable's more expensive models but this was the only notable difference we could find with Freud's joiner. (It's also not much of a concern for the casual woodworker or for anyone who uses a biscuit cutter primarily to make repetitive cuts.) All in all, this is a quality tool at a really attractive price.

From the Manufacturer
Ideal for making multisided boxes and frames, this biscuit joiner has a variable angle fence system for fence adjustments from 0 to 90 degrees. This powerful 5 amp joiner features antislip rubber pins that replace the old steel pins, giving you better operating control. The convenient thumb wheel cutting depth features six settings: 0, 10, 20, A, B, and max. It also has a chip collection system that can be hooked up to a vacuum or used with the dust bag. Your biscuit joiner purchase includes all required wrenches, special guide lubricant, dust bag, sample bag of biscuits, and carrying case. 6.8 pounds.

Technical data:
Amps: 5
Watts: 600
Volts: 120
Blade diameter: 3-15/16 in.
Arbor diameter: 7/8 in.
No-load speed: 10,000 rpm
Type of blade included: Six-tooth carbide
Fence range: 0 to 90 degrees
Fence-adjust mechanism: Sliding height adjustment
Cord length: 8 ft.
Cord type: 18 gauge, rubber
Bearing type(s): Ball and needle
Number of depth settings: Six
Biscuit sizes accepted: 00, 10, 20, A, B, Max
Maximum cutting depth: 25/32 in.
Maximum cutting width: 3-1/8 in.
Grade: Professional
Country of manufacture: Spain
Also included: N/A
Tool-free fence adjustment: Yes
Fixed fence stops: No
Soft start: No
Switch lock: No
Dust chute: Yes
Soft-grip handle: No
Electric brake: No
Onboard wrench: No
External brush access: No
Detachable cord: No
Spindle lock: No
Dust bag included: Yes
Biscuits included: Yes
Shop-Vac adapter included: Yes
Blade included: Yes
Carrying case: Yes
Height: 5-3/4 in.
Length: 13 in.
Width: 4-3/4 in.
Weight: 6.8 lbs.
Shipping Weight: 13.7 lbs.
Product: 30-day no-risk trial; 1-year
Service: None

Customer Reviews:
Delivery Service, September 12, 2002
Reviewer: john c shen from morgan hill, ca United States
I have ordered this product for more than 2 weeks, and have no sign of delivery status. The service is very poor.

Had a 2nd thought about my future purchasing from Amerzon.com

You get what you pay for, June 19, 2002
Reviewer: duke-of-url from Medford, MA USA
I bought this tool then returned it because I found it time-consuming to set up and use. Still, it's quite a bit cheaper than the Porter Cable 557 (which I would recommend), and once you get it all adjusted (and assuming you don't need to change the setup much) it does work reasonably well for the money.

The manual is plain awful. Pictures are so low-res that I can't make sense of them. Instructions on using the unit are incomplete.

The tool arrived in need of readjustment. Since I've never used bisquits before, it took me a long time to figure out how it should work properly, then I was able to get it to adjust... just barely: the adjustment screw was nearly at the end of its range when I got the depth adequately set. The manual says that this adjustment should be set properly when the tools is new. I agree! It isn't, though.

The tool can't do many of the things that the PC557 can do. The fence in particular is not very flexible. On the other hand I expect that 45 and 90 are most of what I'll use, and this tool does those ok.

The Porter-Cable is no longer that much more expensive than this Freud tool. (Amazon.com's tool prices seem exceptionally competitive these days!) Unless your needs are basic, and your money is tigher than your time, I recommend the PC557 instead.

Cannot adjust fence parallel to blade, June 13, 2002
Reviewer: maorlow from Whitefish Bay, WI United States
The biggest problem with this tool is the total inability to adjust the auxiliary fence parallel to the blade. The fence adjustment mechanism seems poorly designed and engineered. The amount of discrepancy is small, but when joining surfaces that can accomodate only one biscuit, the joined pieces will be totally misaligned.

It's too bad because in other respects, it seems like a fairly decent tool. (If not for the lousy fence I'd have given it at least 4 stars.) But I've decided to return it and spend a little more money for a tool with better precision.

..except for the fence..., May 12, 2002
Reviewer: Barry Yodzis from Friendswood, TX United States
I recently received my first JS102 and sent it back because the fence scales (one per side) clearly indicated the fence was 1/32" crooked. I determined this was due to the drilling for the two pivot pins being uneven at the lower edge. Everything else looked very precise, but the pivot pin misalignment throws the entire plate off. I called Freud (the phone number included with the product is not correct) and they said they had never heard of such a misalignment and would have to see the item before sending me out a replacement part. Maybe reasonable, but would take several more weeks at least. I returned the item ... (they even paid shipping) and ordered a second JS102. The second one has the same defect. (It does have a different serial number!). I decided to keep this one since they must all be this way. If the factory could figure out how to drill the two pivot holes inline with each other (or fire the worker that prides speed over precision) this would be a perfect tool. Wonder how many other JS102 owners have seen the same defect.

At this price, the quality of this unit is nuts., October 25, 2001
Reviewer: Robert Feeser from Springfield, PA USA
Having looked at various reviews of other manufacturers, and having gotten a feel for different models (...), I finally settled into the Freud JS 102. I am glad I did.

(...)The Freud is an all-metal design, except the handle shroud. It is well built, and substantially made. Its price tag belies its engineering and performance. It's 5 amp motor didn't even slow down during cutting. We are not chain sawing oak; we are only cutting a tiny slit on the side of wood. The fence detents of 0 and 45 degrees are accurate. More importantly it does not slip when cutting a biscuit. Dust collection appears to be one of the best. Even with the collection bag off of the unit, the shavings exited readily out of the chute, off to the side, and away from the operator.

The only drawback is that in order to adjust the height of the cut, you must loosen the locking nut, and manually move the fence up or down. With this method it is possible to jump to a spot, which may be more or less than is needed. A micro fine adjusting knob would be nice. Some of the more expensive units have that feature. Freud chose to use a precisely fitting (no play) front "sled" with linear measurements inscribed on its face, and a locking lever that is very exact.

On the other hand, the depth of cut is easily adjustable, and like the rest of the unit, very precise.

If your the kind of person who coddles to the very best, and will be using it for your own projects, no matter how many you undertake, and are not dependent on biscuit cutting for a living, then this unit is for you. The only reservation is the height adjustment. Don't misunderstand me. You can get an exact height adjustment with this unit. A perfect setting as a matter of fact. You may spend an extra 20 seconds getting it there. If you cut a 100 different biscuits a day, that 20 seconds could add up.

I am new to this machine and am convinced that with a little practice, I will be able to precisely adjust the height first time, by the way that I hold it, and visually measuring the difference using the measuring ruler on the fence face.

All in all I give it 5 stars because of the quality of the tool, and the surprisingly low price. It appears to be a tool that will give you years and years of dependable use. Freud router bits are among the very best, and I believe this tool is worthy of the Freud name.

How did I ever get along w/o one of these !, May 25, 2001
Reviewer: Dan from Sterling, VA USA
Really pleased with the performance of this tool. Have not used others for a comparison, but this seems to be a well made unit for the money. Better made and heavier duty (more metal than plastic) than other comparably priced units such as the Ryobi.

Fun, Fun, Fun!, February 20, 2000
Reviewer: Daniel H. Foster from Utah, USA
Easy to handle and the dust bag is a godsend! Don't see how the other manufacturers are selling theirs for so much more when the Freud is available. Only draw back is the fence adjustment. Have to "eyeball" the setting to make sure the plate is level. A "rack and pinion" setup would be nice. If this one ever wears out, I'll buy another Freud.

Good performance, great value., January 4, 2000
Reviewer: Scott Pointon from LaPorte, Indiana
I purchased this biscuit jointer two years ago and have used it to build many tables in the time since. It is a quality built machine that is worth its modest price tag. The only fault I can find with it is that the dust port leading to the cloth bag tends to get clogged up. This is not a big deal though, as it is easy to clean out. I would buy this tool again in a heartbeat.