Home > Plate Joiners: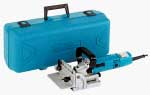 Makita 3901 Heavy Duty Plate Joiner with Case--Includes 100 Pack #20 Bisquits a $6.99 Value
Makita
Shipping weight: 11.0 pounds
ASIN: B0000223JG
Check price and buy @ amazon.com



Designed to make strong plate joints in a minimum of time, this plate joiner features six depth settings for no. 0, no. 10, and no. 20 biscuits, all with one touch.

Features:

5.6-amp motor provides 10,000 rpm
Six depth settings
Precise rack-and-pinion vertical fence adjustment
Comfortable top grip
One-year warranty
Amazon.com Review
Purist furniture makers frown on the plate joiner, or biscuit joiner as it's often called, but this model might change a few minds. The joinery ease is unparalleled with this method, and Makita really knows its business. This model offers a 10,000 rpm, 5.6 amp motor, six cutting depths for different biscuit sizes, and a precision fence that angles with positive stops at 0, 45, and 90 degrees. Changing biscuit sizes is as quick and easy as turning the adjustment dial. The rack-and-pinion fence's action is as smooth as any on the market at this level, and our test cuts were clean and dead-on accurate. Sure, you can keep on cutting mortise and tenon joints if you want to, but the smart woodworker is taking one of these home. For us, it falls squarely into the gotta-get-one category.

From the Manufacturer
Designed to make strong plate joints in a minimum of time, this plate joiner features six depth settings for no. 0, no. 10, and no. 20 biscuits, all with one touch. There's a rack-and-pinion fence adjustment so that your measurements are precise and a cast-aluminum pivot fence with positive stops at 0, 45, and 90 degrees. Blade changes on this planer are a breeze: simply loosen a knob opening the blade door, turn the shaft lock, and change it. Other features include a large top-grip handle, nonmarring rubber strip insert, easy-to-reach cam locks, and double insulation. Your planer purchase includes a carbide-tipped blade, angle guide, dust bag, lock nut wrench, set plate, inner flange, lock nut, and plastic tool case.

Technical data:
Amps: 5.6
Watts: 645
Volts: 115
Blade diameter: 4 in.
Arbor diameter: 7/8 in.
No-load speed: 10,000 rpm
Type of blade included: Six-tooth carbide
Fence range: 0 to 90 degrees
Fence-adjust mechanism: Rack and pinion
Cord length: 8 ft.
Cord type: 18 gauge, rubber
Bearing type(s): Ball and needle
Number of depth settings: Six
Biscuit sizes accepted: 0, 10, 20
Maximum cutting depth: 25/32 in.
Maximum cutting width: 3-1/8 in.
Grade: Professional
Country of manufacture: Japan
Also included: N/A
Tool-free fence adjustment: Yes
Fixed fence stops: Yes
Soft start: No
Switch lock: No
Dust chute: Yes
Soft-grip handle: No
Electric brake: No
Onboard wrench: No
External brush access: No
Detachable cord: No
Spindle lock: Yes
Dust bag included: Yes
Biscuits included: No
Shop-Vac adapter included: No
Blade included: Yes
Carrying case: Yes
Height: 5 in.
Length: 12-3/32 in.
Width: 4-1/2 in.
Weight: 6.2 lbs.
Shipping Weight: 11.4 lbs.
Product: 30-day no-risk trial, 1-year
Service: None

Customer Reviews:
awesome!, October 18, 2002
Reviewer: Philip A Dimercurio Jr from Holly, MI United States
This is one of the greatest tools I have ever used, and I have used ALOT of tools. Very easy to use, and so fast you dont even feel like you did work, lol! If you do any amount of joining, this is well worth getting. The makita is a great brand and very well made. I love this thing!!

Very Easy to Use, January 14, 2002
Reviewer: Mike Barnum
I got this tool as a gift and had little experience with plate joiners. I was amazed at how easy and intuitive it was. I no time at all I was able to make standard biscuit joints, mitred biscuit joints and off set biscuit joints. It was so easy to use. The fence system is basically self explanatory. There are center markings on every surface and the 0 and 45 degree detents are helpful.

The only thing I would change is the handle. I find it difficult to hold while sliding the saw portion without tilting the blade. I usually hold onto the barrel. A handle would be more useful if it were oriented along the long axis of the tool. Otherwise it is fantastic.

I just love biscuits!, October 2, 2001
Reviewer: John
This plate joiner works great! It's movement is extremely smooth and the cuts are accurate. I've made many joints with this tool and it's a pleasure to use every time. The depth stop is easy to use and consistant, just dial to the correct biscuit size. I love how it holds on to the wood, no slipping, even on miters/bevels. It's very easy to use and you may find yourself using it for more than just biscuits.

Better than others, March 31, 2001
Reviewer: A home improvement enthusiast from Getzville, NY United States
I bought this plate joiner sight unseen and don't regret it. Makita is superior in comparison to other brands. The tolerances are much tighter with no slop. Cuts are very smooth. I also have a Porter Cable, and it doesn't come close to the quality this model. The slider bars move with great precision. All wood chips exit through the dust port. Unless you have the money to spend for an expensive "Lamello", this is the model to get.

sloppy tolerances, March 1, 2001
Reviewer: Bob F. from Mountain View, CA United States
I am surprised by all the positive reviews of this product. The adjustment stop on mine is slightly out of alignment causing the stop bolt to bind with the adjustment mechanism. Instead of returning for a new unit, I disassembled the stop adjustment knob and filed it down a bit so that the bolt would not rub against the knob. My major complaint is with the rack and pinion adjusting fence which is not parallel. The pinion gear is only on one side of the fence and there is over 1/8 inch play from side to side. I will need to check the fence after every adjustment. Fortunately as a hobbiest, I don't have to deal with setting the tool up all day long. I am considering returning it for the Dewalt.

Excellent tool value, December 11, 2000
Reviewer: Steve Rozmiarek from Hemingford, NE USA
The rack and pinion depth adjustment feature on this joiner is among the best that I've tried. All the adjustments are quick and repeatable with good accuracy. My only complaint is with the case. It could use a bit more room. I have to loosen the fence angle lock to get the case lid to shut. Trivial but a nuscience never the less. The joiner itself does a great job and the dust collection bag actually works! I'm sure that spending more money will get you a more refined tool but for the budget minded, this very well could be a valuable asset to your woodshop.

Typical Makita Quality, July 29, 2000
Reviewer: A home improvement enthusiast from Mequon, WI USA
This is a very nice plate joiner, and the rack & pinion adjustment is very accurate. Another nice feature is the plunge mechanism, which is very smooth. A good buy and a good performer.