Home > Plate Joiners: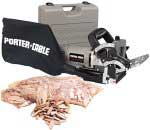 Porter-Cable 557K Professional Plate Joiner with 1000 Biscuits a 19.99 Value
Porter-Cable
Shipping weight: 20.25 pounds
ASIN: B0000222ZD
Check price and buy @ amazon.com



Porter-Cable 557K professional plate joiner's 7.5 amp motor turns the blade at 10,000 rpm for smooth, accurate cutting.

Features:

Includes 1,000 biscuits (a $19.99 value)
Most powerful motor in its class
Tilting fence and precise micro-height adjustment
Includes both 2- and 4-inch blades
One year warranty/30 day performance certification
Amazon.com Review
Though this Porter-Cable tool is priced higher than comparable DeWalt and Makita models, the 557K is Amazon.com's top-selling plate joiner. Its success is perhaps due to its very powerful 7-1/2 amp motor the largest in the industry--which turns the blade at 10,000 rpm and does an excellent job of making clean cuts in any kind of wood. As well as cutting slots for the standard no. 0, 10, and 20 biscuits, Porter-Cable's joiner features an exclusive, full-thickness, FF biscuit developed especially for cabinet face frames. Another unique feature of the Porter-Cable joiner is the 2-inch blade (included), which is small enough to make cuts in stock as narrow as 1-1/2 inches. We found the micro height adjustment works well, allowing for precise biscuit placement. The tool is well balanced and comfortable to use.

From the Manufacturer
With the most powerful motor on the market, this plate joiner is also the most versatile. The 7.5 amp motor turns the blade at 10,000 rpm for smooth, accurate cutting. Users can choose from seven different cutting operations for a variety of fasteners. Slots can be cut for the standard #0, #10, and #20 biscuits as well as #6 (Max) and an exclusive, full-thickness, FF biscuit for building cabinet face frames. The unit comes with a four-inch blade for standard cuts and the unique two-inch blade for cuts in stock as narrow as 1-1/2 inches. Two more settings are used for installing hinges and knockdown hardware. Accuracy is ensured by the very advanced fence system. A micro height-adjust knob allows perfect biscuit placement. The unique tilt system allows the fence to be adjusted to a wide range of angles from 0 to 135 degrees. By tilting the fence to 135 degrees, miter cuts are referenced from the outside or finished side, of the workpiece. This ensures proper alignment of the finished side of a mitered joint, even if the pieces being joined are of slightly different thicknesses, as with solid hardwoods and plywoods. Also, the pivot point for the fence is directly on the face of the tool so the height scale always reads true, no matter the angle. A fence plate is included for easily centering two-inch stock and for use as a spacer allowing a double-wide slot to be cut which can hold two biscuits for more reinforcement. Adding to the accuracy, the bail handle is attached directly to the fence allowing one hand to stabilize the fence during cutting operations while the other plunges the motor. Changing blades is easy with a keyhole-slotted blade cover and a spindle lock for one-wrench blade changes.

One year warranty with a 30 day performance certification. Includes joiner, four-inch carbide blade #5558, two-inch blade #5559, spanner wrench #886041, dust bag #883175, chip deflector #886490, carrying case, operator's manual and 1,000 biscuits--a $19.99 value.

Technical data:
Amps: 7-1/2
Watts: 900
Volts: 120
Blade diameter: 2 in. and 4 in.
Arbor diameter: 7/8 in.
No-load speed: 10
Type of blade included: Six- and four-tooth carbide
Fence range: 0 to 135 degrees
Fence-adjust mechanism: Jack screw
Cord length: 8 ft.
Cord type: 2-prong rubber
Bearing type(s): Ball bearing
Number of depth settings: Seven
Biscuit sizes accepted: FF
Maximum cutting depth: 7/8 in.
Maximum cutting width: 3-1/4 in.
Grade: Professional
Country of manufacture: USA
Also included: 2 and 4 in. blades
Tool-free fence adjustment: Yes
Fixed fence stops: Yes
Soft start: No
Switch lock: No
Dust chute: Yes
Soft-grip handle: No
Electric brake: No
Onboard wrench: No
External brush access: No
Detachable cord: No
Spindle lock: Yes
Dust bag included: Yes
Biscuits included: Yes
Shop-Vac adapter included: Yes
Blade included: Yes
Carrying case: Yes
Height: 7 in.
Length: 14 in.
Width: 8 in.
Weight: 7-1/2 lbs.
Shipping Weight: 14-1/4 lbs.
Product : 30-day no-risk trial
Service : None

Customer Reviews:
Best on the market, June 20, 2001
Reviewer: Rick Page from Lakeville, Minnesota United States
Very easy to use. I love it. Worth every penny.

Professional, Affordable, Easy and Accurate, June 15, 2001
Reviewer: Hank H. Harr from Nevada City, CA United States
I used to borrow a friends joiner it was a Craftsman, there is no comparison in quality or performance. I'll have to admit I purchased this tool because of the face frame capabillity only to find out that the stock is a little awkward to work with in the small face frame sizes and it's not worth the time to change the standard blade when you can just use a dowel to hold your smaller stock together and usually get better results. This tool is a "Porsche" when it comes to joining regular size materials. I'ts easy to operate very powerful and the plunging operation is very accurate and smooth because the head remains steady.

Smooth Operation... But..., June 13, 2001
Reviewer: masscad1 from Cleveland, OH
This tool will cut a slot for biscuts quicker, and with less effort than any other biscuit joiner I've used in it's class (Lamello is hand's down the best, But PRICEY). However, after a good amount of use I'm not totally please with the alignment of the joints. I think that there must be something that Porter Cable could do about the fence. Dewalts Fence is far supperior. If you're cutting hard woods all day then you could probably deal with the slight inaccuracies of the fence, but if you build primarily out of pine. By the dewalt and save $50.

Great Machine, June 6, 2001
Reviewer: Kenneth Douglas from Wyandotte, Michigan United States
I found the PC 557K to be one of the best tools I have used. It has plenty of power and makes clean cuts even in the hardest maple. The no slip surface holds the joiner steady while cutting with one hand. I have a Freud joiner and the pc 557 makes it obsolete. Great tool.

buy this joiner, you won't be disappointed, May 23, 2001
Reviewer: Mark Smith from Bradford, Pa. United States
I now have had this joiner for the last two months and am more than pleased with it. This is a high class tool. Its well designed and very easy to use. It has more than ample power to cut into the hardest of hard woods and contrary to popular opinion, I find the fence to be first class. I have read some of the other reviews that put the fence down and say its inferior to the Dewalts. Ive used both the Dewalt and now the Porter Cable and while the Dewalt does indeed have a fine fence, I certainly don't find the Porter Cable's fence inferior to the Dewalt's. Now don't get me wrong, I'm not saying to not buy the Dewalt. It is indeed a fine joiner. But I am saying that i did have the opportunity to use both before i purchased one of my own and I bought the Porter Cable. Right out of the box, this is a fine piece of machinery, and once again, contrary to popular opinion, a very accurate joiner. Just one thing I must say though. Mine didn't come with the spanner wrench you need to do a blade change. Bravo to Amazon for there quick responce in contacting Porter Cable in getting me the wrench. All it took was a few quick emails and they responded. I would defenatly buy from this web site again.

Ease your joints, March 26, 2001
Reviewer: homesince1980 from Yankton, South Dakota
Love this machine and what it does. It gives the woodworker one more option when joining material. Some issue with the tolerance in the fence but this has not affected the performance of the machine or quality of joints. The joiner has plenty of power and the dust bag works great. This machine is well balanced and operates accordingly. Fun to use and it is a workhorse.

Wake up and smell the saw dust!, February 21, 2001
Reviewer: Steven Espitallier from Woodland California
I've read several reviews regarding this great machine and found a couple that found the PC557 joiner "not up to snuff" or not good enough "out of the box"...??!! First of all, we're talking about plate joiners that cut a half oval slot in a piece of wood so another-compressed piece of wood... a Biscuit, (which does not have any 'close tollerances')can be inserted with glue to attach another mating piece of wood with the same oval cut slot that this type of machine cuts. The reviews talked about .0003 of an inch tollerances in the Biscuit slots and or fence not being acceptable! I build fine furniture. Other than our table saws fences and maybe a couple other pcs. of machinery that must be 'Dead On'I find this to be actually humorous. To think that a biscuit slot that is suppose to be somewhat sloppy when excepting the biscuit to allow it to expand later with moisture from the glue to even THINK that it would have to be within a 1000th of an inch IS funny! We have owned and used plenty of plate joiners in the past such as Makita DeWalt and even Lamello but all agree that this joiner with it's fence set up (0 degree to 135 degree)is by far the best joiner for the money spent! We have NOT used a better joiner other than Lamello. But we canNot afford purchasing $... plus joiners everytime we need another. Rest assured that by purchasing the Porter-Cable Joiner that you WILL get a lot of Great years of use out of it AND will find that the fence along with the rest of the machine is perfecto!

3 Stars and climbing, November 7, 2000
Reviewer: A home improvement enthusiast from Marina, CA United States
Great potential but out of the box it needs work!

As a product designer, I think the fence workaround is horrible. I would never release a product with such a glaring defect. I'm sure you all have already read about the fence design to circumvent a patent infringement. It's true.

Given that knowledge this joiner still has very good potential if you want to put in the time to "fix" it.

I decided to make my own shim to build up the face 0.062" to compensate for the FF defect...

I also added a thin mylar washer to the fence height adjuster. This reduced the play from 0.010 to 0.002 to tighten up the slop.

Next, I'll check runout on the blade...

WiWith these fixes, the joiner deserves more than 3 stars but don't expect perfection out of the box.

Missing key functionality, November 4, 2000
Reviewer: Todd A Cannon from Rochester, MN United States
After reading reviews on this product, I decided that I was comfortable enough making a shim that would allow 0 degree slot cutting without the tool sliding around. The shim was easy enough to make out of 0.032" aluminum available at my local hobby store, and some non-skid tape. With this alteration, the tool seemed to operate well, until I tried to use face frame biscuits. It seems that the range of depth settings is limited enough so that with the shim attached, the slot that the tool cuts for the biscuit is too shallow by the thickness of the shim. I am very pleased with the operation of the tool except the fact that the shim must be added. I also understand that a patent issue is the reason for this. I can only give this tool 4 stars since operating the tool in this position is frequent. I also think PC needs to re-design to make this operation functional if this tool is to survive.


Update! Getting better!, August 7, 2000
Reviewer: a_guy from Arizona
Out of the box, this is a terrible product that should have all heads at Porter Cable bowing in shame. I expected much more from a tool of this price and was greatly disappointed. I did however, see the potential in the design and having been under whelmed by the only real competition - DeWalt 682, I was determined to make this joiner work for me. I found that truing up the arbor by running the motor while holding a carbide bit against the flange helped reduce my blade runout (once again, I am thankful for the lock-on power switch!). I also quickly and easily eliminated the plunge track slop by removing the blade housing and gently center-punching each of the four contact points. Some softer springs from the local Ace made plunging smooth and effortless. flybynightcoppercompany.com was the ultimate savior however - they provide a shim that completely rectifies all of the terrible fence alignment issues that plague this tool. With a little minor metal work and the addition of a fly by night copper company shim, this is truly a five star tool! I am, now, so pleased with the tool that I only subtracted 3 stars from the rating for having to purchase additional components and do some machining to get the tool to work as designed. I always felt that the PC557 is a better tool than the DeWalt 682 and I still believe that both are tragically overpriced but at least the PC557 is now, truly an excellent tool.