Home > Planers: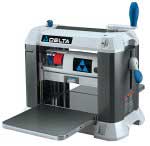 Delta 22-580K 13" Two-Speed Finishing Planer Includes Dust Hood a $24.99 Value
Delta
Shipping weight: 97.0 pounds
ASIN: B0000648AS
Check price and buy @ amazon.com



Delta 22-580K 13" two-speed finishing planer features a 2-speed material feed rate system and a patented cutterhead lock that stabilizes the cutterhead during operation.

Features:

2-Speed feed rate system for rough and finishing stock removal
Patented cutterhead lock virtually eliminates snipe
Full range depth stop for any thickness from 1/8" to 6-12"
Blade zero indicator to set the cutterhead the exact thickness of material
Fastest and safest blade change system on the market
Amazon.com Review
Delta calls its 22-580 a finishing planer, but it's really two planers in one. A dimensioning speed of 60 cpi allows you to shave rough wood to its desired thickness quickly and accurately, with virtually no snipe. Then, with a single pass at the quicker finishing speed of 90 cpi, your wood comes out ultrasmooth and ready to go. The razor-sharp, double-sided M2 steel knives are powered by a 15 amp, 120-volt, single-phase motor. Bells and whistles like a blade zero indicator (which lets you set the cutterhead to the exact thickness of your wood), patented cutterhead lock (which eliminates snipe), and easy blade-change system add to the value, as do the oversize infeed and outfeed tables, which make it easier to glide your wood through the machine. Overall, this is one solid piece of machinery.

From the Manufacturer
This planer features a 2-speed material feed rate system and a patented cutterhead lock that stabilizes the cutterhead during operation. It has a full-range depth stop and an oversized cutterhead height handle. The blade zero indicator can be used to set the cutterhead to the exact thickness of the material and can then accurately remove material in standard increments. It also features the fastest and safest blade-changing system on the market; high-speed M2 steel, double-edged, reversible knives; a top view depth scale; large chrome infeed and outfeed tables.



Customer Reviews:
Very, Very Good, October 14, 2002
Reviewer: John M Harvey from Fort Collins, CO United States
I just got the planer in September. The cutterhead was adjusted extremely well out of the box - I couldn't detect more than .001 difference from one side to the other. After trying a few test pieces, I put 1/2 of a glued-up benchtop through it - 5 feet long and 2 inch thick maple. The finish was very good, with minimal tear-out that I didn't even see at first. I used 90 cpi speed, the blade zero feature, and the stop. All functioned as advertised. The stop was accurate to less than .005.

It's not perfect. I had to wait for a couple of missing pieces, but Delta was very responsive and got them to me quickly. The extension tables were not perfectly flat and even with the center table, and I did have to adjust them. After they were adjusted, they couldn't take the weight of the benchtop pieces, and flexed - the result was some very noticeable snipe in the last two inches. I don't run pieces that big very often, and the results on the smaller test pieces were much better.

Overall, a big improvement over the Delta 12 1/2 " planer that this one is replacing.

NJ Woodworker, October 11, 2002
Reviewer: A home improvement enthusiast from Collingswood, NJ USA
I had a few shipping problems and that is why I'm giving it 4 stars. I was missing wrench and knife tool, which is on order from Delta. Also, my belt was loose and I had to adjust it to make the knives work. It runs great now and I'll let you know in a few weeks how well it performs.

Performs as Advertised, October 1, 2002
Reviewer: mhwilliams61 from Baton Rouge, LA USA
The greatest feature is the cutter head lock which results in absolutely zero snipe! I planed some red alder and measured the thickness after planing at 1 inch intervals and only found .001 inch difference anywhere along the board which could be attributed to my measuring technique. I can only detect a small difference in the smoothness in the two speeds. Both speeds produce extremely smooth surfaces. I was a little concerned when I saw the design of the dust chute, but I have not had any problems with clogging so far. I use a very inexpensive 4" portable dust collector 650 cfm and it works well.

Top of the line, right out of the box., September 27, 2002
Reviewer: Shawn from St Augustine, FL United States
I've never been compelled to write a tool review before, but this planer is top-notch. I'm fanatical about accuracy and tuning. This tool was perfect right out of the box. I double-checked everything and didn't make a single adjustment. Within 30 minutes, I'd unpacked, set up, cleaned, checked and tested it. I spent about an hour making chips. The finish is perfect, even on the supposed "rough" setting. Click it over to "finish" and it's sand-free. If you're looking for the perfect planer for your shop, this is the one. Portable? Not really, unless you're a gorrila. It's substantial weight keeps the tool wiggle free. From now on, I'm buying all of my stock 1/4" oversized, just so I can use this awesome planer!

Pure Planing Pleasure, September 20, 2002
Reviewer: A home improvement enthusiast from Oakdale, NY United States
This bad boy planed hundreds of feet of IPE, a tropical hardwood used in decking, that is about twice as hard as oak. Right out of the box,it did it perrrrrfectly. It stood up to the IPE like a champ. The finish, when set to the 90CPI setting, is great. The cutterhead lock works well as does the depth setting gadget, when I can remember how to use it.... I love the "Zero" setting feature. It's very useful.

I have the original delta planer which is still planing away but this one is far better if you can go for the extra cash. The weight and size of this unit might be, correction, will be, too much for many folks to move around. This is a "portable" unit but it's as close to stationery as you can get.

My Two Cents Too!, September 18, 2002
Reviewer: A home improvement enthusiast from in his workshop
This is quite possibly the first power tool I have ever owned that is almost perfect.

I too am finding it difficult to switch the machine to the 90 cpi speed setting as a previous reviewer mentioned. Seems like something might be jammed or poorly fitted. If the lever is not moved far enough then the rollers won't turn.

I have had zero problems with the dust hood evacuating dust and chips when connected to my 1200cfm collector. The only reasons that I can think of where clogging might be a problem is if too much material is being removed per pass or if the dust collector is underpowered.

Bolt the unit to a sturdy surface if you think it is going to tip over. The unit weighs close to 100 lbs so it's not going to tip over (unless you install extra long infeed/outfeed tables).

My unit arrived missing the blade changing tool and the blade magnet. The shipping box was very beat up and the top was torn so I suspect they simply fell out. I called Delta and they shipped me free replacements without any hassle at all.

Buy this planer! The design, quality and performance are superb.

Damn nice planer!, August 13, 2002
Reviewer: Paul from Dripping Springs, TX United States
I have had this planer now for a couple of months, and have put it to some very tough work.

First the Pro's - This thing is durable. I have run 2000 brdft of hardwood flooring through this thing, taking the material from 4/4 to 3/4 and it performed great. I am now in the process of making solid pank doors out of 8/4 material and milling the material down to 7/4. Most of the 8/4 material is 8"-12" in width and this thing planes it down nicely. I also ran some 6"x6"x6' solid oak beams through this thing, and while the machine groaned like it would explode, it performed fine. This machine produce very little snipe, and if you hold the piece of material up you can avoid snipe all together.

Now the Con's - Dust exhaust hood just flat [bad] It is so bad, I don't use it at all. I have a 3400 cfm cyclone dust collection system that will suck your shirt right off if you are not careful, however the dust exhuast hood is a piece of... The dust chute continually gets jamed up, the opening is only 3/8" to 1/2" and it does not take much to stop it up. While this thing has two speed 60 & 90 it sometime gets stuck on one speed or another and will not switch back. I have just left mine on 60 and dont switch it any more. There is not much difference in the finsih product. The top depth crank is starting to get very hared to turn, I have cleaned it twice, however it does not seem to work better with a cleaning. The unit should be a bit wider/deeper from front to back, it has a teandancy to tip one way or the other with not much effort. The blades change out fairly easy, however you can not sharpen these blades. I have tried to sharpen twice with little improvement each time. Buy an extra set, they are hard to find if you need them in a hurry.

Overall this thing is a tank and a good buy for [$$$]. If I had to do over again, I would spend the [$$$$] and buy a bigger machine that had a better platform, feeders, etc. Power is not the issue on this machine. For the money, this is a good buy.

Two thumbs up....way up!, August 9, 2002
Reviewer: Eric P Davidson from Riverside, Iowa USA
After being in the market for a planer for several months, I had read dozens of reviews. I couldn't justify spending $1200.00+ on a 15" planer, but was also a bit reluctant to buy a "portable" looking planer. I finally decided on the Delta 22-580K and I am very happy with this machine. Delta has gotten everything right on this planer. Dont let the benchtop look fool you, this planer has plenty of power. The 13" capacity is ample for most applications and the ZERO Blade Set and the Cutterhead lock are great features. The finish is smooth as glass and no sanding is required (even on the dimensioning speed its very good). The cutterhead lock really does eliminate snipe. I have found the depth gauge to be quite accurate. It took only about 10 minutes to have the unit up and running. All you have to do is mount the 2 cranks. It takes longer to watch the video that comes with the unit. I havent changed blades yet, but other reviewers say it is pretty easy. I would advise anyone looking at a 15" planer to give this unit serious consideration. I would recommend it without reservation.

Best portable planer on the market!, July 19, 2002
Reviewer: Joel Selman from Southfield, MI USA
The planer came ready to use right out of the box. Set-up took just a few minutes and I was planing my first board.

I have waited about two months before writing this review and I couldn't be happier with this engineering marvel. Extremely smooth cuts that barely need sanding.

I had a 13" spaulted maple board that had alot of twist. At first I thought it was unusable, but I tacked and shimmed a straight board to the bottom, let the planer straighten the top, and then the bottom, and it is now part of a beautiful coffee table. I highly recommend this planer.

Nice machine!, July 15, 2002
Reviewer: Larry Renger from Cerritos, CA United States
I admit to limited experience with this type of machine, but my kids bought me this one, and it is a beauty. Much quieter than I expected, and very easy to use.

Especially useful features are the cutter "zero" indicator that lets you automatically find the level of the top of your workpiece. Also recommended is the dual speed feature for extra smooth final cuts.

I did a few heavy cuts on a wide piece of wood, and there was only the slightest drop in speed. Certainly this machine is way more powerful than I will ever need!

The only items I would like to see different would be cast and milled in and out support panels to replace the stamped sheet metal ones.

I highly recommend it.