Home > Planers: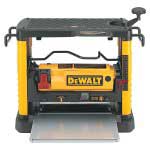 DeWalt DW733 12-1/2" Portable Thickness Planer, Including an Extra Set of Knives and Dust Hood, an $84.98
Value
DeWalt
Shipping weight: 75.0 pounds
ASIN: B00004OCHZ
Check price and buy @ amazon.com



The only thickness planer on the market with four-column Head Lock, plus an infeed and outfeed table 40% larger than the leading competition, to aid in the reduction of snipe.

Features:

Includes an extra set of knives and dust hood, an $84.99 value
Four-column head lock secures cutterhead to eliminate snipe
Extra long infeed and outfeed tables provide 33 inches of material support
15 amp motor rotates the cutterhead at 10,000 rpm, making 64 cuts per inch
Magnetic gauge holds knives in place, making changing knives easy
Amazon.com Review
DeWalt's sturdy four-column planer is a great addition in any workshop--and, because it's easily portable, transition to the job site is always an option. Thanks to the largest material support table of any portable planer on the market and a tight-locking cutterhead, boards feed through effortlessly with minimal snipe. We also liked how easy it is to measure precise cuts with the turret stops (set at 1/4, 1/2, and 3/4 of an inch).

There's also a calibrated depth crank that adjusts 1/16 of an inch with each full rotation. Unlike other portable planers, DeWalt's provides an easy-to-read gauge of how much material each pass removes as well as the amount left over on the original board. Rather than using double-edged knives, this model takes two big M2 high-speed steel knives with single-surface cutting areas that deliver an impressive 64.1 cuts per inch. Changing knives took us a mere 10 minutes (and we were new to this design) and better yet they can be resharpened multiple times rather than discarded after one use. Powered by 15 amps with a no-load speed of 10,000 rpm, DeWalt's easily transported planer is a nice combination of high performance and convenience. Each planer ships with an extra set of knives, magnets, and wrenches.

From the Manufacturer
The only thickness planer on the market with a four-column Head Lock, plus an infeed and outfeed table 40% larger than the leading competition, to aid in the reduction of snipe. The turret depth stop allows you to return to frequently used thicknesses (1/4-, 1/2-, 3/4-inch) quickly and easily. Maximum depth of cut is 1/8" (less than 5-1/2" wide). There's also a material removal scale that shows how much material is being removed and a depth scale which shows how much material is left. The DW733 is armed with a powerful 15 amp motor which rotates the cutterhead at 10,000 rpm, making 64 cuts per inch. Sharpenable knives made of M2 laminated steel create a smooth surface finish. A magnetic gauge that precisely holds the knives in place, freeing up your hands, makes changing knives easy. Includes an extra set of knives and dust hood a $84.99 value. One year warranty, one year service contract, 30 day no-risk trial


Technical data:
Amps: 15
Watts: 1,725
Volts: 115
Horsepower: N/A
Maximum planing width: 12-1/2 in.
Maximum planing thickness: 6 in.
Minimum planing thickness: 1/8 in.
Minimum cutting length: 8 in.
Maximum depth of cut: 1/8 in.
Number of knives: Two, high-speed steel
Feed rate: 26 fpm
Cutterhead Speed: 10,000 rpm
Cutterhead diameter: 1 in.
Knife set(s): Two
Infeed roller material: N/A
Outfeed roller material: N/A
Roller Diameter: N/A
Table width: 33 in.
Table length: 12-1/2 in.
Cord length: 8 ft.
Cord type: 3-prong, rubber
Grade: Professional
Country of Manufacture: Taiwan
Also included: N/A
Portable: Yes
Snipe Control: Yes
Double-sided knives: No
Sharpenable Knives: Yes
Dust Collection: Yes
Four Column Cutterhead: Yes
Adjustable Cutterhead: Yes
Adjustable Table: No
Adjustable Rollers: N/A
Cutterhead lock: Yes
Enclosed stand: No
Portable stand: No
Knife setting tools: Yes
Height: 18-1/2 in.
Length: 23-5/8 in.
Width: 21-1/2 in.
Weight: 80 lbs.
Shipping weight: 85.2 lbs.
Product: 1-year
Service: 1-year


Customer Reviews:
DeWalt DW733 Planer, October 20, 2002
Reviewer: Andy Franklin from Alpine, Tx
Great planer. This is a great power tool. The planer worked great. No problem setting up. I had a snipe on one piece of lumber, but I think that was my fault. I ran some southern pine boards through it that was about 50 years old, and no problem. The finish on them was ready for final sanding.

Awesome Performance!, October 20, 2002
Reviewer: adelkopf from New York City
This is a great value. I have had my DW733 for 2 years and have cut 1'000s of board-feet without a problem with a glass like finish every time.

Very heavy but convienient hadles on top and bottom make it easy to carry. Well designed dust hood makes for superior dust collection. The depth adjustment is well designed and the lock makes for accurate cuts.

DeWalt DW733 12-1/2" Portable Thickness Planer, October 16, 2002
Reviewer: David P. Sader from Amado, AZ United States
Works great and shows a high degree of quality workmanship in the fit and finish. Delta once again has shown that they build quality tools. If a portable thickness planer is on your wish list, you won't go wrong with this one.

Great Planer, October 10, 2002
Reviewer: Kent D Putnam from Grafton, NY United States
This planer worked perfect right out of the box. I have planed hard and soft wood and am pleased with the quality of the finish.The dust collection hood is a little shakey and I would hate to pay the list price for it but I can live with it and may make my own if the mood strikes me. The 4 post lock is the hot setup. I got a snipe on the first piece I planed but that was my fault. The pieces I planed had been planed on my old planer and they were fuzzy. One pass ant the woood could was ready for a finish. I love it.

Great Low End Planer, October 6, 2002
Reviewer: Chuck Kersey from Burien, WA United States
This is an impressive little power tool. I have always bought finished wood from the local home improvement store or lumber yard. I was not aware of how much money you can actually save by buying rough lumber and planing it yourself.

This tool was up and running in as little as ten minutes. It planed a 5/4x6"x8' piece of eastern maple in no time and planer did not flinch. Snipe was minimal, which was very exceptable. You have to expect it from any machine. For the price of machine though not bad. You pay for it in a lumber yard even though you don't see it.

Infeed and Outfeed tables are much heavier/thicker than on the Delta 55-580 and finish was pretty darn nice. Clean enough to go straight to 220 grit paper.

Great little machine. You can't go wrong.

You don't have to live with snipe, September 24, 2002
Reviewer: James Mayo from Little Rock, AR United States
This planer is OK but it is a little snipey. It started off that way when I bought it a couple of years ago and after trying and trying to adjust out the snipe it is still unpredictable. Expect a little snipe every once in a while from any planer, but the Dewalt delivers it much too often. In my opinion the cutter head lock on this planer is a little weak and I believe it is the source of the problem. I have several friends with the Ridgid and Makita planers who are really surprised when they see snipe, while on any given project using my Dewalt I am surprised not to see it. No offense to anyone but you shouldn't have to trim off the last 4 inches of your lumber to beat snipe. Your planer is an expensive tool and there are some that work better than others. The Dewalt is a sniper, plain and simple. The Ridgid and Makita seem to win this round.

Made on Friday/Monday, September 22, 2002
Reviewer: A home improvement enthusiast from MERCER, WI United States
I was excited to get started but had no wood to run through. After a couple of months, I got some Red oak one inch thick. I had a total of 45 board ft to plane. When I locked the cutter head down, the depth I set for my pass, creeped up resulting in not removing as much material. With the red oak, I couldn't remove more than 1/128th of wood or the machine would bog down and kick out my 20 amp breaker at my electrical box or the 18 amp fuse on the planer would kick out. The 18 amp fuse toggle area eventually started smoking and I imediately shut the planer down. After letting it cool down for hours, I tried to start the planer and it would not go. I tapped slightly near the 18 amp fuse and it restarted (but continued to smoke). There can't be more than two hours on this planer and it's fried. I live in norther Wisconsin and have no near by service center to take advantage of the warantee. The postage to get it to and from the nearest service center will be costly. As another reviewer mentioned, I am going to try to work something out with the Dewalt corporate people. I hope they are as customer friendly as they claim to be.

no snipe, August 2, 2002
Reviewer: kspieker3
Smooth cut... predicatble... no snipe (dips)... if that is what you want, this is the machine for you. I have friends that have other machines (Delta)...when they use their planer, they would expect to discard the front and back 3-4 inches of board. I plane boards as short as 12", and have no snipe....just be sure to always 'lock' the mechanism, and you will have great results too.

Very nice planer., August 1, 2002
Reviewer: A home improvement enthusiast from Ohio City, Colorado United States
I highly recommend the DW733. I originally went to [the store]and purchased a Delta 22-560. What a piece of junk. I could only plane 3 maybe 4 boards 1x8x12feet and the thing overheated and shut itself down. No, I was not planing too much at a time. I took the thing back, got my money and bought a DW733. What a world of difference. Like comparing a Ferrari to a Bicycle. Absolutely no comparison. Snipe? There is no snipe with a DeWalt period. The speed of lowering the cutter to make another pass is like comparing the speed of light to the speed of sound. I really like this DeWalt. I plane 1"x8"x12' boards. Mostly doug fir and ponderosa pine. After planing over 20 boards the motor is cool. It is just a pleasure to use. The only drawback to this machine is the dust or shaving removal. It doesn't work but I don't care. I just have my air hose handy and every so often I just blow the stuff away. I would highly recommend this machine to anyone who does any planing. The infeed and outfeed tables were perfectly level right out of the box etc. etc. I just haven't had a problem at all so far with this machine...

Solid planer for the money, July 31, 2002
Reviewer: Tim White from Norton, MA United States
I have to say I'm very pleased with the purchase of this planer. Others have complained about issues such as the depth of cut indicator being off, the depth stops not being accurate, etc. I have to say that these are almost to be expected on a machine this size. The remedy is to get an inexpensive pair of calipers and measure the wood each time it runs through.

These minor inconveniences aside, the planer really does perform as expected. It leaves a beautiful finish that needs minimal sanding to get the wood stainable. On cold days, you might have to help the wood through the machine, but worse things have happened.

Overall, I'm very pleased. For the money I spent, I feel that I got an outstanding value.