Home > Planers: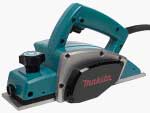 Makita N1900B 3-1/4" Planer Kit with Case
Makita
Shipping weight: 10 pounds
ASIN: B0000223JM
Check price and buy @ amazon.com



Redesigned Makita N1900B 3-1/4" planer kit with 4 amp motor delivers more output power for increased performance.

Features:

4-amp motor
Double edged tungsten carbide mini blades
Quick and easy blade changing
2 Blade cutterhead produces 30,000 cuts per minute
Well balanced with front and rear grips for better control
From the Manufacturer
Redesigned 4 amp motor delivers more output power for increased performance. Centering balance with front and rear grips positioned for better control that helps eliminate gouging and uneven planing. Equipped with double-edged tungsten carbide mini-blades. The two-blade cutterhead makes 30,000 cuts per minute. Comes with a plastic tool case for convenient storage of tool and accessories.

Technical data:
Amps: 4
Watts out: 460
Volts: 115
No-load speed: 15,000 rpm
Max cutting width: 3-1/4 in.
Max cutting depth: 1/32 in.
Base construction: Aluminum
Motor construction: Ball bearing
Cord type: Two-prong, rubber
Cord length: 8 ft.
Bevel adjustment: N/A
Blade type: Carbide
Blades included: One
Country of manufacture: USA
Grade: Professional
Also included: None
Variable speed: No
Detachable cord: No
External replaceable brushes: No
Soft start : No
Soft-grip handle: No
Electric brake: No
Reversible blades: Yes
Resharpenable blades: Yes
Blade wrench: Yes
Fence: Yes
Blades: Yes
Carrying case: Yes
Other features: None
Length: 11-1/2 in.
Width: 6-3/8 in.
Height: 6-3/8 in.
Tool weight: 5-1/2 lbs.
Shipping weight: 10.9 lbs.
Product: 30-day no-risk trial, 1 year
Service: 1 year

Customer Reviews:
Great For Doors, April 2, 2001
Reviewer: A home improvement enthusiast from Morganville, NJ USA
If you need to trim door slabs (other than pre-hung)- this is the best tool. It produces very smooth cuts with little effort. It is also quiet. I'm not sure if a dust bag is available - the tool throws a lot of dust, so be ready. I have used it to trim up to 1/4 inch of 80 inch long doors (precor masonite doors). The tool is prefect - provides a very straight finished edge that can not be accomplished using any other power tool, even a table saw

it aint no 1100, August 30, 2000
Reviewer: William Olive from Gateshead Australia
My unit is the 1923, which apart from a different rabbet system and 850 watt motor, is esentially the same. They have plenty of power, easy blade set and change and all that, with the usual top Makita build quality. But, the handle design! Ugh. Short sole plate, single hole for fence and top heavy balance. The angle of the main handle and its high position, with the poor front knob placement make these things very difficult to use effectively. Why oh why do power planer manufacturers continue to make em to this pattern?

Compared to the u beaut old 1100, which is still available in 240V guise, they are not in the hunt. I bought my 1100 second hand, after I'd bought the 1923h. The other way round, and I'd only have one.

Short bed top heavy planer, July 4, 2000
Reviewer: Charles Kemper from Los Angeles, California USA
In their continuing effort to snub the doorhanging trade, Makita continues to refuse to reintroduce the 1100b to the 110 volt western market. Some marketing wizards here or in Japan have decided that door hanging is a thing of the past, to be replaced by all prehung installs. this explains the ubiquity of these poorly designed planers on the US market. I'm sure the 1100b is still made in 220 windings for the japanese market. I'd just like to say to the genius executives of the power tool industry that I have not gone away. I still make a living hanging big heavy custom doors, fit to exact tolerances and I am not soon going to be relaced by monkees nailing in prehung units. I'd also like to say that I don't appreciate your smug, arrogant attitudes. You can run your buisness any way you chose, into the ground apparently.

Good value, May 3, 2000
Reviewer: Reed Hough from Kona, Hawaii
This tool is trim and lightweight. One hand operation makes it handy in tight spaces. Good precision and adjustability. Over all, more versitile and functional in it's class that I have used but not the best for heavy planing such as custom doors and volume milling.

Reasonably priced and easy to use, January 6, 2000
Reviewer: Michael J Edelman
Overall I like this unit; I've had mine for three years, and generally it's a well balanced tool that cuts very smoothly. Blade sharpening and replacement is pretty simple with the included fixture. What it could use is a dedicated fence for squaring up boards. It's built to take one, but I can't seem to find one for mine.