Home > Nailers / Staplers: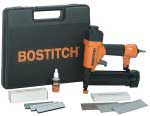 Bostitch SB-2IN1 Brad Nailer / Finish Stapler Combo Tool
Bostitch
Shipping weight: 7.1 pounds
ASIN: B00005JRLV
Check price and buy @ amazon.com



The ultimate nailer / stapler for the craftsman and home hobby shop!

Features:

Drives finish staples and brads
Includes: Carry case, brads, staples, and oil
Dial-A-Depth fastener depth control
Rubber comfort handle grip
Tool free directional exhaust
From the Manufacturer
The ultimate tool for the craftsman and home hobby shop! The most asked for tool is finally available. This tool drives up to a 1-5/8-inch brad and also a 1-1/2-inch finish staple. The SB-2IN1 tool needs no adjustment to change fasteners providing the ult



Customer Reviews:
Buy it !!!!, August 25, 2002
Reviewer: A home improvement enthusiast from MA United States
I am a professional carpenter and have found this brad nailer/stapler to be one of the most versitile and well made tools I own.

Not a woodworker's tool...., February 15, 2002
Reviewer: Jonathan Ness from Watertown, MN United States
I bought the Stanley SB2IN1 in early January because it could shoot both brads down to 5/8" and staple, giving me more versatility in my shop. Hindsight being 20/20, I wish I would have spent the extra money up front for a good stapler and a good brad nailer. The cylinder wouldn't seal when you hooked it up to an air hose, and I would have to continually hook it up/disconnect it until it would finally seal. The other problem, and it might be related, is that even when I put the compressor at the max pressure (100psi) it wouldn't countersink staples even in 1/2" plywood. The last problem is that if you could get it to countersink a brad, the footprint is the size of a staple. Leaving an ugly mark on your project. I returned the tool and am ordering a separate stapler and brad nailer.

GOOD NAILER, January 27, 2002
Reviewer: DW from NY, United States
I have had the Bostitch 2 in 1 nailer for about three weeks. It seems to be holding up well like most Bostitch tools. The only thing that I would like to change with the nailer is to have the trigger be a contact trigger instead of the sequence trigger. It is a good nailer for the money it costs- I would highly recommend this nailer.