Home > Nailers / Staplers: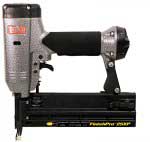 Senco FP25XP 5/8" to 2-1/8" Brad Nailer
Senco
Shipping weight: 6.0 pounds
ASIN: B000051WTZ
Check price and buy @ amazon.com



Senco FP25XP 5/8" to 2-1/8" brad nailer features a unique on-tool power adjustment that increases the power by 30%.

Features:

Drives 18-guage brads from 5/8- to 2-1/8 inches
Lightweight at 2.7 pounds for easy maneuvering and all-day work
Onboard power adjustment increases the power by 30%
Neverlube design means less maintenance and no oil stains
Comes with carrying case
Amazon.com Review
All pneumatic brad nailers are not created equal. The Senco FP25XP is among the better ones available. Backed by Senco's more than 50 years of experience in the business, the FP25XP is engineered and built to provide superior performance. An adjustable exhaust port keeps dust and debris away from the work surface, while the EZ-Clear jam release keeps you working without any long delays. The FP25XP is part of Senco's elite series of Xtreme Pro tools and features a built-in turbo setting that delivers 30 percent more power without asking more of the air compressor. Onboard tools and an adjustable depth of drive make adjustments a snap.

From the Manufacturer
The FP25XP brad nailer drives 18-guage brads from 5/8 to 2-1/8 inches. It features a unique on-tool power adjustment that increases the power by 30%. At 2.7 pounds, it is light weight, has a sturdy belt hook, adjustable depth of drive, and a Neverlube design, which means no messy oil stains. Plus, an adjustable exhaust and a case.


Technical data:
Fastener gauge: 18
Fastener range: 5/8 in. to 2-1/8 in.
Magazine Capacity: 110
Magazine Loading: Side
Firing Mode: Restrictive
Driving power (in./lbs.): 132 in./lbs. And 168 in./lbs. Turbo
Operating Pressure (psi): 70 to 120 psi.
Grade: Professional
Country of manufacture: USA
Also included: Belt hook
Adjustable Exhaust Port: Yes
Adjustable Depth of Drive: Yes
Jam release mechanism: No
Oil-free engine: Yes
Rubber Grip: Yes
Fastener viewing window: Yes
Adjustable firing mode: No
Nonmarring tip included: Yes
Carrying case: Yes
Safety Glasses Included: No
Lubrication included: No
Quick Coupler included: No
Fasteners included: No
Height: 10 in.
Length: 10 in.
Width: 2-1/4 in.
Weight: 2.7 lbs.
Shipping weight: 6 lbs.
Product: 30-day no-risk trial, 1-year
Service: None


Customer Reviews:
Lefties in paradise., October 2, 2002
Reviewer: Timmy J. Alspach from Kailua Kona, Hawaii United States
"Big Island" furniture designer and inlay artist: I saw this brad nailer in action during the construction of a $4.0 mil. house here on the coast of Kona, Hawaii. The house is trimmed throughout in clear heart redwood and Honduras mahogany. No problems! Rave comments frome the finish crew! I was impresed enough wih this gun that a shiny new one is perched right now on my dining table fresh out of the box from Amazon (2days ahead of minimum delivery est.! Kudos Amazon!)Great buy for me and my shop! It carries a trusted name, the lightness to ease my hand fatigue, and the brad size range capacity to make it extremely versatile. However, the caveat here is it will be a challenge to fit it into some tight places due to it's comparatively tall profile. I'll just have to get creative or simply revert to my trusty Porter Cable brad nailer in a pinch.My only gripe is that, right out of the case, I switched the "convenient" hanger hookie thing to the "lefty" position and now it won't fit back into the (darn) case! Shame on you Senco! Aw, "small kine, no worries! Bumbye, I stay happy, brah!"

my first air nailer, September 4, 2002
Reviewer: A home improvement enthusiast from Vicksburg, Mississippi
and it's a doozy. Have worked it for about a year now and had no problems at all. Works great on molding and cabinet projects.

Very well thought out, a great tool, May 27, 2002
Reviewer: nanohead from Wyckoff, NJ United States
Have been through lots of nailers. Grizzly, Airy, Dewalt, Porter Cable, Bostitch. I've been using an Airy 1 9/16 brad nailer for years, and it worked flawlessly, but I find that the extra 7/16 really helps with certain kind of trim, so I decided that a 2" gun was in order. I use the Senco SFN40 angle finish nailer and figured that this gun was of the same quality. I was not disappointed. I looked at the Paslode, but it was so light and packed with little plastic pieces that I was afraid it would break in no time. Plus their warranty was not as good as Senco's. Plus, Senco customer support is AWESOME! Worth the extra price of their gear. I've installed a couple of thousand feet of molding so far with this gun and would recommend it highly!!

Great job Senco. You have a customer for life

I've put about 300 brads through this nailer and love it., March 20, 2002
Reviewer: A home improvement enthusiast from Conway, AR USA
My first though when I took this out of the case was that it was too light to work well. I was wrong, it sinks nail after nail and since I'm building furniture the oil-less feature is wonderful. The power boost works as advertised and has come in handy for me when changing from nailing pine to oak. I have been using craftsman 1 1/4" brads and have not had a single jam.

This is very easy to use and my only complaint is the manual. The manual covers several models and instead of having a section in the manual for each model, the instructions are all jumbled together and you have to first figure out the lay out and then scan each page to find the information about your model. This is a small complaint but I do think Senco should rework their manuals.

The Best Brad Nailer... Period!, December 31, 2001
Reviewer: jasncompany from A L A B A M A
This is the brad nailer against which all others are measured. The only "compromise" on this tool is the price, which, as one reviewer stated, "you could probably get two competitors for the price of one of these."

I shot some 1-1/4" brads in quartersawn white oak. Now... by anybody's standards, that's tough, 'cause the brads are so small, and they're really not designed to be used in hard, thick wood like that. But... this nailer sunk them in (in the "turbo" setting) with no problem.

In softer wood, there's never any problem (even with the longest brads), and it's not hard to set the drive depth to control how much countersink you achieve.

For anyone considering this as a first-time brad nailer, I'd highly recommend it. The light recoil and light-weight frame make it a dream to use... even for the faint of heart who have shyed-away from pneumatic nailers before.

Please read your warning labels and follow the instructions, though... If you've never used a pneumatic nailer, there are a lot of "gotchas," and when they "get ya," it hurts.

Drive safely!

Great Gun, December 14, 2001
Reviewer: briartoys from Katy, TX United States
Great gun great price at coastal tools 145.

Tough, Versitile Nailer, Easy to Use, August 23, 2001
Reviewer: Al the Pal from Northwest Kansas, United States
I have used other brands that were borrowed or rented. When it came time to buy, I picked the Senco above all the rest (toolpig's review was very helpful, thanks!).

The main frame (gray part) is heavy aluminum which keeps the weight to a minimum, lowering fatigue. The top head is carbon fiber, like the stuff they built the Beech "Starship" out of, very durable and strong. The adjustable exhaust vent lets you rotate the blast of air 360° to a convenient direction. The nail magazine opens with a large, easy to operate latch, loading the nails from the side. There are grooves for each size nail head to keep them on track and prevent jams.

I found this very easy to operate and adjust. You do need to keep firm, but not heavy, pressure on the foot to prevent recoil and keep your results consistent. The countersink function is clearly labeled and adjusts easily with a few test shots. The no-mar foot is soft but tough plastic that does its job well - I have never left a dimple after thousands of nails. The oiless design means no drips or spray on your projects, and no maintenance other than blowing the dust off once in a while. If it ever needs an overhaul, they make a kit which is about a half-hour job to install.

The only near complaints I have are: it is tough or impossible to use inside tight casework due to its over 8" height and the 18 gauge nails tend to deflect easily if they hit knots or other dense bodies in wood. I have found that extra diligence pays off when nailing into plywood edges; be sure the gun is absolutely perpendicular to the work, a hard glue layer will deflect these nails!

It comes in a nice plastic case that also has room for one box of nails. You will have to add your own 1/4" male coupler plug - I use Milton "M-Type" ... Overall, this is another fantastic product from an industry leader - your tool and the U.S.A. company that made it should be around for a long, long time.

Finest in class, August 22, 2001
Reviewer: rfhconstruction from Bountiful, Ut United States
I am one willing to pay the extra buck, but in this category, I don't know if it is necessary. I owned the Porter-Cable 2" brad for a week and I replaced it because I wanted the best so I bought the FP25. The week that I used the PC it did everything i asked it to do- it will do the job. Where the FP25 earned points above and beyond the others is the oil-less design, the turbo setting, the largest nail range available, the handy belt hanger, and priceless USA construction. I have fired the largest 2 1/8" brad into oak at 95psi WITHOUT the turbo setting. Impressive. It is so smooth you can't believe it. I would buy this gun over the PC any day because the above features are important enough to me to pay more, although for most applications the PC will satisfy. The PC represents a great value, but really, I would expect to pay a lot more for the FP25 than we're being charged. It's that impressive. Buy this over all other brad nailers if you want the finest. If you want to spend as little as possible and still get a good nailer, the PC will satisfy.

A Senco Winner, August 17, 2001
Reviewer: A home improvement enthusiast from Katy, TX United States
Senco is the brand to buy in nail guns. Most all the pro's use senco. The smooth operation of this gun as great. The finish is fantasic and the [price] made it a no brainer. The NO OIL is worth the [price] dif in the Senco and the PC. I called Senco teck support cause is looks like this nailer will shoot 1/2 if you could find them.

Vrey good brad nailer, June 12, 2001
Reviewer: gary wallner from Milwaukee, Wi USA
I bought the Senco 25 brad nailer last week. The decision between the Porter Cable and the Senco was difficult, I finally based the purchased on the wider range of brad lengths for the Senco and the oil less design . I have used them both and operation between the two is very similar. The Senco is [$] more and can't shoot into tight spots like the Porter Cable can due to the location of the safety nose.I did like the better construction of the Porter Cable, its part steel and part fiber resin, it appeared to be more durable, the no-mar tip is especially nice,and its very easy to see where you are shooting . The Senco is constructed almost totally of fiber resin materials and I wonder how well it will hold up to being dropped.The Senco power boast it awkward to use,the no-mar tip is too flexible and line of sight for shooting takes some getting use to. Either gun is good, the oil less feature is nice if you tend to to over oil your tools like I do.If your on a budget go with the Porter Cable.