Home > Nailers / Staplers: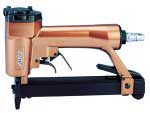 Airy AZA5016S Staplemate
Airy
Shipping weight: 2.55 pounds
ASIN: B0000225KA
Check price and buy @ amazon.com



Easy-to-use tool features double trigger safety. Won't mar surface. More powerful than hand or electric models.

Features:

Rugged aluminum body
Lightweight 2.6 lbs.
Double trigger safety = no mar
Easy depth adjustment
Standard brad staples
From the Manufacturer
Easy-to-use tool features double trigger safety. Won't mar surface. More powerful than hand or electric models. Rugged aluminum body for light weight and durability. Easy loading magazine uses standard staples. Easy depth adjustment. Uses standard brad staples (similar to Arrow(r) T-50(r)).



Customer Reviews:
Just what I wanted, October 24, 2002
Reviewer: PAT BARNES from Victoria, Tx. United States
Looked a lot before finding an air stapler that used a common,wide crown staple. I have a lot of rescreening to do so and knew that the hand type I have was not the way to go. I have used it a little to get familiar and so far I love it. I have used it with 4 different lenghts of staples into pine and it shot them all with no problem. Nice and flush without cutting the screen.Would give it 5 stars but don't know about durability.

Just a great product . Does everything well...almost, October 11, 2002
Reviewer: phanttomracer from South Easton, MA USA
Nice and light. Well made. Takes off the shelf t50 staples. You can go for hours without cramping your hand. Staples get set perfectly 99.7% of the time. Just a joy to use. Used it to re-carpet my bunk boards on our boat trailer. Used 8 or so sets of staples (lots) without missing a beat.

Only 2 minor complaints: Trigger lock stinks, but easily bypassed. No pressure safty trigger (have to press on the item before firing). You can fire into the air (Safty issue IMO), but not as bad as say, an air nailer. Just take your time, and you will be ok.

Once you use an air stapler, you will not want to use your old style manual one ever again.

I would give it 4.75 stars. It is a great value. There may be 'better' units, but the price is right, and the performance is there.

The best 20 gauge Arrow T-50 stapler ever made!, April 11, 2002
Reviewer: A home improvement enthusiast from Hacienda Heights, CA United States
This is the lightest stapler that I have ever used and I have used many. I do a lot of canvas and upholstery work and this tool does the job at ease. Airy tools satisfied me once again. The best feature is the cost of the tool which is very affordable and worth every penny. You definitely get your money' s worth with the Airy staplemate. Not to mention, their other tools as well. This is a tool that I definitely recommend to every professional and weekend warrior. I rate this tool a 10 out of 5 stars!!

For canvas work, March 13, 2002
Reviewer: Chris from Maine USA
Just received the staple gun yesterday. It's a dream come true. I've been looking for an air staple gun for years. Just out of the box it's super light and efficient, and easy to use if you follow the suggestions from previous reviews. Like another reviewer said, if this tool only lasts a year it will be worth it. We'll wait and see how it holds up.

Awesome T-50 Stapler--Throw away all others, March 11, 2002
Reviewer: John P. Di Bease, Jr from Colorado Springs, CO USA
I purchased the Staplemate about 6 months ago. Just got tired of electric and hand-operated staplers and poor operation in hard wood. Replaced the muslin on the bottom of the box springs today. It was a breeze. This little champ does a great job. I like the fact that I can use 1/4" T-50 staples. If you use this tool just a few times a year you will love it. I did throw away my two hand operated stapler and sold my electric one.

Buy the Airy Staplemate if you are driving staples in hard or soft woodand you want them to work each and every time.

A slight problem but promptly repaired at no cost., October 1, 2001
Reviewer: bpantal from East Liverpool, Ohio United States
After using the Airy stapler the second time, the o-ring in the trigger blew out. The stapler was returned to the manufacturer and was promptly repaired and returned free of charge; they even included a repair kit for the trigger if it should occur again. The stapler works as well on roofing applications as it does on upholstery with no jamming. A simple, lightweight tool that does what it claims.

Good buy for the money, July 9, 2001
Reviewer: john milner from murphys, CA United States
For the home owner, or light industrial use, it's worth the money. On occasion, I need a stapler for uphosltery, canvas work, tacking templates, etc......I'm happy that it works well, and no jambs or malfunctions yet. Even if it only works for a year or so, it's a bargain. I believe in quality tools, but also cost effective equipment...it's all these and more

Great little stapler!!!, March 16, 2001
Reviewer: James D Adkins from Atlanta, GA United States
I bought the stapler several weeks ago to install insulation and 6 mil plastic in a 70 year old house I am remodeling. I have tried electic staplers, and save your money. I got tired of using a hand stapler so I did a little research and found this little jewel. Since buying it I have had several other people see it and want it. It would receive a five star rating except for the fact I don't like the double trigger. It makes it hard to staple. I just duct taped mine to the grip. Great tool, I don't know why I don't see more of them.

Throw away your staple gun, January 19, 2001
Reviewer: garygaul from Flemington, NJ USA
This tool is the greatest. I bought it to use on an insulation job and it worked great. I like the fact that it takes T-50 staples. No matter what length staples I used it landed them flush. It took no effort to use ...A LOT different then the manual staple gun. This fact alone is worth buying this tool. Light weight and easy on the wrists. No remodling contractor should be without this one.

Gary Gaulrapp Cedar Valley Maintenance, Inc. Flemington< N.J.

For light duty stapling, August 28, 2000
Reviewer: MARK T MILLER from Seattle, WA USA
I have been through at least two manual or electric staplers a year before finding this one. This is a durable pnuematic driven product designed to handle relatively light duty staples. It is the only compressor driven stapler I have found that can size down to 1/4" T-50 arrow brand staples. A very unique and hard to find tool for those who do a lot of light stapling.