Home > Jointers: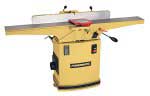 Powermatic 1791279K Model 54A 6" Jointer with Stand
Powermatic
Shipping weight: 239.0 pounds
ASIN: B00005NMU3
Check price and buy @ amazon.com



This jointer is loaded with features normally found only on industrial equipment.

Features:

Oversized 66-inch adjustable infeed and outfeed cast-iron tables support long work pieces
1-horsepower, single-phase, 115/230-volt motor provides solid power
Cast-iron fence assembly features positive stops at plus/minus 45 degrees
Patented controlled chip three-knife cutterhead design provides smooth cutting
From the Manufacturer
This jointer is loaded with features normally found only on industrial equipment. Features include: new oversized 66-inch adjustable infeed and outfeed cast-iron tables, new cast-iron, center-mounted fence assembly which provides rigid support for the workpiece, has positive stops at plus/minus 45 degrees, and Powermatic's patented "control chip" 3-knife cutterhead design which delivers the accuracy required in a 6-inch jointer. Model 54A comes complete with 1 hp, 1 phase, 115/230-volt motor, and manual switch.



Customer Reviews:
Best 6" Jointer out there!, August 27, 2002
Reviewer: Jeffery R. Galinovsky from Folsom, CA USA
I spent alot of time researching a jointer and found that the few extra bucks for this jointer is worth EVERY penny! From putting it together (and being dead on) to the adjustments and performance to the extra long bed, I can't tell you all how happy I am with my purchase. The extra long bed and height adjustments are worth the extra bucks alone. They have a rough adjustment for the infeed table that gets you in the ball park and with a quick turn in either direction, you can make another almost 1/32" tweak to your setting to fine tune. THe performance and cutting quality is top notch. I recommend saving your cash up for this one...I love it!

Great Jointer, July 24, 2002
Reviewer: GERALD V. HICKS from GREENSBORO, NC USA
Was using a standard Jet 6" until I saw this one at a Woodworking Show. I get better results on long pieces due to the long bed. Everything was setup right out of the box. I also got 2 extra set of knives with the machine. You won't go wrong purchasing this one.

Great value on a great machine., July 15, 2002
Reviewer: John MacDonald from Sapulpa, Ok United States
I purchased this machine after having tried some used models of varying brands. This machine will deliver. It arrived undamaged in two cartons with the necessary tools to assemble it. With the help of one other person we had this machine up and going in less than an hour. Out of the box it was pretty close just some fine tuning. The first walnut board through came out very nice! I have tried oak, cherry, etc. No complaints from me or the machine. The long bed is worth the money. If for some reason I lose this one I would purchase another just like it. As mentioned in earlier reviews dust collection is needed unless you like to sweep up, alot!

Money Well Spent, June 15, 2002
Reviewer: Richard Barwick from Batavia, Ohio United States
This an excellent value. If you are in the market for a new jointer you will not be disappointed. The packaging is very good, fit and finish is excellent. The machine is easy to setup,but you will need 2 people due to the weight.

The instructions are well written and my jointer was dead-on right out of the box.

The 66" bed is a huge plus. The extra money that you spend on this tool will be quickly forgotten once you turn it on and use it. I strongly recommend this jointer.

Best value for the $$, April 7, 2002
Reviewer: radarralph from Linton, Indiana United States
I was a little apprehensive buying this jointer even with the good reviews. After all it does come from the little Pacific Island... But, when I got the two (very, very heavy!) boxes down into my basement workshop (by myself...in a pouring down rain yet!) and got them opened up I was very pleased to see that the parts had been packed with great care. If Powermatic/Jet packs everything this way they must never have any shipping damage! All the parts, both large and small were in outstanding condition and very well protected from moisture damage. The instructions are first rate and leave nothing to figure out on your own. Unlike some Taiwanese sourced tools these instructions were in "real" English! I was immediately impressed by the quality of the paint and castings. All were first quality and I (and I'm very picky!) could not find a single thing to complain about with regard to workmanship. Assembly is easy (try to get someone to help you move this thing around..doing it by myself was *NOT* smart!) and inside an hour I had it together, cleaned up and adjusted per the very good owners manual. The overall impression during use is that of a machine costing much more. Even though I felt sheepish buying a Taiwanese manufactured machine, I do have to admit that even for twice the money I haven't seen or used a better machine. If this is an example of the direction that Jet is taking Powermatic then Delta (my former favorite!) should be looking over their shoulder!

I was (and am still a little) somewhat concerned about how the very long (66") tables will hold up under use. There is a lot of weight sticking way out there on both ends! So, as the months go by I'll keep an eye on the tables and check them periodically with a machine shop grade straight edge and see if the long in and outfeed table develop any "droop".

My only recommendation to Powermatic would be to see if a bigger wheel for adjusting the outfeed table could be fitted. I know you don't adjust it very often, but the current handwheel feels too small and is somewhat out of place on an otherwise outstand-ing machine!

Right now I'd have to give this one a very solid five stars and rate it a "Best Buy"! Kudos to Powermatic/Jet for a very solid value!

Thumbs up, March 20, 2002
Reviewer: A home improvement enthusiast from nantuket, ma USA
I had it assembled in less than a half hour. Everything has been what I expected from Powermatic. five stars

Whats up with the "Home improvement enthusiast"? I'm insulted

fantastic jointer, March 6, 2002
Reviewer: Kent A Schaus from Akron, Ohio United States
I just received this jointer the other day and have already used it several times and all I can say is it is money well spent. I used to use a Grizzly 6" jointer and thought it was good but it doesnt come close to this jointer.

I was able to set the jointer up by myself with a little thought and the fence was dead on out of the box. The extra bed lenght is more than can be described and the smoothness and quietness of the machine are top notch.

I highly recommend this jointer

This baby is KING...., February 3, 2002
Reviewer: gmaven from Syracuse,, NY USA
The Powermatic 54A Jointer is awsome! The long (66") bed has been an absolute pleasure to use. It makes jointing long, heavy boards a cinch. Also, the unit spins at 6,000 rpm so you're getting 18,000 cuts per minute vs. 13,500 (4,500 rpm) on most other jointers. The knives were set perfectly from the factory. It was easy to set up by myself after a friend helped me get it unloaded. The biggest hassle to setting it up was shifting the motor mount bolts in thier mounting slots while keeping all parallel to the belt/pulley assembly.

straight forward good machine, December 1, 2001
Reviewer: john J potocny from Honolulu, HI USA
i bought this jointer as a replacement from an old one that i spent several months restoring. when i moved to hawaii i had to leave it behind because of shipping. but it was a blessing in a way. the adjustements on this machine are so easy compared to my old one and the long bed really makes a difference even on short pieces of wood. i did adjust the belt tension a few times because the motor was starting rough at first with a jult, but now it starts smooth humms along like my other powermatic tools.

if space in your shop is a concern i would suggest that you make a quick mock up of it before you buy it so you can see how much space it will really take up, i was a bit supprised, also if rust is a problem in your shop i would suggest an HTC tool cover or another type of breathable cover for it. i have reflattend a rusty jointer bed before and it is a lot of work.