Home > Grinders / Polishers: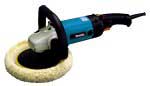 Makita 9227C 7" Polisher
Makita
Shipping weight: 8.9 pounds.
ASIN: B0000223IZ
Check price and buy @ amazon.com



Fast and powerful polishing for clear coat finishes, and ideal for ultraslow polishing.

Features:

10-amp motor with variable speed from 600 to 3,000 rpm
Electronic speed control keeps rpms constant under load
Lock-on button for continuous use
Three-prong grounded plug
One-year warranty
Amazon.com Review
Power polishers help cars, boats, floors or anything else you take a shine to--come clean. The Makita polisher uses electronic speed control to maintain a constant 600 to 3,000 rpm, even under load, and that combined with multiple speed settings results in little risk of burning paint. The polisher converts easily to a sander, and quick-change hook-and-loop sanding pads eliminate clamping, bending, and tucking. We like how the handle provides secure, comfortable grips for use at any angle, and the lock-on trigger means you can go long distances with minimum fatigue. The 10 amp motor provides plenty of power, and, as with all Makita products, it's designed for long life, with easily accessible brushes that can be changed outside of the tool's housing. If you like to maintain a flawless façade, this tool deserves a place in your arsenal.

From the Manufacturer
Fast and powerful polishing for clear coat finishes, and ideal for ultraslow polishing, this polisher has a variable-speed feature with a preset maximum speed dial (from 600 to 3,000 rpm) giving you utmost control. The electronic speed control maintains constant speed under load and it effortlessly converts to a sander. For continuous use at one speed, try the lock-on button. Your polisher purchase includes hook-and-loop pad and hex wrench. Shown with optional buffing bonnet.



Customer Reviews:
solid unit, July 28, 2000
Reviewer: kotonk from Honolulu, HI USA
nice solid unit...unique handle allows variations in holding the unit up.

Electronic Control Can't Be Beat, June 6, 2000
Reviewer: ram22 from Corpus Christi, Texas
I recently took delivery of this machine and just can't put it down. The electronic speed control does exactly what they claim. It maintains speed even running an eight inch soft pad with sixty grit on the slowest speed setting of 300 rpm! The handle is another great bonus with a much greater combination of postions than a regular side grip. This polisher/sander maintains Makita's rep as having the lightest...but strongest polisher/sanders around, this one's a feather. It also has the standard goodies like the spindle lock and trigger hold. It's definitely the favorite in my shop.