Home > Generators: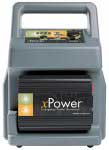 Xantrex 802-1800 xPower 300 Emergency Power Generator
Xantrex
Shipping weight: 21 pounds
ASIN: B00005AL02
Check price and buy @ amazon.com



Xantrex xPower 300 emergency power generator is portable, rechargeable, and safe for indoor use since it operates using battery power.

Features:

300 Watts of household AC power
Runs AC or DC electronic products
Jump-starts cars, RVs, or boats
Rechargeable 21 amp-hour battery built-in
1 year warranty
From the Manufacturer
The xPower 300 Emergency Power Generator is portable, rechargeable, and safe for indoor use since it operates using battery power. Provides standard household power (AC-115 volts) when there is no electric utility power or power outlet available. Provides 300 watts of continuous AC power to run hundreds of products including: portable stereos, TVs, VCRs, cordless phones, small power tools, etc.

Stay informed and productive during a power outage, or simply take some luxuries of home life with you on your camping trip. xPower 300 also lets you operate 12-volt DC devices, and comes with a DC fluorescent emergency light at no additional cost. You can even jump start your car, boat, or RV using the included jumper cables! The integrated 21 amp-hour battery can be recharged from the wall outlet in your house in about 10 hours, or from the 12 volt outlet in your car while you drive in about 4 hours. The "plug-it-in-and-forget-it" charging system means you can leave the xPower 300 plugged into the wall outlet in your home without fear of damaging the battery. xPower 300 is the complete solution for back-up power related emergencies or leisure use. One year warranty. Includes DC fluorescent light, AC charger, DC charge cable, jump-start cables, and accessory bag.



Customer Reviews:
NOT A GENERATOR - it's a BATTERY, August 13, 2002
Reviewer: macmedix from Gardena, CA United States
This unit is NOT A GENERATOR - it's a BATTERY. You can charge it up, and use the power later. Don't be confused at the name.

Overpriced, March 6, 2002
Reviewer: A home improvement enthusiast from Wisconsin
This is an excellent but overpriced item. I found it locally... 00 new! It didn't run my sump pump's power needs because the amps required were greater than the capacity of the unit. It comfortably ran other household items.

a great power supply, January 8, 2002
Reviewer: VINCENT ROMBOLA JR. from LEVITTOWN, NY United States
I was very happy with this buy, it came in real handy for camping
and we use it in our RV when power is not available, the kids run the TV with the VCR for hours and it charges back up in the car very fast, less then 2 hours to recharge. I highly recomend it.

Not a electric generator but still an excellent peice!!, June 16, 2001
Reviewer: Vera from NewBedford Ma.
This is NOT a generator of electricity but is a power storage unit. It DOSE do en excellent job as a stoage battery and comes with some fime attachments and is adaptable. My family and I are headed for an Outback type experience and this was an excellent addition to our gear. It took little time to take the initial charge and has held that charge since. It will power things well into the advertized limits. It takes up little storage space and dose an excellent job.