Home > Drill Presses: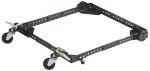 HTC HTC1000 Universal Mobile Base
HTC
Shipping weight: 15.0 pounds
ASIN: B000051WSA
Check price and buy @ amazon.com



The improved HTC silver-brushed aluminum foot lever will give you even more durability than ever before.

Features:

Adjusts to fit a wide range of large woodworking tools
Expands from 14 by 14 inches to 31 by 31 inches square
Expands to 19 by 43 inches in a rectangular configuration
The 14-inch rails have holes spaced every inch for maximum versitility
Brushed aluminum foot lever lets you lock the base in place
From the Manufacturer
With an improved silver-brushed aluminum foot lever, this Universal Mobile Base from HTC will give you even more durability than ever before. This adjustable base expands from 14 by 14 inches to 31 by 31 inches square or 19 by 43 inches in a rectangular configuration. The eight 14-inch rails have holes spaced every 1-inch, making assembly quick and easy. 300-pound capacity.



Customer Reviews:
A Real Mover, June 11, 2002
Reviewer: ironeyes from Burlington, IA USA
I recently purchased two of these mobile bases, and am quite pleased with them. One was placed under a band saw, the other a contractor's table saw. They were easy to assemble and adjust to level. They are very mobile on a cement floor. The lock and unlock mechanism is easily assecable with the flick of a toe. Since they are so easy to move they have really made a difference in my limited space workshop.

Works fine, with modifications, April 29, 2002
Reviewer: dan44449 from Madison, WI United States
I figured I'd have to drill a few holes to make it fit my craftsman table saw. I wasn't disappointed. If the unit you're going to put it on will need to be bolted to the base (and they all do), expect to drill holes in your unit, the corners of the base, or in the support beams. I decided to drill the support arms, and I only needed to do that in two of them. The other dimension worked out to be exactly the right length. Once I'd drilled the holes, the whole thing went together just fine. The saw moves around effortlessly and the whole unit is a LOT more stable now. I'm quite satisfied. Four stars because I had to drill it. But then, I don't believe there's a mobile base made that doesn't require some mods. Price was right, and it works like a charm.

Never got off the ground!, April 18, 2002
Reviewer: Martin R. Schmidt from Washington State
I recently bought several heavy pieces of shop equipment, a 16" planer and a 6" jointer. I bought the HTC1000 mobile base for the heavier planer and one of the other brands of universal bases (you get the wheels and corners, but have to add lengths of hardwood)for the jointer. The HTC came with missing parts as well as a disjointed mixture of metric and non-metric bolts and nuts. In the end, because of their poor quality control, I wasted much time, it cost me twice as much as I paid for it and I have an inferior base. I am very disgusted.

Does the Job!!!, October 24, 2001
Reviewer: kbsound from Utah USA
I purchased this item for a Craftsman table saw. It works perfectly. The only feedback that I would give is to subsitute the Hex nuts for the wheel levers with nylon lock nuts. Due to being used freqently the nuts tend to work their way loose. Once I replaced the nuts with locking nuts there was never a problem again.

Over all this is an excellent product and I would recommend it to anyone.

Just what I needed, September 22, 2001
Reviewer: Dave Hume from Idaho Falls, ID United States
I bought this base to go under a Jet closed stand 14" bandsaw. I was a little concerned that this lighter (and less expensive) stand would work with the 185 lb. weight. No problems! It assembles easily, all parts are present, and the floor release mechanism works flawlessly. It's rated to hold up to 300 lbs., and looks like it would do that easily. I'm well satisfied.

Best mobile base I own, August 7, 2001
Reviewer: DR. WILL COMPTON from CHEVY CHASE, MD USA
I have the Craftsman version of this mobile base. It is easy to assemble. Better still, it rolls, swivels, steers, and handles better than two other types that I have. The one I own is on a large band saw. The two I ordered are for my router table, and a work bench. They make a small workshop much larger! Best of all, these are $30-$40 less than the Craftsman!

GREAT PRODUCT GREAT PRICE, May 24, 2001
Reviewer: RICHARD SMITH from ONEIDA, NEW YORK United States
I recently purchased this mobile base and I must say that for the price it can't be beat. The base is well built, easy to put together and performs as advertised. I was ready to buy craftsmans version ...untill I found this one. From what I've seen they appear to be the same except for the price. I highly recommend one for all non portable tools in your workshop.

Well Built!, April 23, 2001
Reviewer: yuvak tuladhar from Berkeley, CA USA
This is a well built product. Putting all pieces together was very easy and I was ready to go in about 25 minutes. I am using this base for my Hitachi CR10A2 table saw. I have a very small woodshop space so having the tools on wheels is wonderful. I am planning to buy one more for my router table too.

Exceptional Value, January 11, 2001
Reviewer: DAVID BROWN from ELKMONT, AL United States
I'm using my HTC 1000 on a Ross Drum Sander. This base was easy to set up to the dimensions required by my Drum Sander. The base is heavy, sturdy, and easy to move. I highly recommend the HTC1000.