Home > Drill Presses: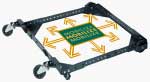 HTC HTC2000 Universal Mobile Base
HTC
Shipping weight: 14.65 pounds
ASIN: B00002262M
Check price and buy @ amazon.com



Provide mobility for large woodworking machines with the HTC universal mobile base.

Features:

Four wheels for well-balanced performance
Side rails come with holes spaced every inch
Build to fit your tools
Easy to unlock and move
Lifetime warranty
Amazon.com Review
If you're like us, you've crammed more tools into your workshop than can really fit. Luckily, an HTC universal mobile base (or two) can make a world of difference. The base is sturdy and easy to assemble, plus unlike any other mobile base on the market, it adjusts to fit virtually any large woodworking machine, forming squares from 12 by 12 to 36 by 36 inches and rectangles as big as 20 by 52 inches. Holes at 1-inch increments let you choose any shape in between, and wheels at all four corners make it easy to maneuver. Roll one tool in; roll another tool out. Moving equipment around a crowded shop has never been this easy.

From the Manufacturer
Provide mobility for large woodworking machines with the HTC universal mobile base. The base accommodates more than 400 pounds (33% more than other brands) and expands from 12 by 12 inches to 36 by 36 inches square or 20 by 52 inches in a rectangular configuration. Four wheels add stability. The four 12-inch and four 18-inch side rails have holes spaced every inch, which makes building a base to fit your needs fast and easy. Simply attach the side rails in any combination to the wheel-supported corners, and you're in business!



Customer Reviews:
Like skating on ice, October 18, 2002
Reviewer: elderberry99 from Semora, North Carolina USA
I use this on my Jet table saw with no trouble at all. I can move the saw anywhere in my garage with no effort. A must have item. Don't be fooled by the copies.

Stupid design, October 7, 2002
Reviewer: Ron Cleaver
It's hard to believe anyone would purposely design a product like this. Only two of the casters will swivel - try moving anything that way - it's a royal pain. And try to get it level - another pain.

I decided to build my own - just a simple platform with a lip to keep the machine on it and 4 swivel casters with brakes. Can be made in a couple hours.

Very sturdy base., August 5, 2002
Reviewer: A home improvement enthusiast from Erwin, TN United States
I have bought 6 of these bases. All had instructions and all hardware included (not one part missing bolts,nuts etc.) Very well built base. Raising, lowering and rolling functions all work great. Goes together easily as long as you read instructions included. Another department store sells one just like this one. There's has the same stickers and same design except there's has red wheels and a diferent name brand on it. Also the other mobile base sells for [$$$] instead of the price at amazon.com I will give you a hint on what department store I am talking abought, they sell tools with a lifetime warranty and they are usuall in a mall.

Confusing Setup - but a must, May 23, 2002
Reviewer: Vince T. Alfajora from Cypress, CA United States
The instructions could be improved and made clearer. I spent about two hours trying to figure out how to build the moving casters. After that, then everything was easy.

Excellent Mobil Base, May 7, 2002
Reviewer: kbsound from Tooele, Utah USA
I purchased this mobil base for my table saw, it took only a few minutes to assemble, has done the job very well. I plan on buying a few more for other items in my workshop. I the only draw back with this base is there has been a few times were the nuts become loose. I fix this problem by buying a few lock nuts and the problem was solved. The kit did provide a few of the nylon lock nuts, but it would be better to have the lock nuts on all of the bolts installed. Other than this minor addition, I would recommend this mobil base.

A decent lightweight for the price -->, March 25, 2002
Reviewer: JEREMY D ZORNS from Bartlett, IL United States
It is a little flimsy compared to my Shop Fox mobile base. Although this one costs [much] less, so it's not a fair comparison really. If you have the money, opt for the HTC that is designed for your saw or whatever.

The thing I don't like about this one is that since the wheels are elevated one at a time and the frame is made of flat stock it twists a little as you raise your machine. If you don't have your open stand equipment super tight, it will knock the legs out of level. Nothing dangerous or big, just a little disconcerting.

If you just can't bear to spend the extra money, this is a good choice. Just remember the weight limit. (300 lb.)

Maximizing small workshop space., March 18, 2002
Reviewer: A home improvement enthusiast from Borrego Springs, CA United States
I purchased 2 of these Mobile Bases and they went together very quickly. No missing parts. One base holds my band saw and the other base holds my Delta 12 1/2" planner. Sure makes moving these monsters around the shop easy.

Why Did I Wait So Long!, March 15, 2002
Reviewer: Rita McWhorter from Texas
My shop is compact, 6' X 9' at the most and holds a miter saw, router, table saw, jig saw, nailer and compressor, the works. When I use anything, I have to drag it out into the garage area. Not a problem except for the table saw, which is heavy and terribly noisy when I pull it across the floor. I just bought the HTC 2000 Universal Mobile Base, and now the table saw easily glides in and out of it's space. IT IS GREAT! It is heavy duty, the lifts are easy to use and everything is level. The saw feels solid and secure. Now I am excited about going to work on my projects. My only regret is that I waited so long. Thanks!

Compare to Delta Universal Base, February 16, 2002
Reviewer: Robert J Mahan from Round Rock, TX USA
Better than Delta Universal Mobile Base. Easier to assemble and sturdier. Has two levers to lift instead of one, a little harder to lift off feet.

Not Sure I Like It, January 21, 2002
Reviewer: gluehappy from Lutz, FL United States
Yes, it has the expected sturdy construction, but the foot levers to raise and lower are a little hard to operate. I have a jointer mounted on one and I find I have to assist in raising and lowering the machine as I operate the rather thin foot levers. And if i'm not careful, I can lower the machine down with a thud.

In contrast to the Delta design, which I have my workbench mounted on, it is much easier to raise and lower with the single and larger foot pedal. Delta's design of a single caster also does seem easier to pivot with.

5 stars for srurdy construction
-2 stars for the hard to operate foor levers

3 stars overall

If you need a mobile base that's ready to put together out of the box, the HTC2000 will serve your needs well enough. If you're able to make the rails yourself for the Delta model, or need a custon size as I did, I would go for the Delta 50-345 model instead since I find its design easier to use.