Home > Cordless: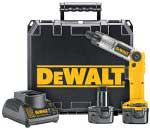 DeWalt DW920K-2 7.2-Volt Heavy Duty Cordless Screwdriver Kit
DeWalt
Shipping weight: 7.5 pounds
ASIN: B000051WQV
Check price and buy @ amazon.com



DeWalt DW920K-2 7.2-Volt heavy duty cordless screwdriver with two-position handle allows you to adjust the tool's configuration as needed to work in confined areas.

Features:

Adjustable two-position handle adjusts for working in confined areas
7.2-volt motor delivers 0-500 rpm and 80 in./lb. of torque
Variable-speed trigger and reversing operation
16-position adjustable clutch provides precise torque adjustments
Industrial quick release keyless chuck makes bit changing quick and easy
Amazon.com Review
Cordless screwdrivers are nothing new, but this model from DeWalt puts a heavy-duty twist on the idea, and professionals are sure to appreciate it. DeWalt's 7.2-volt has the most powerful battery pack of any cordless screwdriver on the market, without sacrificing compact design. This screwdriver gets into all the tight spots cordless drills can't, and unlike other cordless screwdrivers, it won't leave you wishing for more power once there. Its 80 inch-pounds of torque is beyond even the toughest competing model, and with 16 clutch settings, it's easy to avoid stripping out screws. We also like this tool's quick-change keyless chuck and the extra maneuverability provided by the two-position handle. This is a generous kit, including the driver, a charger, two batteries, two bits, and a tough case. It may not be a revolution, but it does seem to be the first serious cordless screwdriver designed with professionals in mind.

From the Manufacturer
Add speed and versatility to your toolbox with this 7.2-volt cordless screwdriver from DeWalt. The two-position handle allows you to adjust the tool's configuration as needed to work in confined areas. The job will get done easier and faster, because the 7.2-volt motor turns at 0-500 rpm and delivers 80 in./lb. of torque. Plus, the clutch setting can be adjusted to 16 different positions, virtually eliminating the problem of stripping out screws. And, bit changes are made simple with an industrial quick release keyless chuck. Kit includes screwdriver, two batteries, two screwdriver bits, charger, and kit box

Technical data:
Volts: 7.2
Max torque rating: 80 in./lbs.
Speed: 0 to 500 rpm
Battery amp hr: 1-1/4
Battery type: ni-cad
Battery interface: Latch
Charger time: 1 hr.
Chuck size: 1/4 in.
Clutch settings: 16
Switch type: Trigger
Number of batteries: Two
Bits included: One Phillips, one slotted
Grade: Professional
Country of manufacture: China
Also included: None
Variable speed: Yes
Two speeds: No
Reversing: Yes
Adjustable handle: Yes
Rubber grip: No
Spindle lock: No
On-board bit holder: Yes
Chuck attachment: No
Bits included: Yes
Batteries included: Yes
Charger included: Yes
Carrying case: Yes
Other features: Adjustable clutch
Length: 14 in.
Diameter: 1-3/4 in.
Tool weight: 2-1/2 lbs.
Shipping weight: 7 lbs.
Product: 30-day no-risk trial, 1 year
Service: 1 year

Customer Reviews:
Superb cordless screwdriver!, October 16, 2002
Reviewer: 45mouton from Arlington, VA USA
I have been using my Porter Cable 19.2V cordless drill as a screwdriver, but the weight and size finally got to me and I purchased this DeWalt model. I do mostly cabinetry work and needed something that is small and light to get into tight spaces. First impression of the tool is that it is very well-made, solid feel in the hand. Although the head does not swivel to a right angle,I have not found the 60 or so degree maximum angle a problem yet. It is also nice that the kit comes with 2 rechargeable batteries. When I bought the tool, I had some reservations about the amount of torque it can generate from the 7.2V batteries, especially since I have been using a 19.2V cordless drill. After using it for a week or so, I must confess that I have not encountered a situation that there hasn't been enough torque to drive a screw yet. Oftentimes, I have to reduce the torque setting so the tool doesn't drive the screw too hard. This is a well-designed tool and I highly recommend it to anyone.

A very handy tool!, August 27, 2002
Reviewer: A home improvement enthusiast from Manchester, UK
I don't have much to say as a lot of reviews have been written telling you how good this cordless screwdriver is. I really like the 2 position handle idea and the hinge has a high quality feel too. This tool has an automatic spindle lock feature which is mistakenly stated "no" in the detail specs in Amazon.com

Reviewed this before, here is info 2 yrs later, August 18, 2002
Reviewer: A home improvement enthusiast from Lakeland, MN United States
I reviewed this when I got it about two years ago. Having had this for some time now and using this all the time, here are my thoughts:

I rated this 5 stars when I originially rated this. If I could I would rate this higher. This is still an awesome tool.

The battery life is amazing. You can use this tool hard, drive lots of screws, drill (with the proper quick eject bits) and generally just have at it with this thing. I no longer reach first for screwdrivers, but I use this tool instead. With the 15 clutch settings, you don't strip screws, you don't break plastics, wood, you don't strip phillips head screws, you don't break screws - its incredible.

I do alot of electrical work and I use this to trim out outlets and switches including installing the trim plates. Setting the clutch to '1' means that I won't break a single plate! However, when I set the clutch to 15, its basically hang on with both hands since this tool has all the torque you could want. To use it on 15 you need to hand on with both hands and lean into it as hard as you can - otherwise there is enough torque there for the tool to jump out of the screw. If you can hang on, it will drive that screw. I think that is an incredible range - delicate to heavy duty.

While the tool allows usage in straight or pistol mode, I still use it in pistol mode 99% of the time. HOWEVER, when you need it in straight mode, it is absolutely indispensible. Just yesterday, I had to take a tough screw out of a floodlight fixture while on a 9' ladder reaching way over my head. I couldn't get a standard screwdriver in there - with hand attached. I couldn't get it in there in pistol mode. Set it straight, put in in there and out comes the screw. What a tool.

For around the house, there is no peer. I would actually buy this as my first cordless drill for that application. With a heavy duty cordless around, (18V dewalt) and this tool there is nothing that you can't handle.

I strongly reccommend this tool. Its my first choice for driving any screw - I choose this over the hand tools almost every time. If I was working a working electrician, i would use this tool for pretty much all my trimming needs. If I was any sort of installer, this would be the firsts tool that would reach for.

Best Power Screwdriver ever, August 3, 2002
Reviewer: Scott J. Michael from Conyers, GA USA
Bought it on impulse and now have 3. One at home and one in each of my offices. Powerful enough for most jobs and MUCH lighter than my 14.4 volt Porter cable drill/driver. The articulating feature is handy at times and the variable clutch works very nicely.

Best screwdriver and you can fix the chuck wobble, June 24, 2002
Reviewer: carpentry and repair from SoCal from Monrovia, CA United States
I do remodeling and this is a great tool design, The tool has very good battery life,feel, torque etc. As another reviewer has noted the chuck did wobble but if you watch the bit it is not the shaft . I removed the sliding chuck ring and found the tension spring was not flat ground on the ends and the plastic sleeve below it had a casting bur left causing the wobble(it made the chuck sleeve tilt when released). I flat ground the spring ends and removed the bur and all is ok now. The shaft was not the problem. I suppose that being made in China instead of the USA may have something to do with it. I called DeWalt and the said that to be competitive the do not make this tool here, it would cost too much. He was not too concerned about the wobble because it does not cause the bit to be off center. I should give it less than 5 stars but I like this tool so much better than anything else I have used for driving fasteners and light drilling and the fix was easy and took less than 5 minutes.I am beginning to be concerned with DeWalt's quality control.I have had several other issuses with other tools that are minor but show lack of attention to detail in manufacturing and assembly.(they do have a lot of reconditioned tools?)

DeWalt DW920K, June 21, 2002
Reviewer: Eugenio from Porto Alegre, Brazil
I could talk about the power of this tool or its improvements or even its amazing design, but I will not! I just loved it!

Why such a big suit?, May 21, 2002
Reviewer: A home improvement enthusiast from Waconia, MN USA
Love this tool - and I've got lots of them. Great mix of power whether your using it for small projects like in-dash repairs in a car or driving screws into 2x4s - very versatile. comfortable grip, nice trigger action, solid construction, nice case, nicely weighted - big thumbs up.

The thing since slice bread, May 1, 2002
Reviewer: sdg87 from WHITING, IA USA
I brought the Dewalt screwdriver about a year and half ago (When it first came out). This is my second review of this product I still love it. Its gets 10 stars from me. I got it here on Amazon.com. Don't wait get one. I use mine almost daily. Its powerful enough for most jobs around the average home. This tool has the power of other tools twice its size and cost. Remember, its not a drill its a screwdriver, though you can use it drill smaller holes. It has a amazing battery life, it also does come with a second battery.

Great idea, poor manufacturing quality, March 30, 2002
Reviewer: charles hoehn from san jose, CA United States
I'm a general and electrical contractor and own many tools. On a recent job my flooring sub-contractor showed me this drill and let me try it. I thought it was a great idea, lots of power for the size and the price was terrific. However, I noticed that his drill chuck wobbled when operated indicating that the shaft was bent. I thought he had done this; maybe he dropped it. I purchased this product the next day and found, when I got it to my shop, that it too had a bent shaft. This caused it to wobble to the point that the tip would "walk" out of the screw. I returned the drill and purchased another, it too had a bent shaft. I really like the design and power but this defect is intolerable. DeWalt needs to recall this product. When they fix this drill I would give it 5 stars.

This is a drill..., March 29, 2002
Reviewer: A home improvement enthusiast from Grayslake, IL USA
I went to the local tool supplier to compare this to the panasonic model cordless screwdriver. I was holding the dewalt in my hand and then walked over to pick up the Makita 9.6V drill I already had at home. The drill was lighter.

For me the panasonic, being lighter and smaller, is a better fit. I've got two cordless drills, including a Dewalt 18V, for the bigger jobs.