Home > Cordless: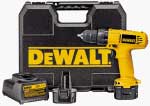 DeWalt DW926K-2 9.6-Volt Compact 3/8" Adjustable Clutch Drill/Driver Kit
DeWalt
Shipping weight: 8.35 pounds
ASIN: B0000302QO
Check price and buy @ amazon.com



Engineered for the person who demands professional power and performance in a compact drill/driver.

Features:

Fan-cooled DeWalt motor delivers 200 in/lbs of torque
Compact size at just 3.4 pounds and 8-3/8 inches long
Jacobs Chuck puts a strong bite on bits
Variable speed for maximum precision
One-hour charger, two DeWalt 9.6-volt compact batteries, and a heavy-duty carrying case
From the Manufacturer
Pick up the DW926K-2, and you can immediately feel the power. This 9.6V Drill/Driver is engineered for the person who demands professional power and performance in a compact drill/driver. At just 3.4 pounds, 8-3/8 inches long and 8 inches high, the DW926K-2 provides 200 in/lb of torque. It supplies you with the leading power-to-size ratio available today with more power and durability than any other 9.6 drill/driver of similar size and weight. The DW926K-2 features a DeWalt motor with fan cooling for better heat resistance and longer life. The DW926-2's professional grade Marquardt switch with electric brake, metal planetary gears and Jacobs chuck provide the highest quality industrial components available in a 9.6V drill/driver to give you superior power, performance, and durability. The DW926K-2 includes the drill/driver, a heavy-duty one hour charger, two DeWalt 9.6V compact batteries, and a heavy duty carrying case. Kit Box Included

Technical data:
Volts: 9.6
RPM: 0 to 300 to 0 to 1,100
Maximum torque rating: 200 in./lbs.
Chuck size: 3/8 in.
Number of clutch settings: 24
Battery interface: Latch
Battery type: Ni-cad
Battery amp hr: 1.3
Battery charge time: 1 hr.
Speed ranges: Two
Grade: Professional
Number of batteries: Two
Bits: One Phillips driver bit
Also included: N/A
Country of manufacture: China
Variable speed: Yes
Keyless chuck: Yes
Spindle lock: No
Soft grip: No
On-tool bit storage: No
Electric brake: No
External replaceable brushes: No
Charger: Yes
Carrying case: Yes
Height: 9 in.
Length: 9 in.
Width: 2-3/4 in.
Weight: 3.4 lbs.
Shipping weight: 8 lbs.
Product: 30-day no-risk trial, 1 year
Service: 1 year

Customer Reviews:
THE drill to buy, September 3, 2002
Reviewer: Mike Roselius from Lincoln, NE United States
I can't recommend this drill enough. I just spend the Labor Day vacation (?) assembling a wooden playset for my daughters. Discovered my old Skil 18v wasn't what she used to be. Went to the local H Depot and waffled between the B&D and the DeWalt - let DeWalt's reputation tip the scales and I couldn't be happier. The 1 hour battery charger is perfect. The drill had no problem w/ 3" and 4" wood screws through pressure treated wood - or driving a 5/16" hole through a 4X6. It's light, perfectly balanced and w/ the 2 batteries and 1 hour charger I worked all day with no slow downs. You can tell this was built to be used. Despite the fact that B&D owns DeWalt - there are differences - DeWalt is all metal internal gears and more torque than the 14.4v Firestorm I was considering.

dependable, lightweight performer, May 10, 2002
Reviewer: A home improvement enthusiast from Arlington, VA USA
I bought this drill because I needed a compact, lightweight drill with a reasonable amount of torque to take up to the top of the mast on my sailboat. I also use it for 99 percent of the work I do around the house. For more demanding jobs, I get out the corded drill. The DeWalt has plenty of torque for most of my projects, the battery life is reasonable, and the tool is well built. It has not given me any problems for the two years I have owned it. Plus, the price is significantly less than the higher voltage drills. If you are only going to own one drill, then perhaps you should buy a higher voltage or corded model.

Great little drill / driver, April 21, 2002
Reviewer: timhase from Omaha, NE United States
Owned this drill for about 2 years now. I have a new 18 volt DeWalt hammerdrill that handles all the big things and this drill gets used a ton for things that don't need the extra power and weight of the 18 volt. For someone looking for a great second drill pick this one. You will find you'll reach for this one first. It's one of my favorite tools.

Flawless preformance, for a while..., November 26, 2001
Reviewer: Robert W. Current from Florence, NJ
I have only one fault with this drill. It works wonders for what it's suppose to do. But it is only a 9.6V Compact model. That's fine for most people, but given hour after hour of use, the battery just won't last as long as it takes to charge.

If you only need to use it for up to 30 minutes of solid, non-stop use, it's great. If your going to be working on the same project all day long, driving screws and drilling holes, you will find the battery is a major limitation.

Great lightweight drill, June 21, 2001
Reviewer: Neil Williams from Scottsdale, AZ USA
When the battery in my 10 year old Skil finally died, I knew what I wanted in a replacement. I wanted something of similar weight, but with more torque. 14.4v drills seem almost like the mainstream these days, but if you hold a 9.6v in one hand and a 14.4v in the other, you have to ask yourself if the extra weight is worth it.

My old Skil put out about 110 in-lbs of torque, and the DeWalt puts out 200! Since I'd managed for 10 years with only 110 in-lbs, I figured 200 would more than meet my needs. To get that much torque in a lesser brand like B&D or Skil you need to get the 14.4v - no thanks. After lots of looking both online and in the aisle at HD and Lowes I decided on the DeWalt and haven't regretted it for an instant.

I do woodworking as a hobby and small house chores as well. If I ever need a deck built, I'd hire somebody. So now you know where I'm coming from. I've found the DeWalt to have more than enough torque for my needs. The only time I've noticed the motor slowing down (but not stopping) is drilling 3/8" holes more than 2" deep in hard maple. I've also drilled 1/2" holes through 2.5" hard maple with a twist bit, and there was so much torque I had to hold on to the drill tightly with both hands to keep it from twisting out of my hands. If I was drilling holes like that all day long, then I'd probably go with the 14.4 or 18v version, but thankfully I don't do many of those types of holes. (Bear in mind that hard maple is at least 2-3 times harder than your typical softwood used in home construction.)

I can highly recommend this drill for anyone who's not doing extremely heavy-duty work all day long. It's got plenty of torque, two batteries to keep you going, two speeds for when you need to switch between high-torque and high-speed, and it stops instantly when you release the trigger rather than coasting down. If I have one complaint, it's that I sometimes have difficulty getting the chuck tight enough - when using big bits that will really be grabbing the wood and trying to spin loose out of the chuck you really need to crank down on the chuck. Unfortunately the parts of the chuck that you grip are plastic rather than rubber, complicating the operation a bit. That's a minor nit, though, in an otherwise outstanding drill.

Best all around cordless drill, March 9, 2001
Reviewer: PMC from Central Florida
I started out looking at the 18v then 14.4v,then 12v and I finally settled on the DeWalt DW926K-2.The reason I went for the 9.6v DeWalt is that it was about 2-3 pounds lighter than any other drill around.It is well balanced and feels very comfortable especially while drilling overhead.This is the best drill for those weekend projects that you were holding off on doing.

Best buy, October 1, 2000
Reviewer: BRADLEY KELLER from BRIGHTWOOD OREGON
The homeowner or the pro can appreciate this fella. Compact with lots of power.On the down side it tends to be a little tipsy while resting on the battery and the chuck is hard to grasp and twist tightly.But all in all you wont find a better drill for the money

actually a review (question) about the ad, September 30, 2000
Reviewer: harry wolson from Royal Palm Beach, FL USA
This drill ad contains the description "jacobs chuck". I would erxpect a "jacobs chuck" to be a KEYED chuck which is what I am looking for. Yet the photo appears to be a keyless chuck. Can you help me? Harry Wilson

Nice little powerhouse, August 28, 2000
Reviewer: A home improvement enthusiast from Spirit Lake, IA USA
I've owned this drill for 3 years and it has been a trooper. I've used it on various remodeling projects, including drywalling and deck building. It's got plenty of power for my needs and it's light weight makes working overhead MUCH easier. I've used DeWalt's 12 and 14.4v drills overhead, but the 9.6 is much lighter and easier to handle and it doesn't wear me out as fast. If it ever wears out, I'll buy another.