Home > Combo Packs: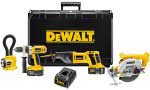 DeWalt DW4KIT-2 18-Volt XRP 1/2" Drill/Driver/Hammerdrill, Reciprocating Saw, Circular Saw, and Flexible Floodlight Kit
DeWalt
Shipping weight: 33.900616 pounds
ASIN: B00005O02J
Check price and buy @ amazon.com



Added 3-speed transmission that produces more rpm for faster drilling and driving applications.

Features:

Drill/driver/hammerdrill uses a DeWalt-built high-torque motor to deliver 450 in./lbs. of torque
Reciprocating saw operates at 0-2,800 spm with a 7/8-inch stroke
Circular saw cuts two-by material at 90-degrees and 45-degrees
Floodlight has flexible neck to point beam in any direction
All tools run off DeWalt's 18-volt XR+ batteries (two batteries included)
From the Manufacturer
The DW988 18-volt 1/2-inch mid-handle adjustable clutch drill/driver/hammerdrill uses a DeWalt-built high-torque motor to deliver 450 in./lbs. of torque for drilling bigger holes and driving bigger screws. Besides boosting torque, DeWalt is the first company to add a 3-speed transmission that produces more rpm for faster drilling and driving applications. Low speed (1st gear) and high speed (2nd gear) are similar to other cordless drills currently available.

However, the new MAX 3rd speed is 38-percent faster, with a range of 0-2,000 rpm. Ideal for jobs that previously required the high speed, the MAX 3rd speed is noticeably faster for wood and metal screwdriving and drilling, and especially for hammerdrilling into masonry, where the MAX speed drills holes up to 33-percent faster. The bpm range on the MAX 3rd speed setting ranges from 0-to 34,000. The DW988 features a 1/2-inch ratcheting chuck lock with carbide jaws to keep a tighter grip on the bit. The ratcheting chuck lock consists of two elements: an automatic spindle lock that allows users to tighten down on the chuck two-times tighter, and ratcheting action to prevent the chuck sleeve from loosening during the job.

Other features include all-metal gearing and a metal gear case for durability, and an anti-slip comfort grip to reduce user fatigue. The DW938 reciprocating saw cuts 50 two-by-four's on one charge. The innovative keyless lever action blade change takes just seconds to change the blade. The DW939 6-1/2-inch saw has the power to cut up to 145 two-by-fours on one charge. It has a left side blade for visibility, 50-degree bevel and includes a rip fence. The DW919 has a flexible neck which allows the beam to pointed in any direction. Offers up to three hours of continuous lighting on one charge. The DW4KIT-2 includes the drill/driver/hammerdrill, saw with blade and rip fence, reciprocating saw with blade, flexible floodlight, 1-hour charger, two XR+ batteries, screwdriver bit, and carrying case.



Customer Reviews:
DeWalt Drill/Driver/Hammerdrill and Saw Combo Kit, October 21, 2002
Reviewer: Audrey
I was very disappointed because I never received the coupon to mail in to receive a free accesory.

Great combo, June 3, 2002
Reviewer: A home improvement enthusiast from Sparks, Nevada United States
This is a great addition to my tools. I am a general contractor. I do alot of my own work in many areas of the trades. I have put off buying another cordless anything for almost two years. This combo package is the best set money can buy. The drill has plenty of power. I used it the first day to drill some 1/2" holes in concrete. The sawsall is awsume plenty of power for any job. The light is an unknown, the circular saw is real handy, it has one flaw the handle and the safty are clumsy for me. The handle is at the wrong angle and the safty is in the wrong place, at least they were consistant. other wise very handy. I,m sure they have seen the porter cable by know. good design. That is the only flaw. If it didn't have the safty it would be no problem. Still can't figure out why it is even there.

Another great DeWalt product, January 31, 2002
Reviewer: A home improvement enthusiast from Fairbanks, Alaska United States
I upgraded from a 14.4V drill and I really enjoy the extra power that the third gear delivers. The hammer action is a great help in certain applications. It gives that little extra needed to get the job done. The 6 1/2-inch saw is very quiet but has the power to go through just about anything. It makes nice straight cuts and seems to run forever before needing a battery change. It is also very lightweight. The reciprocating saw is really handy, not having to watch for the cord and having the power of a corded saw. It's great. It could come with one more battery. I bought another 18 volt drill just for the extra batteries. I do use the drill too. The light is handy for those out-of-the-way jobs, or remodels without power. Overall, I think it is a great set of tools and it is not that heavy so taking it from job sight to job sight day after day doesn't wear me out.