Home > Air Tools: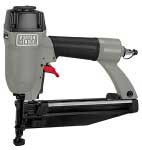 Porter-Cable FN250B 16-Gauge, 2-1/2" Finish Nailer Kit--Includes 3/8" x 25' Air Hose a $12.99 Value
Porter-Cable
Shipping weight: 8.0 pounds
ASIN: B00006411E
Check price and buy @ amazon.com



Incorporated a Teflon cylinder to reduce drag and increase O-ring life and reengineered the piston bumper to house a piston "catch" to ensure the full stroke of the driver blade will always be utilized.

Features:

Drives 3/4-inch to 2-1/2-inch, 16 gauge finish nails without the need for a nail guide
Internal piston-catch ensures full driver blade stroke every time
Teflon cylinder for less friction and reduced O-ring wear for long lasting action
Quick-release nose piece for fast clearing of jams and less down time
Adjustable exhaust port and depth-of-drive for maximum comfort and control
With this 2-1/2-inch, 16-gauge finish nailer, Porter-Cable continues to make good on their reputation as one of the top pneumatic toolmakers. The gun's straight magazine is well thought out, made from aluminum, and top loading. This is a sturdy, compact nailer that shoots a conveniently wide range of 16-gauge nails, from 3/4 to 2-1/2 inches. The nailer has a good balance and a nice, thin grip made of porous rubber. (You don't have to have the hands of a giant to comfortably operate this gun.) The gun has a nicely designed depth-of-drive adjustment. There's also a muffled exhaust port, so it's quieter than a lot of other nailers plus the exhaust port is adjustable, so you can direct the discharge where you want it. The gun's also lighter than we'd expected, always a good thing in a tool a lot of us use all day long.

From the Manufacturer
When you look at the success Porter-Cable has had with their original FN series nailer you may wonder why they wanted to improve on it. But once you realize Porter-Cable is never satisfied with just being the best you begin to understand. This new FN250B is a complete redesign from the ground up. This is evident with the slimmed down, smooth body, which shaved almost 2 ounces off the weight of the tool. We didn't stop there however, we incorporated a Teflon cylinder to reduce drag and increase O-ring life and reengineered the piston bumper to house a piston "catch" to ensure the full stroke of the driver blade will always be utilized.

The in-line angle magazine is attached directly to the body housing eliminating the need for a bracket that is prevalent in all other FN nailers. This unique mounting system eliminates out-of-aligned magazines due to dropping or misuse. The tapered magazine provides more clearance for installing crown moldings or nailing in tight spaces. With the ability to shoot all 16 gauge finish nails ranging from 3/4-inch to 2-1/2-inch without the use of a nail guide, the applications for this gun are endless. A built-in depth-of-drive adjustment with 8 detents allows consistent countersinking of each nail regardless of wood type. The exhaust port is muffled to keep noise to a minimum and is adjustable to direct air away from the operator without the need of tools. A non-marring tip protects delicate projects but can be removed when more visibility or tip clearance is needed. The quick-release nosepiece allows quick clearing of jammed nails when hidden obstructions like drywall nails or nail plates are hit. The standard restrictive-fire trigger provides more safety and the carrying case ensures nails, safety glasses and oil are always on hand. Includes nailer, carrying case, pack of 1,000 finish nails, 1/4-inch coupler plug with dust cap, oil, Allen wrenches, and operator's manual. Backed by Porter-Cable's one-year limited warranty.



Customer Reviews:
FLAT OUT RELIABILITY, September 18, 2002
Reviewer: Dave from PA
From the very first day of use the Porter-Cable FN250B has proven to be exceptionally reliable. I have not experienced any jams! It is very light and manuverable. Can't go wrong with this product.

Very easy to use, September 9, 2002
Reviewer: danube1 from Detroit, MI USA
I have only shot about 5,000 nails through this gun, but have had no problems with it. It's easy to load, shoot, and maneuver. The in-line magazine is very convenient and so is the depth-of-drive adjustment.

Easy and dependable for the novice, August 10, 2002
Reviewer: straygator01 from Morris, Georgia
I purchased this nailer to replace the ceiling in a 100 year old farm house. No previous experience with nailers or remodeling for that matter so I checked the reviews, then went for the best deal. I played with it for a day in scrap wood to learn how to adjust the depth of fire and get the feeling of how it worked. It never double fired, jammed, or misfired, worked well upside down and was light enough to keep above your head for multiple nailings and I never got fatigued. My girlfriend even used it without a problem and thought it was very easy to use. It is not intended for tight spots though so the corners were tricky. I oiled it per manufacturers suggestion and it worked without a hitch. Get the angled one if you are going to do a lot of moulding work or have tight spaces. I would highly recommend this product

Was I impressed with the FN250B ..... you bet !, July 1, 2002
Reviewer: Ron F Morrison from Mebane, NC United States
I have been searching for a light weight, general purpose finish nailer for a while. Finding the FN250B was well worth the wait. A beautiful design with a secure, comfortable grip and a much appreciated, adjustable exhaust port. Reloading or changing nail lengths couldn't be easier. I have used this nailer for nearly a month and it has failed to jam even once ... knock on wood. After working with this newly designed nailer, I will definitely consider PC products when making future purchases.

Porter Cable FN250B .....WOW......, May 5, 2002
Reviewer: Allan Taublib from Baltimore, MD
I wanted a finish nailer that could make my nailing job easier
as I suffer from Carpal Tunal Syndrome. I conducted research on the reliability, price and features on several different finish nailers. I spoke to trades people and co-workers who had Porter Cable tools, and came away impressed. This was my first Porter Cable Tool and air nailer purchase.

What impresses me most about the FN250B air nailer is the balanced feel and weight of this tool along with the padded handle. The nailer loads easily and has never jammed. Adjusting the depth of the nails is simple.

I use the FN250B finish nailer on home improvement projects like crown molding installation and building custom shelving. I wonder why I didn't buy one years ago.