Home > Air Tools: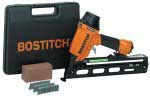 Bostitch N62FNK-2 15-Gauge Angled Finish Nailer Kit
Bostitch
Shipping weight: 9.45 pounds.
ASIN: B00004RJXI
Check price and buy @ amazon.com



This finish nail driver comes in a magnesium housing, making it durable although it weighs only 3.8 pounds--the lightest angled finish nailer available.

Features:

Oil-free engine requires no lubrication and won't stain work surfaces
Magnesium housing makes the nailer durable and lightweight--only 3.8 pounds
Delivers 400 inch/pounds of driving power
Drives BFN-style finish nails from 1 to 2-1/2 inches long
No-mar tip protects surfaces
The first time you pick up the Bostitch N62FNK-2, you might wonder if such a lightweight finish nailer (it weighs just 3.8 pounds, the lightest in its class) can really get the job done. But once you pull the trigger and feel the 400 in./lbs. of driving power at your fingertips, those doubts will disappear and you'll wonder how you ever did without it before. Rugged and sturdy enough for virtually any application, the N62FNK-2 delivers fast, clean, accurate results using finish nails from 1 to 2-1/2 inches in length. An oil-free engine means no unsightly stains on your work a definite plus and no need for messy lubrication, an even bigger positive. Tool-free maintenance and depth control only add to the allure.

From the Manufacturer
This finish nail driver comes in a magnesium housing, making it durable although it weighs only 3.8 pounds--the lightest angled finish nailer available. The tool's oil-free engine requires no lubrication and cannot stain work surfaces. It features 400 in./lbs. of driving power, the highest power-to-weight ratio available. Drives BFN-style finish nails from 1 to 2-1/2 inches long. Tool-free removable magazine allows easy jam clearing and cleaning. Inline magazine provides greater accuracy. Also features tool-free depth control for quick countersinking adjustments and tool-free adjustable exhaust for directing airflow. Kit includes no-mar tip, 1,000 fasteners, and carrying case.


Technical data:
Straight or angled magazine: Angled
Fastener gauge: 15
Fastener range: 1-1/4 to 2-1/2 in.
Magazine capacity: 86
Magazine loading: Rear
Firing mode: Sequential
Driving power: 400 in./lbs.
Operating pressure: 70 to 100 psi
Grade: Professional
Country of manufacture: USA
Also included: N/A
Adjustable exhaust port: Yes
Adjustable drive depth: Yes
Jam-clearing mechanism: Yes
Rubber grip: Yes
Oil-free engine: Yes
In-line magazine: Yes
Protective bumpers: No
Nonmarring tip included: Yes
Carrying case: Yes
Safety glasses included: No
Quick coupler: No
Lubrication included: Yes
Fasteners included: Yes
Height: 11-5/8 in.
Length: 14-11/16 in.
Width: 3-1/4 in.
Weight: 3.8 lbs.
Shipping weight: 9-3/4 lbs.
Product: 30-day no-risk trial, 1-year
Service: None


Customer Reviews:
bostich is the best, September 26, 2002
Reviewer: A home improvement enthusiast from Collinsville, IL USA
This nailer is wonderful. It is very simple to use, and works perfectly every time. The light weight makes it very easy to use, but you still get tons of power. As for the having to buy nails in bulk...Well for seventeen dollars you can get a box of 3500 bostich brand nails sooo to me I don't see the problem. If you are a light user just buy 3 different sizes and you will always have enough for your friends and family to use. And believe me after they use this nailer they will want to borrow it. I have completed many different projects with this nailer so far..Have not had any problems with the nailer..and have saved myself tons of time....

nails, September 21, 2002
Reviewer: A home improvement enthusiast from Westport, CT
the nails are 3X cheaper for the same amout of nails as buying 3 1000 nail boxes for other nailers compared 1 box of 3,500 nails for this nailer.

Can't Wait!, September 12, 2002
Reviewer: Gary B. Christenot from Fort Walton Beach, Florida United States
I haven't actually used this one yet but am eagerly waiting for my next purchase opportunity. My wife convinced me to attempt crowm molding in 2 bedrooms. I hammered by hand on the first one. Not a fun time! So I went to my local ready-rent and asked for a finish nailer. Having never used air-powered tools before I was pretty clueless. The guy gave me a Bostich that I believe was the immediate predecessor of this model. After one shot, I was absolutley hooked!!! I'll never hammer by hand again! I'm now shopping for my own gun and it's obvious that this is the one that I want.

My only gripe is what has been voiced in a couple of other reviews. I was only doing two 10X12 bedrooms but could only buy nails in huge bulks of 3500. Double bad because I wanted to use 2 different size nails on this project, one for the nailer blocks, and one for the molding. Didn't want to blow that much money on such a small scale project so ended up going with one box of the larger size. All the other nailer brands supplied nails in smaller quantities. I hope Bostich clues in to the needs of the homeowner do-it-yourselfer rather than assuming that all their customers are contractors shooting tens of thousands of nails per yer.

Simply Beautiful, May 21, 2002
Reviewer: longbilledthrasher from Big Wheeling Creek, WV United States
This finish nailer is just perfect. We have used it for over two years now in the finish carpentry field, have gone through well over a hundred boxes of various length nails, without a breakdown or rebuild.

It has paid for itself over and over. I highly recomend this gun for the professional, do-it-yourselfer, and homeowner.

Big Hammer light weight, May 16, 2002
Reviewer: A home improvement enthusiast from Concord, CA USA
This is so light that it seems impossible to have the power that it does. At 100 psi it will slam nails of any length up to 2.5" at any sink depth you want in any kind of wood I've found. No oil to forget about so no stains and no regrets for forgetting to oil. With my oilless compressor and this I can be sure that I won't have those ugly oil blotches in my finish, which can ruin a while job. I really like the bypass loading mechanisim on this and also the quick release of mechanisim without tools to clean and clear jams (no jams yet for me though). If nail availability is a problem just order a bunch and keep them handy, in fact order online and you'll skip an extra trip to the store. This is a great machine, new to me so I can't speak to long term reliability yet, but all the indications are good and the power is huge, yet so light.

Well pleased., March 3, 2002
Reviewer: Red Herring
Researched this to death and bought this model at a Bostitch tool show at local building supply. Wanted this model because it was what local finish contractors had recommended and were using. Bought it when I found it at trade show price. Haven't regretted it once. It's all the pros said it would be.

Great Power & Lightweight, January 21, 2002
Reviewer: Rhett D Basham from Chesapeake, VA United States
Overall it is a great tool. It is extremely light and has plenty of power. The only complaint is that the magazine is very difficult to load and the nail clips are very short. This gun takes twice as long to load nails as most other angled finish nailers

Best Finish nailer under $1,000,000!, January 6, 2002
Reviewer: David from Corona, CA USA
I have been shopping for a 15 or 16 gauge finish nailer for about six months. This Bostitch is the only 15 gauge angled nailer that I have found to be priced in the straight 16 gauge price range.

This is the best 15 gauge gun at any price. Just hold this gun in your hand and you will be convinced that you can't buy a better gun, period.
I had narrowed my choices down to the Bostitch, Porter-Cable and the new DeWalt.

The PC was nice, the price was right and I have had great success with my PC 18 gauge brad nailer, but the 15 gauge PC was way too heavy. Almost twice the weight of the Bostitch.

The DeWalt fit my small hands like a glove, was very light weight and within my budget (if I stayed with the straight nailer vs the angled model). However, I shyed away from the DeWalt models because the contact trip assembly had too many bends which didn't seem to operate as smoothly as the PC and Bostitch. The display model at a local hardware store already looked like it was on the verge of having problems. I'm not hard on my tools, but one nasty bump, or a fall off of the workbench and you might be out of business.

Finally the Bostitch!
At less than 4 lbs. it's the lightest in it's class, yet still packs the biggest punch of them all! 400 in./lbs. It only weighs about 1 lb. more than by Porter-Cable brad nailer.

The finish and quality are second to none. It just plain ol' feels good in your hand. It's balanced so well it feels like an extension of your hand.
I am on a major budget (per the wife), but this gun is definitely worth every penny of the MSRP of $.... So why is it selling for only $...? Either A) it's a "typo", or B) Amazon and/or Bostitch has gone loco. Whatever the reason, my advice is buy this nailer before they discover that they are practically giving it away. I'm sure this gun will be the standard by which all other finish nailers will be measured against. You will not regret this purchase!
"TEN Stars....Final answer"!