Home > Sanders: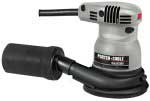 Porter-Cable 333VS 5" Quicksand Variable Speed Random Orbit Finishing Sander
Porter-Cable
Shipping weight: 4.05 pounds
ASIN: B0000222YP
Check price and buy @ amazon.com



Porter-Cable random orbit sander that designed to give a swirl-free finish and also has a pad control feature to prevent pad spin-up.

Features:
Aggressive sanding action
Variable speeds
Sandtrap dust canister
100% ball-bearing construction
One year warranty/30 day performance certification
Amazon.com
Hook-and-loop abrasives on this sander will take off tons of stock for you at 80 grit and leave a swirl-free finish at 120 to 150. Five dust extraction holes in the pad pull the sawdust away and into the dust-collection canister, which is big enough to let you work for a long time without emptying it, but not so big that it's in the way. You can also connect it to your vacuum system. An easy thumb wheel controls the speed, which ranges from 5,000 to 12,000 orbits per minute. It's quiet and easy to handle. These features alone make it a great choice, but here's the smartest thing Porter-Cable did with this little gem: a pad brake will immediately slow the revolutions to 400 per minute when the unit is lifted off the work surface. This helps prevent gauging when you lift the sander off or place it back on the work surface. The grip is comfortable, even for those of us with smaller hands, you can hold it by the top or wrap your hand around it. Either way, it's a great sander.

From the Manufacturer
Designed to give a swirl-free finish, this random orbit sander also has a pad control feature to prevent pad spin-up. The pad does not start to spin at full speed until after it contacts the work surface, preventing gouging and swirl marks. With a variable speed dial, the speed can be set between 5,000 and 12,000 orbits per minute. A separate on/off switch allows the speed setting to be maintained when the sander is shut off.

The exclusive Sandtrap dust canister is made of a porous plastic and collects even the finest of dust. Since it is hard, the dust canister will not collapse or wear out. The beefy 2.4 amp motor has plenty of power for aggressive sanding and is all ball bearings for durability. The five-inch hook and loop pad will accept either 5- or 8-hole sanding discs allowing the use of discs meant for other brands of sanders. One year warranty with a 30 day performance certification. Includes sander, 150 grit sanding disc, and operator's manual.

Technical data:
Amps (120V): 2.4
Orbits per minute: 5,000 to 12,000
Orbit diameter: 3/32 in.
Paper size: 5 in.
Grip Type: Palm
Paper attachment type: Hook and loop
Cord Type: 2-prong, rubber
Cord length: 6 ft.
Bearing type(s): Ball bearing
Paper included: No
Country of Manufacture: USA
Also included: n/a
Vibration control: Yes
Soft-grip : Yes
Dust bag included: No
Vacuum Hose Adapter: Yes
Sand Paper included: No
Carrying case: No
Paper punch included: No
Other Features: No
Width: 6-1/4 in.
Height: 10-1/2 in.
Tool Weight: 3-1/2 lbs.
Shipping Weight: 3-1/2 lbs.
Service Warranty: 30-day no-risk trial, 1-year

Customer Reviews:
High Quality Sander, September 9, 2002
Reviewer: Joe Forget from West Warwick, RI USA
Just purchased the PC333VS and cannot believe how nice this unit is. I was using the B&D Sandstorm prior and cannot believe the difference. The increase in power is immediately evident, on my old sander a moderate amount of pressure would slow the pad down. On the 333 there is a consistent flow of power. Also, the pad control feature is nice and prevents blemishes. The finish on this is so smooth and swirl free. The dust collection also works very nice and does not pop off as in some previous posts.

I can tell from my initial that this unit will be used an awful lot. I highly recommend this sander!!

Hands down a great sander!, July 15, 2002
Reviewer: John MacDonald from Sapulpa, Ok United States
I have had my sander for several months and went through several projects with it. It has operated flawlessly. The canister has not fell off and is much better than the bag on my old one. If you are going to get one this is the one to get.

Love it, but..., May 6, 2002
Reviewer: mollymormon from Newhall,CA
This is a great sander. I like to refinish and paint old furniture and it worked great in the beginning. I really like the variable speed option. I have had trouble with the sandpaper sticking to the pad. That is my only complaint, but I suppose it is a big one since the pad needs to stick in order to do the job. Has anyone else had this problem? I've already returned it once and it is happening a second time.

Porter Cables 333VS Sander, February 23, 2002
Reviewer: Jeffrey E. Paquette from Sault Ste. Marie, MI USA
Great sander, just a couple of things could've been better. 1. Maybe having 8 dust collecting holes instead of 5. 2. The collecting cartridge vibrates off the unit which causes a mess sometimes. The friction fitted cartridge when used accumulated fine dust between the O-rings and the cartridge which in turn when being used vibrates the cartridge off the unit. I have duct tape to hold it on.

A great sander, after some fixing..., January 27, 2002
Reviewer: thomascasey from Fairport, NY
A great palm sander, gives excellent, swirless results on everything I have thrown at it, including the entire bottom of my 25ft sailboat! VERY comfortable to use. Like other reviewers, dust canister was constantly falling off until I replaced it with a new canister assembly from PC and they seem to have corrected the problem (its REAL tight now). The sanding pad wore out after about three years and was was easily replaced. Overall a fine machine I would buy again.

A GREAT SANDER, January 27, 2002
Reviewer: Gary Chambers from Denham Springs, Louisiana
I bought this sander after making the mistake of buying a DeWalt. It is the best 5" orbital sander I have ever used. As far as the dust collector coming off, I have never had that problem. I may be doing a no-no but I buy different brands of sandpaper discs usually going by price. But I have found that even the "cheapies" work well with this sander. I am not a big fan of Porter-Cable but I do have one of their 3x21 inch belt sanders in addition to the 333vs orbital sander. Both are great tools and are a pleasure to use.

Porter Cable 333 Random Orbit Sander, November 26, 2001
Reviewer: David S. Campbell from Annandale, VA United States
I have been using this sander for about 8 years and agree that it is very aggressive and prodices a very smooth surface for finishing. I have experienced the canister coming off during use. I solved this problem by wrapping a heavy 1/4" rubber band aroung the neck of the canister and stretching it over the back of the canister. This is quick and easy and still allows for fast removal for emptying the canister. The sanding pad does wear out from time to time. I purchased a sheet of the hook material and cut out replacements for gluing to the bottom of the worn out pad. This is a much cheaper approach than buying a new pad.

Simply the best in its class, October 26, 2001
Reviewer: A home improvement enthusiast from Caldwell, TX USA
The Porter-Cable 333VS Quicksand random orbital sander is simply the best 5" random orbital sander on the market. The tool is very solidly built, with superb fit and finish. The excellent ergonomic design allows the tool to be held very comfortably with a variety of hand positions. The hook-and-loop pad holds sandpaper firmly, without any slippage. The dust collection system is very efficient, and the rigid collection canister holds up much better (and is easier to empty) than a flimsy bag. Although I usually use mine hooked up to a vacuum system, I have used it with the canister on a number of occasions and have never had the canister fall off. The Porter-Cable 333VS random orbital sander has more than enough power for any sanding task you would use it for, and it runs very smoothly. There is also no question about the durability of this line of sanders. I also have a Porter-Cable 333 fixed-speed sander, which I once knocked off of my work bench accidentally. Absolutely no damage was done, and the sander still works beautifully. You wouldn't go wrong with a Makita, Bosch, or DeWalt, but if you want the best get the best--the Porter-Cable 333VS.

Nice Finishing Sander, October 16, 2001
Reviewer: Jeffrey E. Paquette from Sault Ste. Marie, MI USA
I noticed two concerns when using this sander on a house with 22 6-panel pine interior doors to finish. I think it could have used 8 dust collection holes instead of 5. And I notice the dust collection cartridge vibrates off of the flange which has two rubber O-rings to hold it in place. I have ended up masking taping it onto the flange till full. If anyone has a fix for this problem please let me know.

Tough little sander, September 23, 200
Reviewer: J. Paul Paris from Bakersfield, CA USA
I have used my 2 333's for over 2 years. I have never had a problem with them and have found that they are the most used sanders in my shop.

The top palm grip is comfortable, which is important to me as I have smaller sized hands than my fellow woodworkers. The variable speed adjustment knob is located in an out of the way place, ensuring that you don't accidentally increase the speed while working on your project.

The hook and loop setup is very nice. I have yet to have any problems with any of the hook and loop sandpaper I have used on the two that I own. None of the paper has ever slid off.

I have had a slight problem with one of the dust collectors. On one of my machines, the collector keeps popping off unless it is secured with masking tape. Aside from that, the unit collects and pushes dust away properly. I would still suggest using a mask, however.