Home > Plate Joiners: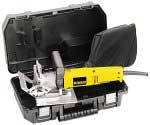 DeWalt DW682K Heavy-Duty Plate Joiner Kit
DeWalt
Shipping weight: 10.45 pounds
ASIN: B00002232S
Check price and buy @ amazon.com



DeWalt's exclusive rack and pinion control provides precise vertical adjustment and fence alignment, so the risk of making an inaccurate cut is virtually eliminated.

Features:

6.5 amp 10000 RPM motor
Dual rack and pinion fence for accurate joints every time
One piece fence is adjustable and tilts 0 to 90 degrees
45-degree locating notch in fence allows indexing off the outside surface of a mitered joint
Includes dust bag and vacuum adapter
Amazon.com Review
One of the first companies to design plate joiners, DeWalt makes one powerful slot-cutting tool. Some people argue that joiners are joiners, and while it's true that a slot is a slot, how you cut it makes a heck of a lot of difference. What impresses us about DeWalt's plate joiner is the stout, dual rack-and-pinion fence. Operating with striking smoothness, the fence locks tightly in place and ensures that the joiner's blade and fence are always parallel which means accurate joints every time.

The DeWalt is also the only plate joiner on the market with a fully adjustable tilt fence: the face plate tilts 0 to 90 degrees, so you can join work at whatever angle the job requires (22-1/2 degrees, say, if you're working in octagons). Cabinetmakers will appreciate the convenience of being able to make flush cuts at 0 degrees without having to remove the fence. The 6-1/2 amp motor spins the tool's carbide blade at 10,000 rpm, making remarkably quick, clean cuts. We found the gauges easy to read and easy to set, a big plus (there's nothing worse than wrestling with or squinting at a tool every time you make adjustments). DeWalt's joiner also has preset stops for all common biscuit sizes and there's a handy vacuum adapter that allows you to hook up suction to keep dust in the shop to a minimum, always a good idea.

From the Manufacturer
When it comes to making the highest quality joint constructions faster and more accurately, nothing performs like the DeWalt Plate Joiner. DeWalt's exclusive rack and pinion control provides precise vertical adjustment and fence alignment, so the risk of making an inaccurate cut is virtually eliminated. And its integral, adjustable fence tilts 0 - 90 degrees so you can make the cut at exactly the proper angle. For cabinet construction, flush cuts can be made at 0 degrees without having to remove the fence. For fine woodworking, the fence can be located on either the inside or outside face of the mitered joint. This unit includes a 6-tooth carbide blade, dust bag, dust deflector vacuum adapter, torn screwdriver, wrench and carrying case. One year warranty, one year service contract, 30 day no-risk trial.

Technical data:
Amps: 6-1/2
Watts: 780
Volts: 120
Blade diameter: 4 in.
Arbor diameter: 7/8 in.
No-load speed: 10,000 rpm
Type of blade included: Six-tooth carbide
Fence range: 0 to 90 degrees
Fence-adjust mechanism: Rack and pinion
Cord length: 8 ft.
Cord type: 18 gauge, rubber
Bearing type(s): Ball
Number of depth settings: Three
Biscuit sizes accepted: 0, 10, 20
Maximum cutting depth: 20 mm
Maximum cutting width: 4 in.
Grade: Professional
Country of manufacture: USA
Also included: N/A
Tool-free fence adjustment: Yes
Fixed fence stops: Yes
Soft start: No
Switch lock: No
Dust chute: Yes
Soft-grip handle: No
Electric brake: No
Onboard wrench: No
External brush access: No
Detachable cord: No
Spindle lock: No
Dust bag included: Yes
Biscuits included: No
Shop-Vac adapter included: Yes
Blade included: Yes
Carrying case: Yes
Height: 6 in.
Length: 12-1/2 in.
Width: 5-3/8 in.
Weight: 6.6 lbs.
Shipping Weight: 14.3 lbs.
Product: 30-day no-risk trial, 1-year
Service: 1 year

Customer Reviews:
Another great DeWalt tool, October 15, 2002
Reviewer: maemme from Portland, OR USA
This is just another strong DeWalt tool. It is well put together, as easy as any plate joiner to use and does the job it was made to do without talking back. It is easy to set up the cut and will make short work of fine tuning your joints. This tool is of very high quality and IMO a good deal from a price point of view. Keep in mind that this little guy is LOUD and makes LOTS of dust. When I got it I was new to the world of plate joiners, but have found it very easy to learn how to use. It adds a lot to my shop.

no more doweling!, October 11, 2002
Reviewer: arthurdent9_30 from Caldwell, NJ United States
I was advised by a friend to buy this plate joiner, and I was not at all upset with my purchase. After "fiddiling around" a bit, joining pieces of plywood and two-by stock, I have to strongly disagree with those people who say that this joiner has fence calibration problems. My first few joints went together seamlessly, until I encountered a problem with the two peices of three-quarter ply I was attempting to join. At one end of the board, the joint was perfect. at the other, almost 1/16" out. I was shocked and upset, until I looked at the fence mechanisim, to discover that I had not tightened the lock nut on the rack-and-pinion adjuster tightly enough (in fact not at all), causing the fence to slip and throw the joint off. All in all, however I am extremely impressed with the quality of this tool. It has a weighty feel, because of the solid metal construction of the fence assembly, incredible precision, and a nice long cord. Having a long cord is always nice because you can maneuver the tool about easier, and walk further around without having to shlep out an extention cord. The motor's 6.5 amps are more than enough to cut through the vermont rock maple I recently used to build a cutting board. Though I haven't tried it yet, I am assuming it will handle oak, walnut, cherry and mahogany with equal precision and cutting force. And, on top of all this, it comes with a super cool-looking carrying case. An all-around excellent tool.

I LOVE IT, September 25, 2002
Reviewer: A home improvement enthusiast from Altoona, Alabama United States
best plate joiner on the market for the home work shop after haveing a couple of other brands and then useing the Dewalt there is no comparison in the ease of use.

Exceptional quality, extremely easy to use., September 20, 2002
Reviewer: Steven Hays from La Vergne, TN USA
... this is easier than it looks!, and why did I wait so long? Some notes include:
1) Excellent fit and finish; still looks new after much use.
2) Make your mark on both pieces of wood, make sure you're cutting the right side ;-), and then align, start, push, and cut.
3) Generates a LOT of sawdust. Definitely use the bag, or attach a vac hose.
4) Blade seems to stay sharp with little care required.
5) Accommodates all the main biscuit sizes, easily change for sizes by the turn of a knob.
6) Makes a great joint: strong, straight, long-lasting.

Verdict? Highly recommended. Buy the Porter Cable biscuit assortment at the same time if it's still available. You get a lot more and save quite a bit over the biscuits at the home improvement stores.

Great Joiner!, August 28, 2002
Reviewer: A home improvement enthusiast from California, USA
I upgraded from a Ryobi to this one, and I'm really happy. The fence is easy to adjust and the rack and pinion keeps it aligned. The face has two small points that stick out (you can move them out of the way if you want) to keep the tool from moving when the motor is turned on. I always use it attached to my shop vac and I haven't had any problems with clogging.

rock solid jointer, August 20, 2002
Reviewer: rcongc from Altadena, ca United States
I will seldom use this jointer in a fine application, it is used for hidden deck fastening systems. Outside, used by helpers (who don't care). dropped from a deck once from 8 foot into dirt uninjured. Working in a shop situation I would probably have chosen the porter cable. I could keep it nice, put it away, instead of toss it in a bucket and it would be a clean, nice, ... tool for me to put cabinets together and look good as new in 5 years. I perceive the porter cable as being delicate. I saved ($$$),and can let others use it without worry with this jointer. I can occasionally use it for my simple shop needs. I wish they still made a metal case for this that is all that I see wrong with it. Second finest machine, fence is way better than the pack, and with the exception of some fancy european model which I see as a ...with the others currently available. This is the best value for the dollar.

Good on hardwood BUT--, August 19, 2002
Reviewer: inadaiz from N. Sandwich, NH USA
I bought this plate joiner about 6 months ago and have done many projects with it. It cuts very cleanly in maple and oak with no strain on the motor. All the adjustments are easy and secure, and the depth guage on the fence is very smooth. However, recently I used it to join some finish pine boards, mitered and straight joints, and the dust port clogged on every cut. This made the job twice as long as it should have been. Having to clean out the dust port after every cut is a pain. A good joiner if all you cut is Hardwoods and KD wood, but if you try to cut any wood thats a little "green" you'll be spending your time cleaning the tool instead of finishing the job.

Great tool, August 13, 2002
Reviewer: A home improvement enthusiast from Wa. United States
I now know where people get the...'why didn't I buy one of these years ago' statements! This is a great tool so far...I've built a couple of projects...no adjustments required and the dust port has a little directional insert that blows the chips right off the bench. I guess Dewalt 'fixed' the dust in your face problem with that. All in all, this is a great tool that I would not hesitate to recommend...come to think of it...I guess I just did!

Great tool, July 10, 2002
Reviewer: sevenzero from Sunny Southern California
I have built several cabinets with this tool and so far it works great. Don't put your face anywhere near the tool it throws chips everywhere! The dust bag is indeed useless. I have read some of the other reviews and I think my tool is out of square as well. The case is compact and has a place for storing biskits, the metal buckles are a nice touch. The fence is sturdy and easy to adjust, the grippers work great too.

nice tool needed tweeking, May 24, 2002
Reviewer: A home improvement enthusiast from Albuquerque, NM United States
I bought this tool before I found this review page, and I was a little disappointed with the lack of accuracy when edge-butting long boards. I had probably 1/32-1/16" difference between the two boards. requiring lots of sanding. When I read on this review page of the lack of parellel between cutter and fence common with this tool, I checked it out, and sure enough, one side was higher than the other, reference the fence. Easy to adjust---just loosen the two Torx fasteners and bring to parellel. Test boards indicate about 1/64" difference now, and I could get it closer if I wanted to continue tweeking the settings.

Other then the inaccurate factory settings, the other complaint is the joke of a dust bag. When trying to use it, the chute becomes clogged almost on the first cut. Leave the dust bag in the case, check the settings, adjust as necessary, and this really is a very nice, powerful, and easy to use tool.