Home > Nailers / Staplers: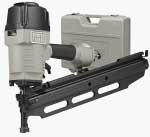 Porter-Cable FR350 Round Head Framing Nailer Kit--Includes 3/8" x 25' Air Hose a $12.99 Value
Porter-Cable
Shipping weight: 18.25 pounds
ASIN: B00004SBBY
Check price and buy @ amazon.com



Give decking and fencing projects a nicer finished look that better resembles hand nailing by using Porter-Cable round-head framing nailer.

Features:

Uses standard 22 degree plastic collated full-round-head nails
Adjustable exhaust port and depth-of-drive
Non-marring tip for sheathing and decking
Muffled, adjustable exhaust port
One year warranty/30 day performance certification
Amazon.com Review
Two big thumbs up! Once again, Porter-Cable brings the construction professional another great tool. Shooting 2- to 3-1/2-inch round-head nails, the nailer has a nice, small-width handle and a tough rubber grip that, taken together, make this a strikingly easy nailer to wield. We're impressed with the added power provided by the hefty air chamber no "nail starter," this, no ma'am. The magazine has easy-loading action and holds two nail strips at a time (a capacity of 72 nails). We like the relative quiet of the muffled exhaust port, too.

There's an adjustable depth of drive, a fairly standard feature, these days that works well. The barbed nose works like it should for toenailing (preventing slippage), as does the nonmarring tip for sheathing and decking. Of course, most folks buy a round-head nailer to meet local code requirements, but there's also an increasing number of deck and fence builders out there who prefer the "hand-driven" appearance of a full-head nail. Whatever your reason, you can't go wrong with Porter-Cable's FR350.

From the Manufacturer
Give decking and fencing projects a nicer finished look that better resembles hand nailing by using a round-head framing nailer. The rugged aluminum magazine on this nailer has a capacity of 72 nails. It fires plastic collated nails from .113-inch by 2-inch to .131-inch by 3-1/2-inch as well as .148-inch nails in 2-1/4-inch and 3-inch lengths.

The adjustable depth-of-drive allows setting the nail to the proper depth for the job. A barbed nose aids in toe nailing, preventing slippage so the nail is driven where intended. A rubber footpad is included to cover the barbed nose and prevent damage when nailing decking and sheathing. The exhaust port is muffled to reduce noise and is adjustable. A 3/8-inch quick coupler comes installed on the nailer, but a 1/4-inch quick coupler is also included for versatility. One year warranty with a 30 day performance certification. Includes framing nailer, carrying case, 1/4-inch male quick coupler plug with dust cap, oil, allen wrenches, and operator's manual. NOTE: This nailer comes with a bump-fire trigger standard. A restrictive-fire trigger, which requires releasing the trigger between firings for more control, is available free-of-charge by calling 1-800-321-9443. Please provide the model number and serial number of each nailer requiring a trigger. For identification purposes, the bump-fire trigger is black and the restrictive-fire trigger is red.


Technical data:
Magazine type: Strip
Collation style: Plastic
Magazine angle: 22 degrees
Magazine loading: Side
Clipped or full head: Full
Fastener range: 2 to 3-1/2 in.
Magazine capacity: 72
Firing modes: Bump
Operating pressure: 70 to 120 psi
Driving power: N/A
Grade: Professional
Country of manufacture: Taiwan
Also included: N/A
Adjustable exhaust port: Yes
Adjustable drive depth: Yes
Rubber grip: Yes
Bypass pusher: No
In-line magazine: Yes
Barbed nose: Yes
Jam-clearing mechanism: No
Adjustable firing mode: Yes
Reload alert: No
Oil-free engine: No
Drives common nails: No
Protective bumpers: Yes
Carrying case: Yes
Safety glasses included: No - contact Porter-Cable
Lubrication included: No - contact Porter-Cable
Quick coupler: Yes
Height: 14 in.
Length: 19-1/2 in.
Width: 4-1/4 in.
Weight: 7-1/2 lbs.
Shipping weight: 17 lbs.
Product: 30-day no-risk trial, 1 year
Service: None


Customer Reviews:
Nails Available, October 24, 2002
Reviewer: tugboat33 from Fort Pierce, FL United States
Lowes has a good selection of nails, Galv. ring & plain shank 2 3/8 to 3 1/2. Plain of course and some stainless too.

Good gun, bad nails, September 20, 2002
Reviewer: steven e joseph from Chapel Hill, NC United States
I have had this nail gun for about 5 years. It has performed very well in that time. It is light weight and comfortable to use all day. It has a tendency to double shoot more than other guns I have used though, but if you pay attention (as you should with any nail gun!) you can minimize this. My biggest gripe with this gun has been what a huge pain in the butt it has been getting quality nails for it. I now live in an area that doesn't require full head nails. That means that nobody regularly carries full head nails (of any quality). The off brand nails I have been buying area terrible. The other gripe I have is that the plastic that collates the nails together goes everywhere, including in your face. If you build houses for a living this continual shower of plastic gets old real fast.

If you live in an area that requires round head nails, then this is the gun for you. If you don't buy a Paslode! That's what I am going to do.

Haven't received it yet, backordered, September 18, 2002
Reviewer: Dewey Rayburn from Johnstown, PA United States
Received nails without the nailgun to use them. Wanted to get busy last week, but no tool, so the lumber sits under a tarp.

Good for first time owner (PC customer service rocks !), August 22, 2002
Reviewer: A home improvement enthusiast from Richmond, VA United States
...I have several projects lined up around the house over the next 12 months. One is a 350 sq ft deck extension and the others involve substantial interior framing. After picking up a great Cambell Hausfeld compressor, a framing nailer seemed the next most obvious tool.

I completed significant research into framing nailers and after concluding I could drive decking nails, I settled on the Porter Cable FR 350. I selected based on reputation, price, reviews and the fact that it would see a relatively easy life with me. The only other option was a cordless but as I had a 5hp/25 gallon compressor, I saved the money.

In short, this product is as advertised. Fairly simple, reasonably robust and great value. I did (as many other have indicated) have problems initially with firing multiple nails. I immediately called PC (correct number is 1-888-848-5175, the one published is incorrect) and requested the non sequential trigger.

It arrived in 24 hrs, free of charge (how about that for customer service !) and took all of 60 seconds to fit. It works exactly as stated and guarantees only one shot, every time. Interestingly enough, while waiting on the new trigger, I sacrificed a magazine of nails and taught myself to use the sequential trigger. I think I may actually revert to the sequential trigger (fully reversible modification) for the decking boards.

In use, I found that 90 psi works well for driving 3" hot dipped decking nails. However, when using 2x4's as temporary bracing and tacking to pressure treated lumber, at 90 psi, the nails go a little too deep into the untreated wood. To save adjusting the depth of the nailer (needs tools), I just dropped the pressure to 75 psi and that helped.

In short, I am not sure why I waited all this time, the PC represents good value for money, a great product for my non commercial application and so far, superb customer service.

If I were using this for a living, I may have selected a lighter model with a reputation for maintenance free use but probably paid over twice as much.

Reliable but...., June 26, 2002
Reviewer: speedy2114 from Mesa, AZ United States
I have owned my FR350 for almost two years. It has been a reliable nailer but has a tendency to double strike (drives two nails). This is a function of trigger hold time and can be mastered but not easily. The gun works great "on the fly" (holding down the trigger and hitting the board with the armed gun) but some frown on this technique.

FR350 Nailer, May 1, 2002
Reviewer: Michael Rossignol from Poland, Maine United States
Excellent nailer. Powerful, rugged,lightweight. It's a joy putting a nail in an area that would have been very difficult with a hammer.

Porter-Cable FR350 Round Head Framing Nailer Kit, March 13, 2002
Reviewer: mezzofantej from Big Rock, TN United States
Within a week of receiving my order I started constructing a 12X12 storage building. 2750 nails later I am complete my second storage building and here are the facts: It jammed up 4 times! It was easy to un-jam. I over maintain everything. I gave it a shot of oil every fifth time reloading the nails. I switched the trigger to the safty one before I started the first project. The weight is a little much to begin with but it beats using a hammer. After 4 days I didn't even notice the weight. This was the best purchase that I have ever made. I have dropped it more than once and it still works. I gave it 5 stars and I will buy this brand again! This product is GREAT!!!

What a great tool, February 28, 2002
Reviewer: Scott Gaines from Bethpage, New York United States
I read the reviews of the FR350, and they convinced me to buy the tool. I will say this at the outset, the FR350 does NOT need a large compressor. I have a "pancake" type that does quite well with it. Finding nails was a bit of a chore at first, until I went to Home Depot and told them what I needed. There they were in the nail aisle.

The tool itself feels solid, and drives nails like there's no tomorrow. I am rebuilding a basement with this and I would never have tackled the job without it.

But, and you knew there was a but, you must get the sequential trigger if you are not used to the trip firing method. I had a couple of "double taps" before I put on the new trigger. None since and replacing the trigger took all of three minutes.

This is the tool for the novice, and probably the pro. The case that comes with it holds the tool and accessories nicely.

You won't be sorry you bought this air hammer.