Home > Lathes: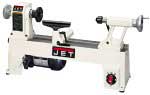 JET 708351G 14" Mini-Lathe includes Starter Pen Kit a $129.99 Value
JET
Shipping weight: 78 pounds
ASIN: B00005S8DE
Check price and buy @ amazon.com



A heavy-duty cast-iron lathe bed ensures stability and minimal operating vibration while the cast-iron headstock and tailstock provide rigidity, strength, and years of trouble-free operation.

Features:

Includes start pen kit a $129.99 value
1/2 hp, single-phase, 115-volt motor, six spindle speeds: 500 to 3,975 rpm
Cast-iron lathe bed, headstock, tailstock
Quick-release levers
Two-year warranty
Amazon.com Review
Whether you're a beginning woodworker or you just want a well-designed tool for space-stingy environs, this minilathe from Jet is a great choice. Using the same design as their larger equipment, Jet completely encloses the 1/2-horsepower induction motor for long life and protection against dust and debris. Six speeds, from 500 to 3,975 rpm, and a removable safety toggle switch ensure you get the correct rotation when you want it and none when you don't. The heavy-duty cast-iron construction greatly reduces vibrations and aids in stability with the durable steel components for years of use. Unlike some other manufacturers, Jet includes a live center and a 3-inch faceplate so you won't have to upgrade soon after purchase.

With 14 inches of workspace between centers and 10 inches of swing over the bed, this minilathe provides plenty of room for learning to make pens, letter openers, and small bowls. And, no matter what your skill level, you'll enjoy the full 2-inch ram capacity, hollow tailstock for long hole boring, and quick-release levers for easy positioning. A tool for any small application, this is a lathe designed to industry standards.

From the Manufacturer
If you like to turn small objects, the 14-inch mini-lathe from JET will fit right into the scale of things. The 1/2 hp, totally enclosed, fan-cooled motor has six speed ranges, from 500 to 3,975 rpm, fast enough to get good results on even the smallest turnings. A heavy-duty cast-iron lathe bed ensures stability and minimal operating vibration while the cast-iron headstock and tailstock provide rigidity, strength, and years of trouble-free operation. The tailstock contains a live center with a full 2-inch ram capacity and is hollow, allowing long hole boring. Quick-release levers allow for easy and accurate positioning of the tool rest and tailstock.

Weighing 59 pounds, this lathe has 10 inches of swing over the bed and up to a 14-inch spindle capacity. Other features include solid rubber feet to eliminate movement, an adjustment handle to easily tilt motor while changing speeds, and a removable safety toggle switch to avoid accidental operation. Your lathe purchase includes a 6-inch tool rest, live center, 3-inch face plate, safety goggles, spur center, and tooling knockout. Also includes a free turning tool, which features the following: pen-turning book, two 24-karat gold pen kits, two 24-karat gold pencil kits, 24-karat gold letter-opener kit, 24-karat gold Mont Blanc-style pen kits, five exotic hardwood pen blanks, mandrel, 7 mm drill, hut wax, 1 ounce of cyanoacrylate glue, a 1/2-inch gouge chisel, and a 1/2-inch skew chisel.



Customer Reviews:
Delta is better Deal and Quality, August 23, 2002
Reviewer: azeddie from Apache Junction, AZ USA
I had the oportunity to test both of these lathes and , what is better about the Delta is the Belt access door location Jet was a pain to change speeds, also smoother running. AND less money to boot!

Great Lathe!, August 21, 2002
Reviewer: A home improvement enthusiast
My second lathe and I love it! Personally I do not like the quality and looks of most Delta machinery. This lathe has performed flawlessly since purchased. Ran right out of the box. The included pen kit was great, made alot of them!

Very nice lathe, July 5, 2002
Reviewer: Dennis A. Tran from Houston, TX United States
Nice, solid, quiet and heavy little lathe so don't expect to move it around much. No assembly required. Changing speeds by moving a belt between pulleys will need a little to get use to, especially if you have big hands. The two chisels came with the lathe are really low quality and need to be sharpened before you can use them; the pen and pencil kits are decent quality and it even came with a how-to pen turning book. So far I have used this lathe to turn at least 50 pens or so plus a few green-wood items and really enjoy the experience. Dollar for dollar I would rate the lathe is the most fun wood working machine I own.

But beware: turning is really addictive and be prepared to spend a lot more for tools and materials.

Starter Pen Kit Lacking., June 24, 2002
Reviewer: speakerforthedead from Winchester. CA
This is a nice lathe. But I could say that the pen kit included could be of better quality, not to mention the included tools. They are not small turning tools. They make doing any detail work difficult. No complaints about the lathe, works great.

A Quality Machine!!!, April 4, 2002
Reviewer: Jon S. Cone from Rosamond, Ca. United States
I purchased the Jet Minilathe (JML-1014) a couple of weeks ago. It is a very well built, quality machine! It is made completely of metal and all of the operating levers are metal (not plastic like some other machimes). The bed, headstock, tailstock, and toolrest and toolrest holder are cast metal. The motor is very smooth, quiet, and powerful! All of the components and adjustments work smoothly and surely. I LOVE this machine!!! I highly recommend it to anyone who wants to turn wood! It also has a bed extension you can purchase that will let you turn objects up to 40" between centers. WONDERFULL MACHINE!! Enjoy!

Jet 708351G Mini Lathe, March 29, 2002
Reviewer: David Wismer from Stafford, VA
Rec'd this tool appx eight days after purchase. Not much assy required, just pull out of box and plug in. The included chisels are a bit on the cheap side, but for free, I can't complain. Anyone who is new to turning can tear up these chisels learning to turn and to keep them sharp, then upgrede to a HSS set. The included pen kits were as advertised, and really did include everything you needed to turn a nice set of pens and pencils in 2 styles. Included are a live center for the tail stock, and a spur center for driving small spindles, also included is a 4" face plate with holes for mounting odd size or larger work such as bowls. You get a mandrel with bushings for the standard 7mm slim line pens/pencils and a set of Mont Blanc bushings for the executive style pens. Also included is a HSS 7mm specially fluted drill bit for making the appropriate sized hole in your pen/pencil blanks. The included HPP polish also works well, but I prefer a turners type of polish.

The lathe is extremely smooth and quiet in operation. The runout from headstock to tail stock was under .0025. All ground surfaces were coated with grease. One word of warning, there was a noticeable burr on the tool rest, but it was easily remedied with a file and 30 seconds of my time. The included directions were sparse, but it did have an illustrated parts diagram which is really all I needed.

I purchased this as opposed to the Delta as the lathe specialist at my local Woodcraft store said that he has sold about 300 of the Jet lathe's and has had only one return, and that was a unit damaged in shipping, where as he has sold a comparable number of the Delta's, and has about a 15-20 % return for alignment problems between the Head and Tail stock, and also a lot of broken handles on the tool rest and tail stock clamp downs. On the Jet, these handles are metal, on the Delta, plastic. I have had no problems with access to the belt for changing speed, and having the on/off switch on the lower right side is really academic to me. I will always purchase durability and quality over cosmetic and minor conveinences.

I would happily recommend this tool to anyone interested in turning smaller items. The quality, in my opinion is far better than the Delta, and I am a tried and true Delta fan. Anyone purchasing this package will be more than satisfied with the lathe itself, it's upgradeability to turn longer spindles, and the included pen kit. 5 stars!

Jet Mini Lathe is a Solid Machine, January 1, 2002
Reviewer: BARRY N TURNER from FRANKLIN, KY United States
I got a new Jet Mini Lathe for Christmas. I have only turned one small, lidded box, thus far. Already, I love the lathe! The lathe is extremely quiet, smooth-running and well-built. It has plenty of power for its capacity. Well, the lathe isn't perfect. I would prefer the on-off switch to be on the left side and I would rather have the Jet's belt-changing access door located on the front of the machine, but neither of these minor ergonomic shortcomings would keep me from buying the lathe. Now, if Jet only built a lathe with the Mini's quietness, smoothness and quality and with a 24"swing and a bed length of 42" or so, they would dominate the woodturning lathe market. No question about it!