Home > Jointers: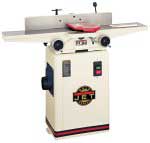 JET 708457K / JJ-CSX 6" Woodworking Jointer
JET
Shipping weight: 258.0 pounds
ASIN: B00006ANS5
Check price and buy @ amazon.com



JET 708457K / JJ-CSX 6" woodworking jointer features a three-knife cutterhead that allows rapid cutting and a superior finish.

Features:

1 hp, single-phase, 115/230-volt motor
46-inch cast-iron bed with precision-machined finish ensures accuracy
Fence tilt two ways and features 90- and 45-degree positive stops
Easy-to-use handwheels accurately adjust the infeed and outfeed tables
Built-in ledge for cutting rabbets
Amazon.com Review
When it comes to jointers, there aren't a lot of differences among the leaders in the market. Like other manufacturers, Jet uses heavy-duty cast iron in the fence, jointer base, and infeed/outfeed tables and offers a three-blade drum and built-in 4-inch dust port. Their design, however, features a couple of innovations that changed our "jointers are jointers" mindset. While the infeed tables in other models can only be raised or lowered with a rod or lever system, this machine's design allows you to adjust both of the feed tables by rotating smooth, industrial-style hand wheels. This feature lends itself to easier tapers and gives you more control when you need to take off precise measurements, like 1/64 of an inch, a setting that can frustrate woodworkers lifting the arms up or down on other machines.

The fence glides extremely smoothly throughout its range of motion and tilts both ways, but, where other brands offer fixed stops only at 45 and 90 degrees, Jet's jointer adjusts to quickly reproduce multiple cuts at any angle you find necessary. Driven by a 4,850 rpm, 1-horsepower induction motor completely encased in a welded steel stand, this jointer comes prewired for 115-volt outlets and can be converted to run off 230-volt sources. As a final touch, Jet designed the industrial start switch with holes behind the button for locking with a readily available Master Lock to keep coworkers or family members safe from accidental injury.

From the Manufacturer
This 6-inch woodworking jointer from Jet features a three-knife cutterhead that allows rapid cutting and a superior finish. The 46-inch cast-iron bed has a precision-machined finish ensuring accuracy, and a two-way tilting fence with 45- and 90-degree positive stops with conveniently mounted center fence controls that allow for quick adjustment. Other features include easy-to-use handwheels that fully adjust the infeed and outfeed table height, a built-in rabbeting ledge, 6-1/16-by-1/2-inch cutting capacity, and 1/2-inch rabbeting capacity. Your jointer purchase includes front and rear safety knife guards, three high speed steel knives, 4-inch dust chute, industrial motor controls, one-piece welded stand, and jack screw cutterhead.



Customer Reviews:
Good Jointer, October 30, 2002
Reviewer: Chuck Shaffner from Portville, New York United States
Bought this jointer in July of 2001. Has been a pleasure to use. The product was packed well and took little time for set up. We have used this jointer quite alot and are still on the first set of blades, also are able to achieve great joints. Thank You Jet for making such an affordable and quality product!

Observations After Two Years in a Professional¿s Shop, October 24, 2002
Reviewer: joncassino from Jackson, Michigan USA
I do one off custom pieces and small box's - this machine has seen light use considering it is in a 'production' environment and has never been abused.

As the machine has aged general vibration has become more predominate. A complete checkup showed nothing significantly loose. The machine is simply not aging all too gracefully.

The fence from the start had a warp - the dealer replaced it. The replacement fence was also slightly warped.

The tables over time developed a .03" dip in the middle towards the center between the cast webbings and a slight twist along their length, a tell tale sign of the table castings being "green" when machined. If it gets much worst the tabled should be re-ground.

After two years it has become a struggle to keep in this machine's tables in alignment. No matter how diligently I lock the gib bolts only after a few height adjustments the tables need to be realigned. This has become such a nuisance I have replaced the machine.

The setscrews & locknuts for the gibs have begun to self-destruct - easy enough to replace but shouldn't they be of better quality?

While "fit and finish" is pretty good, blowing off the machine with 100 psi air would take off thumbnail sized sheets of paint from the cast iron pieces. I guess they were not completely cleaned before being painted. I clean all my machines this way and this is the only tool to exhibit this phenomenon.

Bolt this machine down! I ended up making a wood base 4 feet long and as wide as the machine out of some 2x4's and ¾ plywood to raise it to a more comfortable height and keep it from tipping. I cannot imagine trying to do any significant jointing operations with this (or any 6" machine) mounted on a mobility base.

My machine came with 3 sets of knives which is very nice. While they were off being sharpened I bought a set of Freud knives and interestingly enough they kept their edge probably twice as long as the Jet knives.

This was my second jointer and overall I have to say I am disappointed with this machine.

Great Jointer, August 19, 2002
Reviewer: MOC from Shedd, OR USA
Very happy with the purchase. Two items that were slightly iritating. The screws for the dust hood were missing. A couple of paint chips in the finish. They do give ya the can of touch up paint. Nice and square out of the box. Great tool.

Decent Machine for the money., August 13, 2002
Reviewer: Paul from Dripping Springs, TX United States
This is a nice machine that works well. I broke my depth adjuster in the first day I had the machine. This was purly operator error. Jet sent me a new one, which took about a hour to change.

I have been working mostly with 2" thick material, and one needs to be mindful not to push to fast. While I have not stalled this thing yet, I do notice a sharp decrease in blade speed. I wish the table was longer, this table is kinda short. Powermatic has a model that is similar with a longer table. It does not take much effort to tilt the machine with down preasure, this goes back to the short table issue. DO NOT put a moble base on this bad boy, I have one and this thing moves all over the place when you start pushing hard.

This machine does the job, if you can afford it, spend the extra money and get a real jointer, not it's little brother. If you are on a tight budget, this machine will work fine for you.

Great machine---but, August 4, 2002
Reviewer: gariota@bellsouth.net from Peachtree City, GA United States
Great machine, well packed and complete. All parts are true, flat and machined to exacting standards. It looks, feels and functions like a quality product.

But now the but.

It is impossible, no matter how you try, to tension the belt properly. With the motor set up it just can not be done.

Solution, with the money you save on sales tax and shipping buy 4 feet of segmented belt, mount the belt by tilting the bed pulley under the belt BEFORE you mount the bed or fence. Once done put the 3 bed bolts in place, and you have a first class machine.

Great Little Machine!, August 2, 2002
Reviewer: Mike Mendelow from Fairfax, VA USA
So far so good. This machine performed pretty well out of the box. The knives did NOT come perfectly aligned as I had hoped, though. Assembly was quick and relatively painless, and it has lived up to its reputation thus far.

Would have earned its 5th star had the alignment been perfect out of the box.