Home > Jointers: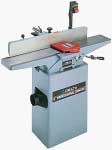 Delta 37-195 6" Professional Jointer
Delta
Shipping weight: 240.0 pounds
ASIN: B00004Y73O
Check price and buy @ amazon.com



Delta 37-195 6" professional jointer give your projects a professional edge with a jointer that features an extra-large, center-mounted cast-iron fence, rack and pinion fence adjustment, and a quick-index infeed table adjustment.

Features:

Powerful one-horsepower motor for efficient cutting
Extra large center mounted cast iron fence with rack and pinion adjustment
Three knife cutterhead provides 14,400 cuts per minute for a smooth finish
Two-year limited warranty on machines, parts, and accessories
Amazon.com Review
For those seeking a midsize jointer for the long haul, this 6-inch model is a great find suitable for the professional workplace or serious home woodshop. Powered by Delta's trusted 1-horsepower induction motor, the three-blade drum spins quietly in its cast-iron bed. Adjusting with rack-and-pinion precision, the fence tilts 45 degrees in and out with positive stops at 90 and 45 degrees for beveling and chamfering applications.

Delta realizes the use of heavy machinery carries a great risk of injury; consequently, they designed this jointer with a large, easily accessible on/off paddle switch at shoulder height on the right side a feature for which we have much respect. Thanks to industrial-grade infeed and outfeed tables, even longer 6-inch-wide planks get the support they need as you remove up to 1/2 of an inch of material to the collection port on each pass. So you want to increase your edge on the competition? Delta feels the same way.

From the Manufacturer
Give your projects a professional edge with a jointer that features an extra-large, center-mounted cast-iron fence, rack and pinion fence adjustment, and a quick-index infeed table adjustment. Conveniently positioned on/off paddle switch is placed high above the table in full operator view for quick access. Houses a powerful one-horsepower motor and includes an integral dust connector with four-inch diameter outlet. Safety cutterhead guard pivots out of the way of work during operation. The fence adjusts easily with the rack and pinion adjusting mechanism. The extra-long fence and cast iron infeed table provide support for long or tall workpieces. A quick-index infeed table raising and lowering lever make adjustments simple. Two-year limited warranty on machines, parts, and accessories. Includes basic machine, enclosed stand, dust collector connector, center-mounted fence, three-knife cutterhead, cutterhead guard, push blocks, and instruction manual.



Customer Reviews:
Delta Jointer, October 19, 2002
Reviewer: A home improvement enthusiast from Fullerton, CA United States
I am in general pleased with the performance of this jointer, for the price, but have had some assembly issues. With the motor pully all the way on, the cutter pulley backed off slightly, and the motor pushed completely against the front of the base, the two pulleys are still not alligned by about 1/8 inch. No big deal probably, but I think the motor may be welded to the brackets wrong. Or perhaps an issue due to the Chinese top and US base.

I had no issues with fence or table straigtness.

I had planned to use outside and 'let the chips fall where they may' but have found the chips back up in the chute. This machine requires a proper dust collector.

Great Machine, October 7, 2002
Reviewer: David Kantor from East Meadow, NY USA
After six months of trying to figure out which jointer/planer to buy to replace my hand planes, and reading alot of reviews I purchased the 37-195. I had no problem with squaring up the fence and table as I have read in other reviews, and figure that all companies have their little quirks when mass producing equipment. The only thing that did bother me was the oil put on the cutterhead and knives. I missed a spot and when I turned on the machine it went flying everywhere. The machine is nice and quiet, and it planes cherry,oak,maple,ash,pine,beech,birch,mahagony,teak and some woods I cannot identify, like I was planing butter. The finish is smooth as a baby's bottom and as square as my best square. Most of all it saved me hours of hand planing(which is no where near perfect).

What bothers me about reviews of woodworking machines, is we are supposed to be woodworker's not machinsts. Working with wood is not supposed to be an exact science, since wood is not perfect either, so I do not check the machine to see if it is in 1000th of tolerance anywhere. Being imperfect is what gives a piece of furniture its character. I always thought that being within 1/32 to 1/64th of an inch gives a fine fit.

I cannot say that this machine is the best out there, but as far as I am concerned for the money I spent and the perfomance I am getting from it, it is to me.

great machine right out of the box, April 1, 2002
Reviewer: David West from Castaic, CA United States
I needed to replace an existing 6" jointer because it broke during the building of a China Cabinet. I thought that it would be a big ordeal, but actually one of my local suppliers had one of these jointers in stock so I was in luck. I have been reading reviews on jointers for about a year and I have come to the conclusion that every manufacturer has it's own benefits, but the reviews always come to the two main models- the Jet and the Delta. Sometimes the Jet is the pick and sometimes the Delta is, it just depends on the publication. I went with the delta simply because they have a good reputation adn I love my table saw. I also picked delta because one of the reviews mentioned the Jet's table was the worst of the bunch when it came to flatness. This is kind of scary, since the jointer is supposed to flatten boards and edges. How can this be done if the jointer table is not flat itself. The reviews of the delta also were great when it came to the fence height and operation. The rack and pinion fence is wonderful and smooth. The height is extra nice. I love it. The settings right out of the box were almost perfect. I have only had to change the positive stop on the fence to 90 degrees, but that is know big deal. The cut is soo smooth that I will not even put my carbide knives on the jointer until the steel blades need to be sharpened.

My only complaint is for delta to come up with some protection for the base when they package it. The base had cardboard wrapped around it, but no other protection. Mine was a little racked when I got it, so I had to tweak it a little. It took all but a few seconds, but I think it could have been worse. Check the base when you but it at the store for problems, it may save you a trip back to the store.

Great Jointer, March 27, 2002
Reviewer: Daniel Gochnauer from Saratoga, CA United States
I just finished putting my new Delta Jointer together. Except for a few small problems, it works great. I'm so glad I bought the enclosed base, it made setting up everything pretty easy. I did have a problem with the spring that keeps the blade protector against the fence. There was no indication as to what direction I needed to turn the spring for proper operation. Seems that turning the spring mechanism the wrong way causes the spring to get detached, requiring me to disassemble the spring mechanism (4 times). I finally made a few "improvements" to the spring so it wouldn't easily get disengaged. Overall, the jointer did a fine job on my sample boards. Making the fence adjustments was easy and everything else was perfect right out of the box. I think I would have preferred a wheel adjustment for the infeed table, but the level works fine.

Great Machine - no problems noted, March 25, 2002
Reviewer: Steven J. Reynolds from Virginia
I wanted a mid level heavy duty planer for normal use. I stumbled on this jointer at a local woodshow and made an impulse buy. I currently use a delta table saw, drill press, and planer and have been happy with all these products. Based on the price I was fluctuating between the Jet and the Delta but my personal experience pushed me towards the Delta. After driving home at breakneck speed to set up my new toy, I was pleasantly surprised that in one hour I had a fully functional, mobile (base was thrown in)saw dust machine. I proceeded to run oak, maple, cherry and mahogany through on edge and flat. No problems and all fit seamlessly. I checked the blades, fence, and table - all were right on with no adjustments necessary. Even my wife was impressed with the joints!!!! I'd buy it again in a second.

You talked me out of buying it, March 20, 2002
Reviewer: gabbytony from Springfield, Illinois USA
I have been contemplating purchase a 6 inch jointer for the past month. I had narrowed my decision down to a Jet or a Delta.

After reading the 20+ reviews of the Delta on this site, I have concluded that I will NOT purchase a Delta Model 37-195 under ANY circumstances. It sounds like Delta has sacrificed quailty for price. And it sounds like Delta doesn't know the meaning of the words "Customer Service". Thank you all very much for your frank experiences with the Delta Jointer. Now I am on to the Jet Jointer page to see what everyone has to say about them

The real deal or an Internet nightmare?, February 26, 2002
Reviewer: Wayne Parker from Hummelstown, PA United States
I checked out the reviews on the Internet. At first I was skeptical as to whether purchasing the Delta 37-195 6" Pro Jointer would be a mistake. It wasn't. As some have stated it was a snap to put together (about an hour).

I purchased my unit from a local Woodcraft store. I also had the opportunity to actually use their floor model. I was impressed. I spoke with the pros who told me that occasionally you run into a bad fence or table. It's a fact of life, it happens.

I also took in to consideration what you read on the Net. No doubt some have had a bad experience with a product. I have had my share, but if you're wise, believe about 25% of what you read on the Net.

Without a doubt, this is the real deal, at least the one I bought is, plus Woodcraft is right around the corner. I can go eye ball to eye ball with a real person if there are problems.

Go for it, this is a great machine for your shop!

Delta 6 inch Professional Jointer, February 3, 2002
Reviewer: Steven Natale from Wakefield, RI USA
I personally wouldn't recommend this jointer to anyone. From day one I've had problems with it. The most common is the fence which was warped and twisted(They did warranty the fence, which is also starting to twist). The biggest problem is the quality of the table surface. My tables were off over 8 thousands(Delta allows 11 according to the warranty shop). This is not acceptable.

If you purchase one of these jointers, I would take a straight edge with you and check the tables and fence.

Solid Machine, December 31, 2001
Reviewer: gclabo from Portsmouth, RI USA
I got this machine for Christmas. From some of the reviews...I was really wondering what was going to happen when I pulled it out of the box and started putting it together. Well... an hour and a half later, which included the assembly of the HTC mobile base, this baby is humming. It wasn't difficult to assemble...all the parts were there...the directions (who reads them anyway?) were fine...the blades, table and fence are square. Hey...it ain't perfect...but I'm an old machinist and there's always a "better" way...even on all those other machines. The bottom line...from my point of view this is a solid machine, it zips through 4 inch hard maple like pine and I can't find any reason not to give it a 5.

Good Idea, Mediocre Execution..., December 27, 2001
Reviewer: jasncompany from In the Deep South
This jointer is well-thought-out. But... when it came time to manufacture the unit, Delta obviously forgot the Quality Control part of the equation. My unit has a twisted fence that's also cupped from top to bottom. I'd recommend not ordering this machine unless you can actually see the one you're going to receive and spend some time on the fence with a good straight-edge.

I went through 4 separate fences and kept the "straightest of the lot." It's still not straight, and I finally got tired of dealing with Delta on this matter.

Having said that, the rest of the machine is great. The tables are flat and coplanar, and the motor, stand, and switch are all great. The overall finish of the unit is good.

Having the fence ground flat at a machine shop makes this a worthwhile option in the jointer market... but c'mon... how hard can it be to get 'em right to start with? Apparently very hard, 'cause Delta's sure let a lot of warped fences hit the streets.

Bottom line? If I were buying another 6" jointer, I'd consider another model... In fact, my advice to you is to avoid this unit until it earns the reputation for quality.