Home > Grinders / Polishers: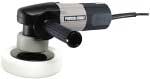 Porter-Cable 7424P 6" Variable-Speed Random-Orbit Polisher
Porter-Cable
Shipping weight: 6.2 pounds
ASIN: B00004SUQ8
Check price and buy @ amazon.com



This rugged 3.7 amp Porter-Cable polisher has 100-percent ball bearing construction, the spiral and bevel gearing provides for smooth operation and efficient transfer of power.

Features:

3.7 amp motor for efficient polishing action
Electronic variable speed
Random, swirl-free polishing action for a fine finish
100% ball bearing construction for durability
One year warranty/30-day performance certification
From the Manufacturer
Built to last, this rugged 3.7 amp polisher has 100-percent ball bearing construction. The spiral and bevel gearing provides for smooth operation and efficient transfer of power. A variable speed dial sets the orbit rate between 2,500 and 6,000 orbits per minute for precise control.

The speed dial is on the end of the motor, out of the way, preventing accidental changing of the speed. A handy slide switch prevents hand fatigue when the unit must be run for the extended periods of time that polishing operations require. The random orbit action of the special six-inch polishing pad provides a smooth, swirl-free finish. An included side handle fits either the left or right side for maximum comfort. For more versatility, this tool can be converted to a five-inch random orbit sander with sanding pad no. 13700 (sold separately). One year warranty with a 30-day performance certification. Includes polisher, polishing pad no. 54745, wrench no. 48779, and operator's manual.



Customer Reviews:
professional detailer, September 7, 2002
Reviewer: Andy Ang from Singapore (ASIA)
Works magic on removing severe swirl mark even rotory machines can't get rid off and also save lots of money on polish/wax compared to applying by hand or rotory machine. However the noise level is kinda loud and not suitable if compounding is needed. I'll like to take this chance to reccomend a very good rotory machine with similiar shape as this one, It's made by the brand RUPES model LH16E. This 2 product is an investment you guys won't regret.

Polisher, May 28, 2001
Reviewer: Sean P. McGovern from Saginaw, MI United States
Totally awesome polisher. Lightweight, smooth, and powerful. I have a 30' boat that would typically take all day to wax with a cheap orbital polisher. I can now complete this job in three hours with a much better finish. I use the 7424 to apply wax and the Dewalt polisher to remove and finish the boat. These tools save valuable time and give this boat an incredible finish.

Good Product, February 17, 2001
Reviewer: Elroy McDougal
This is a good product! It works well and is light weight. If you're a professional detailer however, you'll find that it lags when working on a finish that needs deep cleaning. Don't throw away your regular polisher because this unit will take much longer to get through a rough detail job than a regular polisher does. This unit is well suited for the average do-it yourselfer and light detail jobs, but you'll still need a regular polisher for brute force cleaning. Okay, that's it!

light and powerful, July 28, 2000
Reviewer: A home improvement enthusiast from Honolulu, HI USA
best orbital you can buy at any price. light and comfortable to use. a tad loud so be careful of waking your neighbors eary in the morning...