Home > Generators: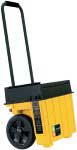 Xantrex 802-1900 xPower 600 Indoor / Outdoor Generator
Xantrex
Shipping weight: 59.243805 pounds
ASIN: B00005AL03
Check price and buy @ amazon.com



It's portable, rechargeable, safe for indoor/outdoor operation, uses no gas and produces no exhaust fumes.

Features:

600 Watts of household AC power
Runs AC or DC electronic products, anywhere
Quiet operation and safe for indoor use
Rechargeable 40 amp-hour battery built-in
1 year warranty
From the Manufacturer
The xPower 600 is a 600 watt indoor/outdoor power system that produces household electricity. The "power in a box" system sits on small wheels with a removable waist level handle for easy maneuverability. It's portable, rechargeable, safe for indoor operation, uses no gas and produces no exhaust fumes! xPower 600 integrates a 40 amp-hour AGM battery and 600-watt inverter in its durable case. xPower 600 can be stored easily and used during emergencies to provide household power during a power outage. The cart-like design makes it an ideal power source to use at a job site, on a farm or ranch, camping, boating, or even in the back yard. Operate a wide variety of household appliances and electronics like power tools, lawn and garden equipment, TVs, and desktop computers. Power 12-volt DC products and jump start a car, truck, or boat with standard jump start cables (not included). A powerful solution for back-up power related emergencies, leisure use, or to use around the home and garden! One year warranty. Includes AC charger, and DC charge cable.



Customer Reviews:
EXCELLENT JOB!, July 3, 2001
Reviewer: zastecwe from Temple City, CA
I bought the xPOwer a couple of weeks ago in anticipation of the next blackout - but I was almost disappointed that I hadn't had to use it until yesterday!!!

I live in an apartment so a gas generator is not an option. I continued to power a fan (to keep me cool) and my laptop - What an excellent product - I am definately recommending this to all of my friends and co-workers.

Great for Apartment dwellers!, June 14, 2001
Reviewer: A home improvement enthusiast from LA
The xPower 600 has been perfect for getting me through the rolling blackouts that keep hitting my area. As I work from my apartment, the xPower 600 was able to keep me productive by providing me with power for my desktop computer, printer, and lights for quite a few hours. The best thing...no fuel,fumes, or noise, and my wife is not scared to use it.

This unit gives you 600 watts of AC power, so just make sure that the things you want to run don't add to more than 600 watts. I just leave my unit plugged in when I'm not using it, and it's always ready to go the next day. Very cool. I'm looking forward to bringing this baby camping next week. (The kids need their video games and TV!)

get a outdoor generator, June 10, 2001
Reviewer: bhudson@brightok.net from Lone grove, OK USA
MY POWER WAS OUT FOR THREE DAYS-----------I USED THE 600WATT INDOOR GENERATOR--------IT WORKED GOOD UNTELL I HAD TO CHARGE IT------------THE POWER PACK WENT OUT-----------IF YOU DONT HAVE THE MONEY TO BUY A GOOD ONE------THEN DONT BUY ONE...........