Home > Air Compressors: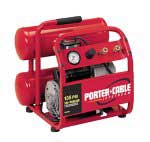 Porter-Cable CPF23400S 3 HP, 4-Gallon Side Stack Compressor
Porter-Cable
Shipping weight: 75.35009 pounds
ASIN: B00004WGQL
Check price and buy @ amazon.com



Side-stack air compressor from Porter-Cable introduces a new high-pressure design that provides 28 percent more usable air.

Features:

3 HP induction motor delivers 7.7 SCFM at 40 PSI, 5.5 SCFM at 90 PSI
New high-pressure design keeps tank pressure between 110 and 135 PSI
Higher tank pressure provides more usable air per tank re-charge
Convenient control panel has regulator, gauge, and two quick connect outlets
One Year Warranty
Product Description
This side-stack air compressor from Porter-Cable introduces a new high-pressure design that provides 28 percent more usable air. This allows more run time before recharging and less down time. The powerful, 3-horsepower induction motor runs on a 15 amp circuit and provides 7.7 scfm at 40 psi and 5.5 scfm at 90 psi. A higher airflow regulator starts the pump at 110 psi and stops it at 135 psi for more pressure and airflow, so you get better performance from your air-powered tools. A rugged roll bar protects the motor in case of tipping, and it houses a console for the regulator, gauges, and two quick-coupler outlets. The oil-free design allows operation on slopes and angles. Comes with one-year warranty and includes high-flow, high-pressure regulator.



Customer Reviews:
THIS IS THE ONE !!!!, October 7, 2002
Reviewer: cliff from Windsor, Ontario, Canada
I have had larger compressors, but this little guy keeps up with want ever jobs I have for it. Great Bang For The Buck
You cant beat it ! it's a must.

Great for various air tools, September 26, 2002
Reviewer: Koji Lyu from The Woodlands, TX USA
Just for little bit more of money, it is much better equipment than a pancake version. It is little bit heavier, however, its design and build sturdier.

Outlet pressure control is very ease to use. It is essential that you change pressure for various tool you are using. i.e. HVLP spray gun (50psi), nail gun 110psi, torque wrench 100psi.

I have been using 50 ft extension cord with mine and have not had any problem not enough electrical power nor having any circuit breaker ever poping.

Size of the tank is fine, but its really about the horsepower of the motor and amount of air motor can put out so that you don't have long period of motor running in order to build a pressure in the tank. This 3hp engine is much better than large size tank with 2hp engine.

This Portable Compressor is Rugged and Well Built !, May 17, 2002
Reviewer: Steven B Cole from Dallas, Texas USA
Surprised and impressed! I looked at Home Depot and Lowes and decided to order this air compressor to save the Tax and the trouble of bring it home.

SHIPPING WAS FREE, THAT SEALED MY DECISION TO BUY.

It was delivered to my door by U.P.S., No Damage, it made it to Texas in 4 days. The best part is that I didn't have to stuff this big box in the back of my car to bring it home. (Weighs 64 lbs. )

Pluged it in, It filled the 4 Gallon tank in 44 Seconds. Thats starting with the tank completely empty.

Looking at the other brands of portable compressors I really like how well this one is built.

It has a sturdy cage that protects the Tubing, Regulator, pressure switch, and brass connectors.

I expect to be using this tool for years to come.

Don't know yet, May 6, 2002
Reviewer: Bob Siejkowski from Brooklyn, NY USA
... I received a unit with a defective pressure switch which cuts out at 120 PSI instead of 135 PSI. Kimco, in Delta, OH, told me they would send a call tag for the defective unit and send me another one. When I called three days later to follow up, they then refused to take the unit back and replace it with a new one. I spoke with the owner of the company, Kim Allen, and he said that I would need to have it repaired under the warranty. After several calls to the toll-free number in the manual to the factory, I was put in touch with a repair facility an hour away and was told they don't stock the part but could order it and get it back to me in a few days.

This whole situation did not sound like the legendary customer service Porter Cable is known for. I contacted Porter Cable customer service and was told there is no reason why Kimco should not replace the unit - in fact, the very helpful customer service rep even explained that Porter Cable would pick up the return shipping costs.

I am now waiting for Kimco's Porter Cable rep, Jim White, to return my call. Hopefully, PC will come though without me spending four round trip hours and a week without a compressor. As for Kimco, I wouldn't buy from them again.

PC COMPRESSOR, April 9, 2002
Reviewer: A home improvement enthusiast from NASHVILLE, TN United States
ALL IN ALL, THE BEST SMALL COMPRESSOR. NO NOISIER THAN OTHER SMALL COMPRESSORS BUT CERTAINLY NOT QUIET. WILL NOT RUN RELIABLY ON A 15 AMP CIRCUIT. USE A 20 AMP CIRCUIT. MORE POWER AND BETTER BELLS AND WHISTLES THAN COMPARABLE MODELS.

Excellent compressor - quietest I've used in its category, March 6, 2002
Reviewer: diamond75 from Arlington Heights, IL USA
I am never able to live without a good air compressor. I use them for a variety of tasks from simple blowing to nailers and air hammers. As smaller air compressors go, this one really delivers a nice, steady pressure for quite a long time.

Normally I like to blow through my air gun at about 50psi to clear sawdust. Blowing air at that pressure really drains a small compressor fast, but this one really handles it well and gives me quite a bit of extra time due to the fact that the motor really kicks in quickly and efficiently to keep the pressure up. In fact, from empty it only takes about a minute to fill the tank, which is nice.

I couldn't outpace the compressor with a single nailer.

The two air ports is really nice in one this size because I can put the compressor underneath my workbench and mount a static line on my workbench for easy access anytime while leaving the other open for longer hoses.

The noise level of this unit is very acceptable. These size compressors can make an INCREDIBLE amount of noise, but the Porter-Cable 3hp 4 gallon side stack really keeps the noise level at a minimum. From the nicely padded feet to the obviously insulated drive casing, this quiets it down as much as can be hoped for.

Fast and Easy, January 6, 2002
Reviewer: andy from Brooklyn, CT United States
I bought this compressor to finish my basement and enlarge my deck. So far I've used it with a framing nailer and it has more than enough power. I'd wish I'd bought this several projects ago. The price of the compressor and nailers is still way less than paying someone to do it. If it wasn't for these air tools I wouldn't have the time to do it. So easy and quick.

Good overall Compressor, December 18, 2001
Reviewer: A home improvement enthusiast from Los Alamos, NM United States
I just recieved my compressor and am very pleased with its performance. However, upon taking it out of the box, the first thing I noticed was that the auto on/off lever was broken. I immediately got in touch with amazon.com and they ordered a replacement part for me from Porter-Cable. The lever is held on by a thin plactic shaft and I can see how easy it would be to break. The broken piece did not keep me from using it right away. I was able to break it in and used it all weekend with a finish nailer. The compressor isn't too loud, and ran fine without tripping any breakers. I am pleased with my purchase and with the customer service at both tool crib and amazon.com.

Frustrated with the technical assistance, October 26, 2001
Reviewer: Laercio Marques from Coral Springs, FL United States
When I bought my CPF23400S, I did it because I saw some good comments about Porter Cable equipments, and most important, they have a lot of places for technical assistance.

I received my compressor and unpack it. The first thing I notice he was unevenness, the feet was laming. But, it doesn't bother me. When I turn it on, the tank pressure gauge wasn't working.

Ops! It looks like a bad quality control. Ok, let see what to do.
So, I took the manual to see if they have some instructions about this kind of problem.

The first thing I've read on the manual was: "DO NOT RETURN THE DEFECTIVE PRODUCT TO THE RETAILER". So, I went to my computer and by internet, on Porter Cable website, I found a authorized service center close to my house (Willie's Small Engine - Pompano Beach, FL). I went there with the compressor and they took it and said to leave it there for one day, and on the next day they should call me to pick it up. But, after 3 days, they still didn't have changed the little tank pressure gauge, and they said "we are waiting for Porter Cable to send this piece to us, you have to wait until next week". And I was with a schedule to do a job on the next day. Ohhh! Come on!!!

I can't believe that! The most common and cheap part of a compressor they don't have in stock!?
Is that kind of technical assistance we have from Porter Cable when we just buy a brand new compressor and need it working???

I think I should send it back and bought another from another company, because, now, I'm just waiting and I can't do my job. Who's gonna pay for my loss?

Porter Cable Compressor Review, August 31, 2001
Reviewer: Michael Nelson from Colorado Springs, CO
My compressor arrived about 7 days after I placed my order. I used it to power my spraygun and paint my motorcycle. Keep in mind that your compressor does'nt include a hose, fittings, or a filter which is a good idea to extend the life of your air tools and a must to spray paint, so these items must be purchased seperatly. After adding my accesories I put it to work. Overall I'd say it worked very well. It's not too loud, it can fill up fairly quick, and most of all it provided plenty of power for what I was using it for, even when using a 100 foot extension cord. I am happy with the performance of my Porter Cable and would recommend it to anyone.